Talking about the global warming, and the increasing heat it's now more important to know something cool. Even if we talk about cool, does the word Ac (Air conditioner) pops up in our mind. But it very essential to know the type of AC we get provided. Now what important for you to know is the smart technology that is being done by the inverter technology. The inverter converts the frequency. This type of technology is being now used in all home appliances to control electric voltage, current and frequency. The inverter type AC adjust the speed of the compressor and control the gas flow rate by consuming less current and power. So for making your life more comfort ,we bring you the latest brand of inverter AC, that will definitely helps you to the hot summer. Let's have a look.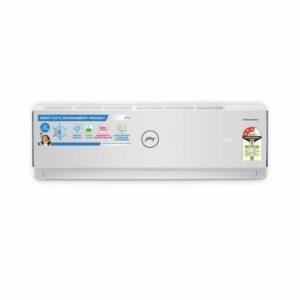 The powerful and durable R32 Inverter AC comes with 3 star rating. The long lasting performance is being promised by the company by its 100 % copper condenser and 10 year inverter compressor. The split AC comes with variable speed which adjusts the power depending the heat load. The 1.5 ton AC is suitable for medium sized room and brings you the most energy efficient system with less noise operation. The Godrej inverter AC provides you better cooling with low maintenance. The corrosion blue fin copper evaporator is to prevent the rust and ensure durability. You get 1 year warranty on product, 1 year on condenser and 10 year on compressor.

Different people have different choice of AC usages. Sanyo inverter AC brings you the varying rotor speed that suits the situation, resulting in dramatic energy saving technology. The built in PM 2.5 and dust filter helps in removing the dust, pollen and suspended particle. Enjoy the speed cooling techniques by switching glacier mode that gives you 35% higher fan speed. The 3 star rating Inverter AC ensures superior protection against rust and salt damage by resistant hydrophilic fins. The eco friendly R32 inverter AC ensures zero damage to ozone layer. Give your room an elegant style with hidden temperature display.
3. AMAZONBASICS 1.5 TON 3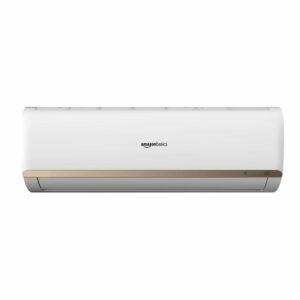 Amazon basic brings you the high quality range of split air CONDITIONER at great value. The 3 star BEE rating and 3.85 ISEER rating the inverter AC brings the higher energy saving efficiency. The high density dust filter with anti –dust effect cleans upto 80% of dust and pollens. It automatically humidifies the room. In case of any part failure, the unit will shut off automatically to protect the system the auto swings cool air will reach very corner of the room. The golden fin coating ensures that air conditioner is protected in all weather. It's ideal for small sized room and helps you to breathe the healthier air.
4. VOLTAS 1.5 TON 3STAR SPLIT AC (COPPER 183EZA WHITE)

The Voltas all weather AC comes with ambient cooling, with active dehumidifier and multi stage filtration advantage. The inverter AC gives the instant cooling at even 50 degree. It senses the indoor humidity and controls it in monsoon. The AC reset automatically if there are any abnormalities or failure. The four stage filtration removes allergens, odours and other harmful particles. The glows in dark remote buttons guide you when it's dark. The copper condenser coil is more durable for delivering efficient cooling. The Voltas all weather AC comes with 3 star rating and sure to last several year.
5. LG 1.5 TON 4 STAR INVERTER SPLIT 

 The 1.5 ton, 4 star rating LG inverter AC is suitable for medium sized room. The split AC with inverter compressor adjust the temperature depending on heat load. To protect you from unbeatable humidity, dust, smoke, sand the LGDUAL COOL comes with ocean black fins. Special ocean black fins applied to both indoor and outdoor unit and provide durability in typical Indian regions. 10 year warranty comes for compressor and 1 year on product. It comes with ways air swings system that blows the air in all direction. EZ clean filter is made for easy cleaning and expand the life of your AC.
6. BLUE STAR 1.5 TON 3 STAR INVERTER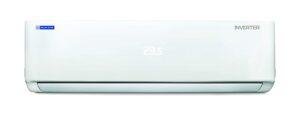 Ensure the desirable comfort around you with blue star 1.5 inverter ac. The intelligent air conditioner keeps you comfortably cool at all time. The blue fin anti-corrosive resists corrosion and maximizes heat transfer and cooling efficiency. The aesthetic design light up the display that adds classy touch to your room. This inverter AC comes with 3 star rating. The intelligence technique keep the temperature same automatically with outdoor technique and keep you comfortable through the night.
7. DAIKIN 1 TON 5 STAR INVERTER 

Bring your home the radiant cooling by Daikin inverter split AC. The Econo mode enables efficient operation with limiting power consumption. The room cools immediately with the power chill operation and ensure temperature drop quickly. The indoor quiet unit ensure low noise level resulting in sound sleep. The neo swing technology enables smooth rotation and reduces friction and vibration. It also prevents leakage of gas during compression. R32 ensure easy recycle because of these the AC get overall life cycle climate performance. The product comes with 1 year warranty on product and compressor and 10 year in compressor. The inverter AC got 5 star energy rating and 5.8 ISEER value.
8. HITACHI 1.25 TON 5 STAR INVERTER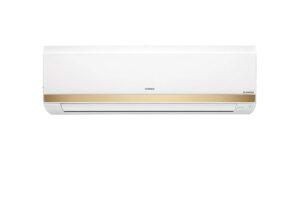 Hitachi inverter split AC comes with the penta sensor technology to enable proper cleaning.  Even in extreme summer its advance micro controller offers the perfect cooling. Its inner grooved copper ensures faster cooling. The split AC is 1.25 ton with 5 star energy rating. The inverter comes with anti start and one touch super cool technology. The product has 1 year warranty on product and condenser and 5 year warranty o compressor.
9. INTEX 1.5 TON 3 STAR SPLIT AC (COPPER, INS 18CU3EC-3W, WHITE)

In summer beat your heat by staying indoors, but not just indoor keep your company with the Intex inverter split ac. The Intex ac ensure less electric use and provide you with more cooling. The 4 layer air purification i.e. pre filter, fine filter, activated carbon filter and heap filter  provide fresh air  and clean air all long the day. With copper conditioner proves an excellent heat transfer rate and make it durable and sturdy. In turbo coil mode give your room an instant cooling. The 4 way swings system moves 360 degree and allow air to come from all side. This inverter split ac rated 3 stars and comes with 1 year warranty on product and5 year warranty on condenser and compressor.
10. TOSHIBA 1.5 TON 5 STAR INVERTER
Toshiba brings you the all new range of top performing air conditioner. The split ac with inverter compressor comes with power adjusting technique that alters the temperature according the heat load. The ac work efficiently as an air purifier all year round. The plasma ion purifier system deodorizes the air and keeps clean air all around. The Toshiba inverter AC comes with 5 star energy rating. It's the most energy efficient and produces less noise while working.
11. PANASONIC 1.5 TON 5 STAR WI-FI 

Meet the convenience and connected living with the Panasonic cool inverter split AC. The MirAle connects Panasonic air conditioner at one place and offer the issue in advance to maximize performance and life span of product. It enhances flexibility and allow customise sleep profile by its unique features. The MirAle also support voice control by Amazon Alexa to provide seamless and had free operation. It also supports PM 2.5 air purification system which helps AC to remove the dirt and dust. The AC stabilizers are free and hence conserve electricity. The MirAle App also offers e-warranty on all warranty service and annual maintenance contracts. This 1.5 ton inverter ac comes with 5 star energy rating and 4.7 ISEER value.
12. WHIRLPOOL 1.5 TON 3 STAR 2020 SPLIT

The advanced MPFI technology comes with fusion of smart circuit design which ensures instant comfort and fast cooling. The error is displayed in self diagnosis function for wash diagnosis of problem. The sleep mode automatically regulates the air and increase the temperature around you. Whirlpool ACs use R32 eco refrigent that emit fewer green house gases and require less refrigent. The heap filter purifies air through a fine mesh traps that prevents pollen dust mites etc. The neo cool is the latest offering of whirlpool that allows cooling upto 55 design hot summer. The product comes with 1 year warranty on condenser and 1 year on product and 5 year on compressor.
13. TCL ELITE SMART 1.5 TON 3 STAR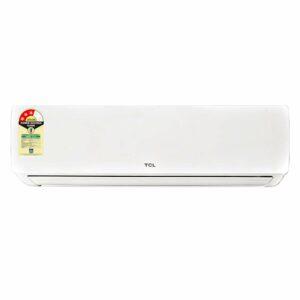 The smart TCL AI ultra inverter is assisted by Google and enabled smart AC that interconnects between android TV and AC. The ultra compressor is designed to start with high frequency and run at maximum RPM. The advanced PCB cooling ensures high cooling in 60 degree temperature. It access low power consumption and have built in air purifier. The product as 3 star energy rating and come with 1 year warranty on product and condenser and 10 year warranty on compressor.
14. VOLTAS 1.5 TON 5 STAR INVERTER WINDOW AC (COPPER 185V DZA WHITE)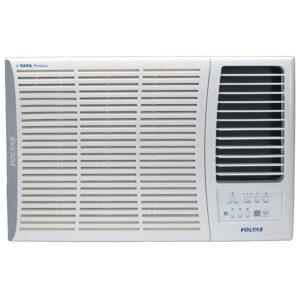 The powered DC inverter technology reduces the power consumption. It keeps you cool and comfortable even at 52 degree centigrade. It works in a wide operating range of 100-290 V. It senses the indoor humidity and controls the monsoon. The steady cool compressor is all about cooling and saving. It removes the harmful allergens and dust particles and cleans he air. The 1.5 ton AC comes with 5 star energy rating. It's economical to use and easy to install.
15. COMFEE 1.5 TON STAR SPLIT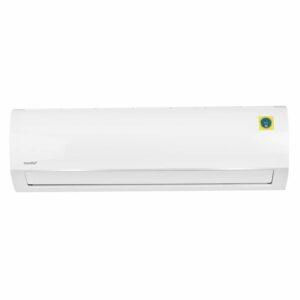 Comfee 18k 3 star estremo r32 split AC is 1.5 ton and comes with 3 star rating. The AC has smart security lock, idu temp display. The economic sleep mode helps you to give a nice sleep at night by balancing the temperature. The AC also comes with dry mode, auto fan mode, follow me, and turbo mode. The AC is suitable for small to medium size room and gives you all round fresh air.
Hope you find the best result with our search. Bring your home the ultimate Inverter AC and beat the heat and relax comfortably at home through all round weather.