Hot summer days have arrived and many people are looking for a way to beat the heat. While we are living in a patchwork pandemic, states are finally beginning to reopen following lockdown orders due to the novel coronavirus, hitting the local community pool probably won't be an option for a while. You could book a getaway that includes a pool, but you don't have to leave your own backyard to enjoy pool time. One affordable way that doesn't require much set up is with an inflatable pool for the season. Keep in mind that most inflatable pools aren't really made to last for years on end and are more of a quick fix. But if a sturdier above ground pool is more your speed, we also have options for that. Make sure you have a proper space to put your inflatable pool. Since they are soft sided and freestanding, they can easily lean and lose shape when fully filled. Be sure you aren't putting your pool on a balcony or patio without railings where someone could go off the edge, especially if children are involved. Young children should also be supervised while using them, and many include small parts that can be a choking hazard for babies. And if you do plan to use on a roof or a balcony as opposed to on firm ground in a backyard, be sure you've checked that the surface can hold the weight of the fully filled pool. We have rounded up pools of all shapes, sizes and color and included options for toddlers, adults and the whole family. Read on for 15 inflatable pools to beat the summer heat.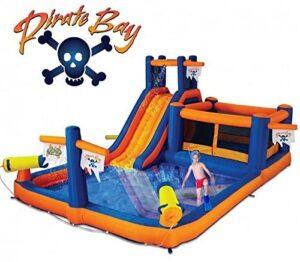 Manufactured with a built-to-last commercial grade vinyl, you do not need to worry while your kids can roll, tremble, jump delightfully and freely. With these qualities, the investment in this Blast Zone Pirate Bay is always worth the spending with a substantial Bouncer plus the sizable splash area, your kids and their friends will have loads of space to pretend they are roaming the open seas. The tough climbing wall stretches to the top of the slide. From here, they can zoom down the slide where the water cannons await. Coming to the very top of the list, all I can tell is that this best inflatable pool slide! Blast Zone Pirate Bay may contain everything that you look for from inflatable pool slide. If you look at the picture carefully, there are many areas that your kids can choose to play. For instance, they can climb to the top of the slide and roll down to the splash pool where they have water cannons await them.
2. Intex Surf 'N Slide Inflatable Play Center, 174″ X 66″ X 64″, for Ages 6+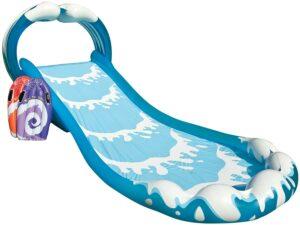 This inflatable pool slide is specially designed for kids who are at least 6 years old. It can accommodate up to 176 pounds, which means teenagers can also join in the fun. Take summer fun to a whole new level with this slide. Depending on how tall or wide your 9 year old, its advisable to keep the weight under 70 pounds. It comes in a unique, foot design that adds more fun. The slide includes 2 surf riders and comes with heavy duty handles for maximum comfort. Underneath the slide is a landing mat that provides extra padding to cushion your kids. There's a repair patch so you won't have trouble in case of any punctures. 
3. WOW Watersports Slide N Smile 9 Feet Long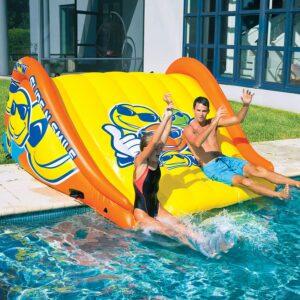 Your kids will also love its bright graphics and you'll be able to easily notice what they are doing since this product is highly visible on the water. The giant-sized inflatable pool is ideal to use for fun. Furthermore, it makes an excellent dock or pool slide and has a zippered connection to add more slides.  What's more is that this slide offers great space, with over 9 feet long and 6 feet wide and 4 feet tall. This product also offers different kinds of uses and options. You can set it up as a playground on the water and the playing process is very easy for your kids. Watch them climb and go down with one of the two slides. This product also gives you the option to use two grommets on the side to tie it to your dock or use its zipper connection system. The manufacturer recommends that the slide should not be used by more than 4 kids at the same time. The maximum weight capacity is 350 pounds. It has a slippery sliding surface and has little tikes, inflatable slide bouncer. Also, it comes with a repair kit, heavy-duty blower, and space-saving storage bag.
4. Intex Cabin Island with Slide & Removable Sides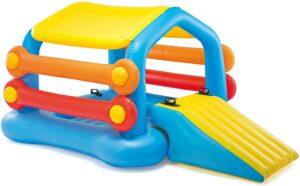 Make your day at the pool even more exciting with the Intex Inflatable Island with Slide! It's designed with a slide float and removable noodle sides for extra fun and is constructed with six heavy-duty handles and a landing pad for comfort. The slide can also be detached. This inflatable pool slide sports a 2-in-1 design. It has a sliding float that doubles as a floating cabin. The slide is fabricated from 10 gauge and 15 gauge vinyl optimized for durability. It provides the most support compared to other slides on our list. The slide is designed for kids at least 9 years old and has a weight limit of 220 pounds. The cabin provides some form of shelter to protect your kids from harmful UV rays. You can choose to detach the slide from the cabin for added convenience.
5. Deluxe Inflatable Water Slide Park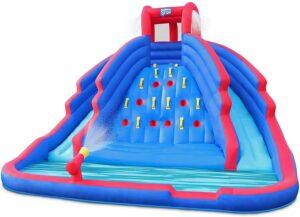 Whether you're looking for the ultimate way to keep the kids entertained or want to be the cool house on the block, you're sure to make a splash with this Deluxe Inflatable Water Park from Sunny & Fun. An exciting climbing wall leads up to two slippery slides for whooshing into the refreshing splash down pool. It's a trifecta of features to turn your backyard into your own amusement park. With the powerful electric air pump, this durable bouncy water park blows up in minutes to provide hours of drenched delight. For a season filled with wild, wet memories, add a Deluxe Inflatable Water Park to your cart today!
6. BANZAI Sidewinder Falls Inflatable Water Slide
The differences that make Banzai Sidewinder a unique inflatable water slide is the way that it allows your kids to enjoy with 2 main spots. First, the climbing wall which let them climb up and roll themselves down to the pool at the bottom. Second, the tunnel which also brings them down to enjoy the bottom splash pool as well. Get ready for extreme backyard fun with the Sidewinder Falls Water Park! Scale up the climbing wall and hurl yourself down the banked curve of the giant slide. Or crawl through the tunnel and slide down the diving ramp. Both slick, cushiony rides end with a refreshing splash in the oversized pool! With the included continuous airflow blower, all of this fun inflates in less than 3 minutes. Heavy-duty Dura-Tech construction ensures lasting strength and durability. So unroll, inflate, add water and have fun! A common problem that we all worry about when searching for the best inflatable pool slide is, of course, the durability! Luckily, Banzai Sidewinder comes with the best material: durable rubber print. The manufacturer also tries to make sure that the most-touch areas are strong and almost impossible to get torn off.
7. Poolmaster 86233 Aqua Launch Swimming Pool Slide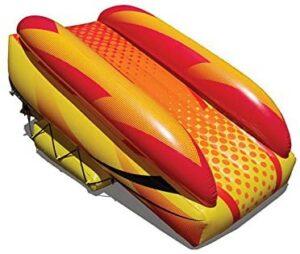 Slip-sliding fun is just around the corner with this easy to install inflatable slide. Attaches easily to any standard hose, the constant stream of water keeps the slide wet and ready for all day sliding action. Featuring large oversize bumper rails and durable 14-gauge vinyl and measures 92″ x 34.5″, approximate deflated size. A poolside water ballast is attached to keep slide securely in place while in use. It's also very easy to install and all you have to do is inflate it and attach to any standard garden hose. You'll also find its integrated spray nozzle very reliable. It includes 2 sturdy handles to assist you and your kids in slide placement. The Poolmaster also features water ballast to provide a more stability sliding experience. Expect the slide to remain in place even after many hours of usage.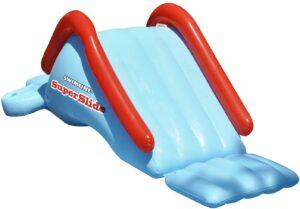 This big slide ensures many hours of fun for the kids around your pool. Made of heavy gauge vinyl, our super slide is easy to set up. The slide has a weighted water base for stability and a garden hose spout that keeps the slide slippery. Make them giggle with glee with the awesome super slide. Slide measures 99-inchx68-inchx40-inch. 150-pound weight capacity. Slide-feet-first only. The deflating and inflating process is very easy and can be done within a few minutes. Once deflated, you can easily store it with ease – thanks to its compact built. What's more, is that this product is also made out of heavy-duty vinyl materials which means that it can resist tears and punctures.
9. Blast Zone Crocodile Isle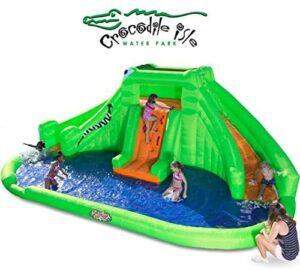 You will love the Crocodile Isle as much as your kids will! Why? Besides being entertained for hours, your children will burn up that extra energy in a healthy way, getting lots of exercise while they play safely. Kids do not have to exit the play area to climb the slide, meaning less grass and debris in the water park. It's large enough to accommodate up to six kids at once with room to spare. If you plan for your kids to create their jungle-paradise adventure at your backyard, then Blast Zone crocodile isle could help. With climbing surface located at the middle, 2 sliding surfaces at each side, and one big giant splash pool below, this inflatable pool slide can hold up to 5 kids at once. If your kids are tired of climbing and sliding down back and forth, then they can simply enjoy playing with the water at the ground. Vivid imaginations will be set alight within this jungle paradise. Your kids will create their own adventures, escaping the crocodile and racing each other to the oversized lagoon. We've upgraded the classic version with higher tail walls and upgraded the climber with widened ramps and safety rails. Your kids will have a blast safely climbing the crocodile's foot then sliding down either his tail or his snout. When they need a break, they can lounge in the splash pool below. Each of the slides have their own sprayers. Made with commercial grade vinyl, the climbing and slide surfaces are built to last. The massive splash area along with climbing and slide structure can accommodate up to 6 children with room to spare.
10. Inflatable Bounce House and Water Slide Wet or Dry Playstation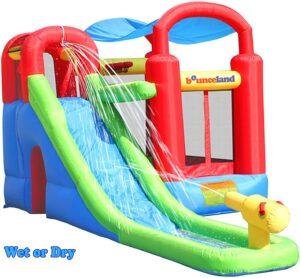 This is one of the best inflatable pool slides for in ground pools. As the name indicates, this is appropriate for both wet and dry setting. If you do not love to let your kids drench, you can ask them to play with this without putting water in. High railings, strong mesh enclosure, Velcro openings, and large supporting columns provide steady support for more bouncing fun. It comes with so many accessories for you and your children, including the shipping. Bounce, crawl, throw, shoot, spray, slide, and splash all in this combo bounce house sure to keep your little ones entertained all summer. 30 plastic balls for ball pit are included. For instance, you have a basketball hoop, water gun, water spray, etc. you can easily set it by yourself. It needs nearly less than 1 minute to fully inflate.
11. Little Tikes Rocky Mountain River Race Inflatable Slide Bouncer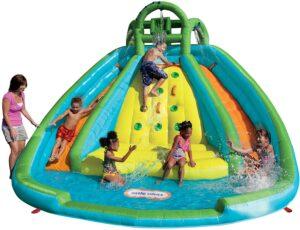 This outside inflatable water bouncer includes two slides with spray hoods that keep the sliding surface slippery. Plus, the slides lead to a wide splash pool for a splashing' good time! One specific thing that everybody loves about this is Little Tikes inflatable slide bouncer. It has no backside. Therefore what is good about it is designed for meeting a specific purpose. Having no backside, it is good for the parents to see every little activity that their kids are doing. Therefore, you stay relaxed and feel safe, thinking that your kids are not busy with any dumb activities which they shouldn't. 
12. Intex Rainbow Ring Inflatable Play Center, 117″ X 76″ X 53″, for Ages 2+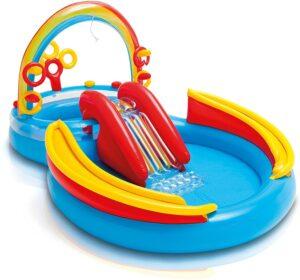 If you have small young kids at home, then the 3 inflatable pool slides won't be the right for you. This is why Intex Rainbow Ring has been introduced to the market. It comes to the list for meeting this purpose exactly. The Water sprayer attaches to garden hose to keep kids cool in summer. This is designed for toddlers and young kinds. This is created with optimum safety. Obviously, another advantage ensured by this Intex inflatable pool is proper for space-saving. Being small in size (117″ X 76″ X 53″ approximately), it would be the right choice for those who have a small backyard. You can get it installed if you want to save some space. It has only one drawback, it takes a bit longer to blow up.
13. Kahuna 90793 Twin Falls Outdoor Inflatable Splash Pool Backyard Water Slide Park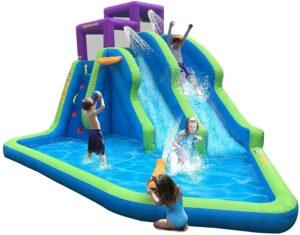 You can always skip to the front of the line in your own backyard water park. The Kahuna Twin Falls Backyard Water Park has 2 slides, so you can race your friends to the bottom. Blast your friends away with the water cannon or stay nice and cool as multiple water sprinklers help cool you down. Score some extra points this summer by racing and playing a game of basketball. There's no doubt, your friends will always be wanting to spend time in your backyard. Premium materials to ensure stable, durable construction. Lined with double tube wall thickness, high-quality PVC fabric, and double-stitched seams.
14. Blast Zone Spray N Splash 2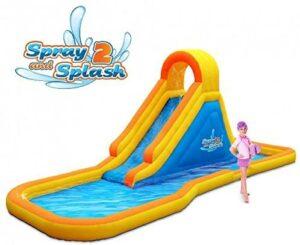 The construction features Includes: Commercial Grade Impact Surfaces, Double and Quadruple-Stitched Reinforced Assembly, Multi-Stage Quality Control and Exclusive X-Weave material for added durability. If you are looking for an excellent inflatable pool slide to bring joy and fun experience to the backyard, you can choose Blast Zone Spray-n-Splash inflatable water park. The design is quite plainer than the other listed in top 10 best inflatable pool slides in 2020. Because of its simple design and structure, it gives you more spaces on the pool surface, especially on the ground. Therefore, if you love simple and want a spacious pool surface, then you can concentrate more on it than any other included in the list.
15. Intex Dinoland Inflatable Play Center, 131in X 90in X 44in, for Ages 3+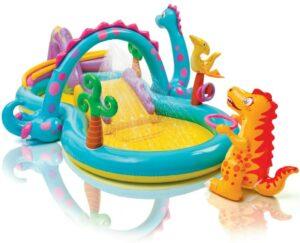 Transform your backyard into your kids' Very own mini water park with Jurassic fun! This activity play center is perfect for kids' ages 2+ years. It has a dinosaur or prehistoric theme with 4 games in just one play center which your kids will surely enjoy. It has a slide landing mat extra padding to make sure your kids are safe from harmful falls. It has a convenient drain plug in the pool floor for easy clean up. The package also includes a repair patch. 
Conclusion
When the matter of safety gets the paramount interest, inflatable pool slides for the adult become the best. Having an inflatable pool slide at your backyard will always be a rewarding gift for your children. It allows your children to enjoy more outdoor activities and be open to their siblings and other kids around. These give you an endless fun experience, ensuring safety for you and your family. Children love sliding into the pool than diving. This is why they love to have the best pool slides for limitless fun. Pool slides are frequently utilized while getting into the water safely. These also become convenient for the children when they get training on how to swim. Therefore, the importance of these cannot be overlooked.