In recent years, watches have almost vanished from the wrists of men. Young men see them as dated, old-fashioned, and even obsolete…  "My smartphone tells me the time, so why would I need a wristwatch?
" Now… they all have smartphones, so why do they wear a wristwatch?
And it's sad. A lamentable shift has happened in the last few decades. Once upon a time, a watch was a necessity, something both men and women put on their wrists every morning and took off only at night before bed. It was a necessity, or else you wouldn't know the time of the day, and you'd be late for all your meetings. Millennial probably never even got into the habit of wearing a watch and for men that's a shame. It's your own signature piece; something that you wear so often that people end up identifying it with you. Even a smart watch is better than no watch- though depending on the model, it will end its own unique message.
Buzz Aldrin wore one in the Apollo 11, MLK wore one when he spoke with President Johnson, and countless US presidents have worn them during their inaugurations. Today's great men, like Bill Gates, Bono, Elon Musk, Warren Buffet, and Pope Francis, all still wear watches.
If you are a watch wearer and watch lover, or if you have repented the sin of not having a watch in your wrist and now you have made up mind to own one, then please do read this article we have seriously researched and pen down this article to serve you as your buying guide. In here we are presenting you only the brand CASIO, later in our coming articles we will switch to a different brand.
There aren't a lot of non-mechanical watches that have inspired excitement among collectors, but Casio watches – particularly the famous G-Shock — are among the rare exceptions. And even diehard fans of Swiss mechanicals are impressed with Casio's technological prowess. Casio has never made, and has no plans to make, a traditional, mechanical watch. However, what makes Casio watches so important in the evolution of the modern watch market? Find out in the journey knowing every specification of the watches listed below.
Here we go!
1. Casio Men's EF527D-1AV "Edifice" Stainless Steel Multi-Function Watch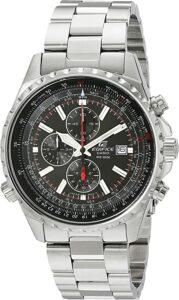 With the launch of its first watch in November 1974, Casio entered the wristwatch market at a time when the watch industry had just discovered digital technology. As a company with cutting-edge electronic technology developed for pocket calculators, Casio entered this field confident that it could develop timepieces that would lead the market. Today, Casio is focusing its efforts on solar-powered radio-controlled watches: the built-in solar battery eliminates the nuisance of replacing batteries, atomic timekeeping means the users never have to reset the time. Recently, Casio launched a series of Bluetooth watches that sync to the users cell phone to automatically update the time. Casio is always moving time forward.
The Casio Men's Edifice Stainless Steel Multi-Function Chronograph Watch exists at the crossroads of comfort, style and functionality…which is where you should be. This dynamic timepiece kicks off with a 45.5mm stainless steel case and a stationary bezel with a textured edge. There are also pushers on both sides of the case, along with a protected screw-down crown on the right side. The watch's black dial is a flurry of function with a sliding inner bezel, silver-toned hour markers and hands, which are powered by quartz movement. The dial also features three chronograph sub-dials with 12-hour, 60-minute and 60-second displays, along with a date display window at the 3 'o clock position. The stainless steel three-link bracelet straps this watch to the wrist, while a fold-over push-button clasp with a safety ensures that it stays there. Finally, this watch offers water resistance up to 330 feet (100 meters). And let me tell you. You will find this very model of watch is replicated into gazillions' by Chinese. 
Note that when you buy this watch, do the full inspection like it's a jewelry because you don't know it may be the illicit Chinese watch.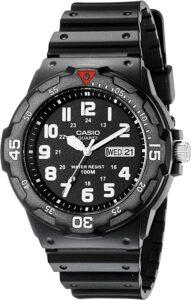 Do you know? Casio Computer Co., Ltd. was formed in June 1957. That year, Casio released the Model 14-A, sold for 485,000 yen, the world's first all-electric compact calculator, which was based on relay technology.
If you're searching for great value in a classic diver-look watch, look no further than the MRW200 from Casio. Its 44.6mm face and large indexes provide at-a-glance information. Couple this with a bi-directional rotating bezel and 100-meter water resistance and you've got a timepiece that's easy-to-read, simple-to-use and durable. Black resin band analog watch with a black face. An additional 24 hr. index, and you've got a timepiece that's simple-to-use, a great value and durable.
3. Casio Men's W800H-1AV Classic Sport Watch with Black Band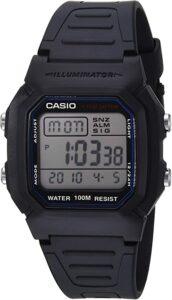 Know that! The Edifice watches are designed to attract buyers engaged in professional careers. The watches have multiple functions, ranging from multiple dials to world time and multiple alarms.  More advanced models are "Waveceptors" which can calibrate themselves with atomic clocks via radio waves.
Now let's know about this model. The Casio Men's Classic Digital Sport Watch features an intuitive design that makes it easy-to-use for on-the-go athletes. The timepiece is constructed with a durable resin case, a stationary black resin bezel, and a black resin band with an adjustable buckle clasp. A durable mineral window shields the square digital-gray dial face, which features a digital time display along with the day, date, and month. The watch also includes light, mode, and adjust buttons that allow you to personalize your watch display to suit your workout. The digital-quartz-powered timepiece is water resistant to 330 feet. This 100M Water Resistance and 10-Year Battery life makes this watch the perfect choice for those looking for top cost performance in a timepiece.
4. Casio Men's FT500WVB-5BV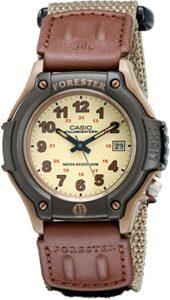 Casio Oceanus is line of Casio watches that uses technology from both the G-Shock and Waveceptor watch series. GPS – The Oceanus watches will auto-synchronize on any place on the world over GPS if Multi-band signal are not reachable. And has Titanium surface with high-end qualities
This watch from the Forester collection features a fast-wrap band, EL backlight with afterglow, date display, three-hand analog display, three-year battery life, accuracy to 20 seconds/month, and water resistance to 100 meters.
5. Casio Men's MQ24-1E Black Resin Watch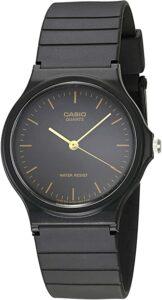 At the office or the movies, this casual classic says you know style. Black Casual Classic Watch Gold Dashes. The basic black-and-gold design of the Casio Men's Analog Watch makes it a simple, versatile timepiece great for everyday wear. The watch is constructed with a resin case, a black stationary resin bezel, and a comfortable black rubber bracelet with an adjustable buckle clasp. A durable mineral window protects the black dial face, which cleanly features gold-tone hour indexes, gold-tone minute markers, and complementary watch hands.
Casio released the G-Shock in April 1983, to fill the demand for durable watches. Sales were sluggish in Japan as people preferred dress watches. In order to promote the G-Shock worldwide, the American division of Casio released a commercial in which an ice hockey player used the DW-5000C as a hockey puck to demonstrate the toughness of the watch. The commercial gained negative publicity and Casio was accused of false advertising. A TV news channel then set out to conduct live tests on the DW-5000C to check whether it was as tough and durable as advertised. This involved repeating the action shown in the commercial. The DW-5000C survived the impact of the hockey stick, and the G-Shock gained popularity among the general public. The popularity of G-Shocks increased throughout the 1990s. By 1998, Casio had released more than 200 different G-Shock models, with worldwide sales at 19 million units.
6. G-Shock Rangeman GW-9400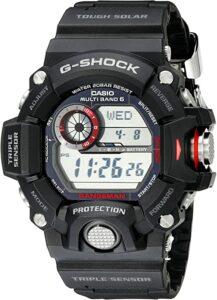 The Rangeman is resistant to mud and dust with its protected button structure, and the sensors are easily accessed with a single button. It is a good choice for those who like the old-school digital style of G-Shock but also want the latest features at an affordable price. It is one of the most functional tactical watches available with features like sunrise/sunset data, low-temperature resistance, 1000-hour stopwatch, 24-hour countdown timer, and 40 record memory for date/time, bearing, and atmospheric pressure and temperature readings. As an advanced G-Shock model, it also has Tough Solar and Multi-Band 6. It is the best choice for a serious all-around outdoor or survival watch, as its digital structure will theoretically handle more abuse than a watch with mechanical moving parts. If you could only have one G-Shock, the Rangeman would likely be the best choice.
7. Casio Men's MDV106-1AV 200M Duro Analog Watch, Black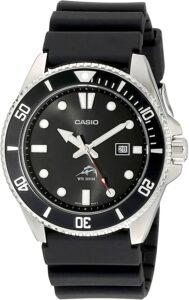 Inspired by the sea, this A black resin band and stainless-steel case give it a classic look while its anti-reverse bezel adds classic dive functionality. Simple 3-hand analog with date display for an easy-read. Black resin band analog watch with a black & white face.
8. Casio EF106D-2AV Casio 100M Water Res. Watch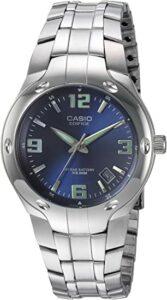 A tribute to classic style, the Casio Men's Edifice 10-Year-Battery Bracelet Watch #EF106D-2AV features a rich blue dial face with a sturdy mineral dial window. Stand-out Arabic numerals and indexes in striking silver tone offer style and at-a-glance convenience. A date calendar rests at the four o'clock position. Both the stationary bezel and 40-millimeter case are made of high-quality stainless steel, and a silver-tone stainless steel band is accompanied by a durable fold-over clasp. Designed to accommodate your fast-paced schedule, this handsome timepiece brings a sophisticated finish to your look. Powered by quartz movement, this watch is water resistant to 330 feet.
9. Casio Men's Vintage A168WA-1 Electro Luminescence Watch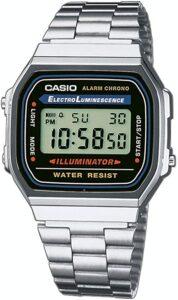 This classic Casio watch design never times out of fashion. Made with plastic case with stainless steel case back, bezel and matching link bracelet, the Electro Luminescence features a digital display with EL Backlight and a convenient day-and-date calendar. With its daily alarm, hourly time signal and auto calendar, you'll never need to worry about missing another appointment, and sports lovers will make quick use of its 1/100 second digital stopwatch. Powered by quartz movement, this timeless Casio watch is equipped with a seven-year battery life. EL Backlight, 37.5 x 33.5 x 9.5mm / 58g.
10. G-Shock G-Rescue Series Red Dial Men's Watch G-7900A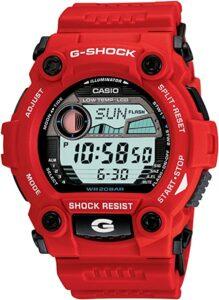 If Bold is you're style, then G-Shock's Rescue Concept casual watches are totally your thing. The bright red of this watch is enough to catch anyone's eye. Use them as a sport watch or for everyday use, the choice is yours. But with their shock resist and water resist power – how can you resist?
11. Casio Men's EFA120D-1AV Ana-Digi Edifice Thermometer Bracelet Watch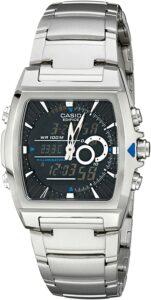 They know that you have a classic sense of style; you know there's much more to the watch on your wrist. With its analog digital combination, you can see the time in up to 2 time zones and the world time feature means you'll never have to guess the time difference between your location and home. Add in a thermometer and dual stopwatches and this watch can go from work to play while keeping you in style. Powerfully styled and packed full of robust timekeeping and environmental features, the Casio Edifice stainless steel watch for men (model EFA120D-1AV) holds its own in both professional quarters and rugged outdoor terrain. This round analog/digital timepiece features a stainless-steel bezel framing a standard analog dial with white stick hour markers and thin oval skeleton hands. It also offers digital windows for showing current date as well as the watch's chronograph, which can measure events down to 1/100 of a second. Other stopwatch features include a 50-record memory, single stopwatch mode with lap times and total elapsed time, a dual mode with two independent lap times, and a 100-hour capacity. It also includes a thermometer that measures every even-numbered minute. Other timekeeping features include: * World time with 30 time zones (50 cities) with city code display and daylight saving on/off * Daily alarm * Countdown timer with 100-hour range * Auto Calendar (pre-programmed until the year 2099) * 12/24 hour formats This watch also features a stylish stainless steel bracelet, ±30-second accuracy per month, Afterglow backlighting, and water resistance to 100 meters (330 feet)–offering protection from accidental splashes as well suitable for swimming, snorkeling, and light recreational diving.
12. Casio Men's Edifice Stainless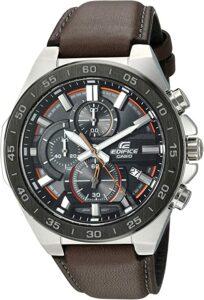 Casio's EDIFICE collection reflects a distinct sense of style by providing men with features that are ideal for professional and weekend lifestyles. The collection speaks to upwardly, mobile men whose goals lie anywhere from the boardroom to the ballpark. With a variety of aristocratic, sleek styles, Casio's EDIFICE timepieces possess features including multi-layered dials, world time, daily alarms, and more. Made with strong, comfortable band materials of resin and stainless steel, each style exudes an attractive, sophisticated look.
13. Casio Men's MTD-1079D-1AVCF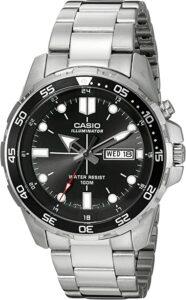 Super illuminator LED, 100M water resistant, stainless steel bracelet, anti-reverse rotating bezel, day/date display. At the touch of a button, the display can be brightly illuminated in a fashionable color. Illumination may be hard to see when viewed under direct sunlight, Frequent use of illumination runs down the battery.
14. Casio Men's Edifice Quartz Watch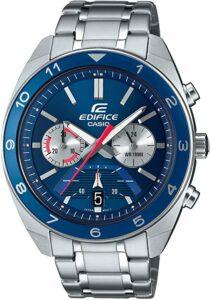 Technologies continue to advance, with EDIFICE leading the way. This multi-function chronograph from CASIO is actively forwarding the evolution of electronic technologies. EDIFICE combines a fusion of dynamic forms with elaborate face designs, and provides leading-edge, accompanied by uniquely original expressions produced by the movements of various hands. These features are transporting the chronograph into new realms and unlocking the hidden possibilities they contain. EDIFICE, the watch that recognizes the value of speed and time, for people who live in the moment!
15. Casio Men's Edifice Quartz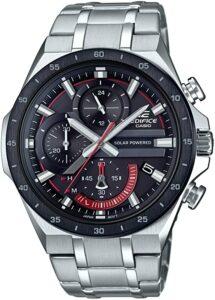 These models are the latest solar-powered chronographs from the high-performance Edifice lineup. The sporty designs of these motorsports concept timepieces are created using carbon fiber, an essential material for racing car applications, for their faces. A solar-cell is used to generate electrical power from light, which is used to charge a battery. This eliminates any need to worry about the battery suddenly going dead, as long as light is available. A full charge provides enough power for about five months of operation, even if there is no exposure to light.
Conclusion
The appeal of Casio's watches might have been born from a boyish fascination with gadgets, but it was cemented by technological advancement and timeless (so to speak) design. For people of a certain age, electronic Casio watches were the first piece of tech they got excited about. There was something intriguing about a little rectangular case telling you how early you'd woken up on a Saturday morning, or how close you were to the end of the school day. It had a light! An alarm! Waterproof to 50m! But best of all, it had a stopwatch — were you even really a child if you didn't double tap the stop-start button as quickly as possible?
The more you dig the more you get, this Japanese genius is the king in watch making industry, with unmatched intricate innovation, they have a separate fan base, people all around the globe love their watches. And I hope with reading this article you too have developed some love for it. 
Men women or child whoever you are I appeal you with all my heart just do wear a watch, it's a status symbol and a persona builder.