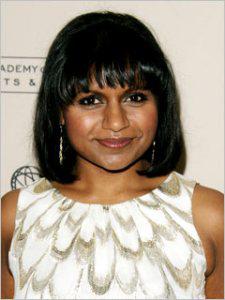 06 . Mindy Kaling . Born and raised in Cambridge, MA to an Indian family, Mindy Kaling is, for lack of a better term, awesome. She first got into comedy writing by writing for Dartmouth's The Jack O-Lantern (the school's humor magazine), drew the comic "Badly Drawn Girl" for the school's main paper, and was part of the school's improv troupe. Her "breakout" piece was playing the role of Ben Affleck in a play called "Matt and Ben", which was named one of Time's "Top 10 Theatrical Events of the Year."
The best part, though, is that Mindy is equally as funny on paper, as a director, or on camera. Her character of Kelly Kapoor on The Office often has the best comedic timing out of anybody on the show, and the episodes she writes or directs are so often the most hilarious ones. The webisodes she's directed for the show, like The 3rd Floor, consistently make me roll on the floor laughing.
Plus, Kaling's twitter feed is quite possibly the best thing I've followed since I made a twitter account for my media class. And she said what I've been saying for years – that she and Kristen Schaal should make a movie together. Her comedic genius, extreme talent, and sense of humor makes her one extraordinary girl.
Some Choice Mindy Kaling Quotes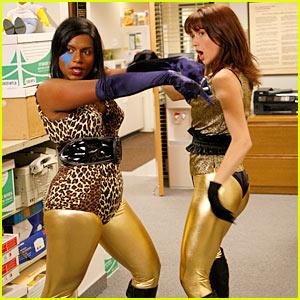 Kaling and Ellie Kemper
(on the first joke she ever wrote and liked) "When I was a little kid, I wrote this play about all these characters living in a haunted house. There was a witch who lived there, and a mummy. When they were all hassling him, this guy who bought the house-I can't believe I remember this-he said to them, "Who's paying the mortgage on this haunted house?" I thought that was really funny when I was a little kid.
"I was excited to write — I mean, that's all I've wanted to do was be a comedy writer — and acting was a nice cherry on top of the sundae."
"Girls like it when you nickname them something smaller than a bread box. Chickadee. Pat of Butter. Baby Mouse. This makes us feel tiny and adorable. Space Heater and Minivan do not."