As Christmas draws near, I'm sure your ears are gonna be saturated with timeless Christmas classics like Silent Night, Hark the Herald Angels Sing, and Joy To The World, among many others.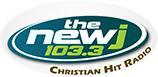 Well, if you're in the mood for something different, but you're still willing to feel the Christmas spirit, then there are lots of non-traditional Christmas songs that you can enjoy (and, no, it's not just All I Want For Christmas Is You by Mariah Carey).  In fact, if you live in Cagayan de Oro, then the local Christian station here, The New J 103.3 FM plays Christmas songs all throughout December (non-traditional songs as well as modernized versions of the classics).
I'm friends with the guy who runs the show over there at The New J, John de Cleene, and he was kind enough to share with me his Top Ten Non-Traditional Christmas songs.  I'm going to give those top ten songs below, with a brief intro by John, himself, and with an accompanying video if possible.  The names are also Amazon links in case you'd like to buy them.  Enjoy John's Top Ten Non-Traditional Christmas Songs!
10.  Shopping List by Babbie Mason.  
"It's a fun account of the singer fretting because she needs to buy so many things, but, realizing that Christmas is really about Jesus.  It's cute, true, and, Babbie Mason has a neat tone to her voice."
(Note: unfortunately, there's no Youtube video of the song.)
9.  Only One by Mary Mary
"These are two sisters so their blend is incredible.  They took their name from Jesus' mother and Mary Magdeline.  The song's beginning is 'old fashioned' yet has a jazz beat throughout most of it."
  8.  It's Christmas Day by Family Force 5 
"They're actually a family! One of the family members is now on our (New J) Rock/Rap list, as well.  I love the beat of, and the lesson of, this song!"



7.  It's Christmas Time by KJ-52
"When you say this Christian rapper's name, you have to say Five, Two; not fifty-two.  It's from the Five Loaves and Two Fish event in the New Testament.  If you like the old-school hip-hop type beats, then you'll like this fun song."

6.  Mercy-Full Christmas by Calvin Nowell, MissiHale, and B. Reith  
"The play on words is fun but so full of truth, so make sure you listen to the words carefully. The collaborative effort of these great solo artists makes the song just so fun to listen to!"

5.  Punk The Halls by Stellar Kart
"Put in ear plugs if you don't like near acid-rock sound.  Fun play on words and just a great pick-me-up song when tired at Christmas time!"

4.  No Christmas Without You by Group1Crew
"Ok, I just love Group1Crew!  Actually, this is a favorite of mine this year, because, after 30 years of marriage, this is the first time my wife and I are separated for Christmas.  She has to be in the States to be with her father.  I'm here comforted by my youngest son, so, it's still a good Christmas."

3.  Because It's Christmas by Sidewalk Prophets 
"This song is so true.  I could have written it, if I had any talent.  A husband calls his wife from the car befuddled because he forgot an item at the store and traffic is terrible.  His wife tells him to relax.  A few minutes later she calls him because family arrived early and she still has to cook while entertaining them.  His turn to tell her to 'chill'"

2.  Birth Of Love by Toby Mac
"It's impossible to have a list of Christian songs and not have Toby Mac!  A fun song with an eternal message!  Typical Toby!"

1.  Least of These by Israel and New Breed
"They just have the best beat!  It's an unexpected breath of fresh December air.  Their harmonies are incredible.  It's like to same voice taped over itself, but, not!"
(note: It's a huge shame I can't find a video.  It's a GREAT song…also a favorite of mine)
So I hope you enjoyed this Top Ten list of the Best Non-Traditional Christmas songs.   John and I actually share the same favorites.  I'm especially a fan of #6, #4, and #1.  Even before I made this list, my daughter considers #3 her favorite Christmas song.  If you are based in Cagayan de Oro City, make sure you tune in to this city's positive music choice, The New J 103.3 FM, as they play non-traditional (and modernized traditional) Christmas songs all throughout the month of December.