This is the second of a three-part series on
the Filipino products that my family supports
(see the first one here).  I got the idea for this article from a Buy Pinoy assignment that I give my students:
they make a list of 12 products that they currently patronize and replace them with Filipino counterparts.
 After a month, they will come up with and compare-and-contrast paper about their experience.
As you can imagine with our colonial-minded brethren, my students included, there were groans and complaints about the supposed inferior quality of our products, to which I replied that (a) you can very well be wrong, and (b) with our support, they can become great.  Want examples of lowly local products that are praised worldwide, especially since we Filipinos support them so much?  San Miguel beer is lauded as
one of the best beers in the world
, and Emperador brandy is the world's best-selling brandy.  Of course, I do not encourage my students to include these products as part of their assignment, and I'd like to think that there's more to great Filipino products than alcohol; but I think they get my point.
While many students said they will never ever make the switch with some products (I understand…I love my Oreo cookies, too), by and large,
they found the local products as good as their more expensive imported counterparts.
 Yet many students do not use Filipino goods to the point that they do not even know what they are, and therefore had great difficulty finding 12 Filipino products.  Some even mistakenly switched a foreign brand with another foreign brand (guys, Del Monte is not a Filipino brand, neither is Safeguard).  In response to this, I made this three-part blog entry on the Filipino products that my family supports.
This article is the second part of this series.  For numbers 1-4, please click here.
5.Your local (preferably organic) vegetable and dairy  farmer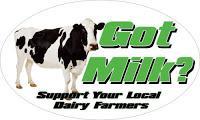 Doesn't it bother you that much of the (mostly imported) milk sold in supermarkets can be stored at room temperature?
 If the milk can make the trip across the oceans, and then spend a considerable time on grocery shelves, you may want to question if the milk you're drinking is still real milk.
 Most of these are UHT (ultra-heat treated) milk, and many believe that
this process greatly reduces the quality of the milk.
 I am a part of that bandwagon.
I go to the local dairy farmer for my milk, and since they're usually small farms and not big business operations,
most likely their cows are grass fed, not confined in stalls and raised on feeds they naturally would not eat if they had a choice.
 That makes a gigantic difference in terms of nutrition, as meat, milk, and other dairy products from grass fed cows are very different from cows confined in "factory farms" as
this article will inform you.
   It's like eating two completely different products.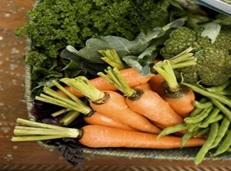 Ditto for
veggies
.  The closer the farm is to me, the better; and it's a plus if the farmer is very environment and health conscious, therefore
raising his produce organically
(conventional farming does terrible things to the environment, and the results are inferior products…who likes that?).  In my church circles alone, and surely I do not know everyone in CCF-Cagayan de Oro, I already know 6 organic farmers.  As you can imagine, my family enjoys very fresh organic produce; and we like that we're helping local farmers with their advocacies.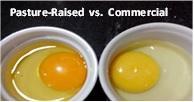 I can help you get the one
on the left.
I have a feeling you don't have to look too far to get the same local goodies that I can get my hands on, and you should put the effort to find out.  If you live in Cagayan de Oro, especially in the uptown area, I can help you with that (
email me
for inquiries).  Among the many things I sell, I offer: fresh milk from grass fed cows (especially RAW milk,
the healthiest milk there is
), butter from grass fed cows, organic vegetables, raw wild honey, and meat and eggs from free range chicken.  Check out this
Facebook page
to avail of what I can give you.
6.Kefir Life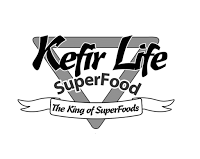 Speaking of milk, did you know that there is a product here in the Philippines that turns an already health-enhancing product, milk from grass-fed cows, into a
bona-fide superfood
?  My family and several friends have benefited from it, and you can too.  That product is
kefir
, and my neighbor and longtime friend has been making superior quality kefir for years now.  
What imported product does this replace?  Well, if you're a fan of yogurt, especially because you think it's good for you, I'd strongly advise you to consider kefir.  Like yogurt, it's a fermented milk product, but it is something you drink instead of something you spoon.  It also has a stronger flavor (admittedly a very acquired taste; that's why there are flavored ones) and it's stronger in terms of potency as well.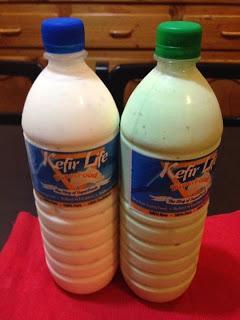 Here's a comparison…oh, and note that this is comparing kefir to traditionally made yogurt; don't even consider the commercial stuff, it's not remotely close to even traditional yogurt.
Probiotics- Kefir has up to 40 kinds of strains of microorganisms vs yogurt with only 5 kinds. Kefir has 1.1 billion per ml microbial count vs yogurt with only 10 million per ml. Meaning, Kefir has 100 times more probiotics!!
Bio-availability- Our kefir is 100% raw & perfectly bioavailable while commercial yogurt is heat processed & nutrients are altered/denatured. 
Enzymes- Our kefir has highest concentration & spectrum of enzymes for digestion & metabolic functions. These are totally absent in yogurt. 
Kefiran- only traditional kefir contains this unique substance called Kefiran. Studies show that kefiran contains anti-cancer & anti-aging properties. Kefiran can only be produced by kefir probiotics. 
Potency- the synergy of kefir probiotics, enzymes, nutrients & kefiran is beyond compare & makes yogurt an inferior substitute... On top of everything, our kefir is also cheaper than commercial yogurt.
With an awesome product like kefir, and blessed with an abundance of nutritious foods considered to be among the world's healthiest, like coconut, malunggay, grass-fed beef, durian, papaya, peppers, sweet potato (kamote), saba banana, etc., it's a wonder why so many of us here in the Philippines are sick.  We shouldn't be!
If you want to give kefir a try all you need to do is
email me
for inquiries.  For Cagayan de Oro customers, I will
deliver the kefir to you personally.  
 If you live outside Cagayan de Oro, I would be happy to
ship to you via air freight.
7.Hapee toothpaste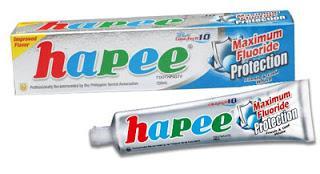 This was the one product change that every student got right.  Not much to say about this product except that
it tastes like international brands, cleans like international brands, refreshes like international brands; yet it is cheaper than international brands
, and the money used to pay for Hapee toothpaste goes to Filipino hands.
Another reason why Hapee is such a worthy product to support is that the company that makes it is hugely involved in helping out the marginalized and disabled.  One of the many projects they participate in is in partnership with DEAF Evangelistic Alliance Foundation Inc. (DEAF Inc.) where they have a series of activities to help the hearing impaired live productive lives.
Since Hapee is cheaper, just as effective, it puts money in Filipino hands, and the company is very involved in helping others, I truly cannot fathom why this product is not in every Filipino household in the place of international brands.  In my mind, this is a no-brainer; make the switch and don't turn back!!
8.Nutri-Del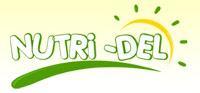 Our househelp is a single mother, and her daughter is growing up with us.  When the child grew to the age when she can start eating solid foods, we went out to buy the usual international brand; but lo and behold, we saw a cheaper local brand that can do the same job, plus the added benefit of benefiting the Filipino hands that made it.
We started buying Nutri-Del and have never looked back.  Other than the fact that it is proudly Philippine made and is cheaper than international brands, I am a fan of what they put into their baby food.  With flavors and ingredients like
Carrots, Green Beans, and Sweet Potato
and
Apple, Squash, and Malunggay
(yeah, you can tell by my previous post that I'm a huge fan of malunggay), I think you're giving your baby some really good stuff!  How I wish I fed my own children these when they were still babies.

Lots of flavors to choose from; healthy choices, all of them
If you have a baby in the house who is starting on solid foods, feed the little cutie Nutri-Del instead of the international brands.  Not only will you give your child the same good nutrition (and maybe even better), not only is it cheaper for you, but you also help feed the Filipino farmers and workers who make it.
Stay tuned to this blog for the final part of the series.  While I appreciate your readership,
I would especially appreciate that you turn your reading experience into action by supporting local Filipino brands.
 Remember, buying an American product feeds an American family, buying a European product feeds a European family, and so is the case with Filipino products: they feed Filipino families.  That itself is reason enough to make the switch.   Since Christmas is coming up,
why not use some of the items in this series as gift items?
   Here is the first blog article for the local products that I support.  The third and final installment will come in a few days.  See you soon.
(This blog site, Lessons Of A Dad is mostly about parenting, marriage, and other topics aimed to develop the reader's mind, body, and soul.  I'd consider it an honor if you'd follow or subscribe to this site.  You can also go to my Facebook page here, and I'm also on Twitter at @lessonsofadad)