Magento platform has been around for years now, and makes a much sought after choice for most of the giant eCommerce companies. With a modular architecture, this popular CMS is absolutely secure, flexible and highly extensible. It enables one to efficiently tailor the look and feel of his online store and configure it with a great ease. However, for this, one must possess expertise in Magento development.
This eCommerce platform is backed with loads of credentials, including SEO, marketing, easy product catalog management, analytics, m-commerce, and a lot more. You will be overwhelmed to have a wide variety of themes and extensions in its repository. This certainly allows one to choose an appropriate theme for a requisite visual appeal and an extension to integrate a desired functionality to his store.
In this post, I have enlisted some striking Magento themes that can allow you to make your e-store stand out of the box. These themes can be personalized to generate a unique and fresh appearance on the web. Since, these themes are custom made to proficiently cater to the specific needs of your business, they really make an awesome choice.
Let's explore the list of themes designed for a niche eCommerce business.
Beautify the visual appearance of your Magento-powered Jewelry store with this exquisite theme, and create an appealing and intriguing effect. It allows one to easily showcase featured products, items on discount, special offers, etc., on a side column. It makes the products easily accessible with an easily-navigable interface. The design of checkout page is also streamlined to make the process fast and effective. This premium open source theme comes complete with one year of free support and free upgrades.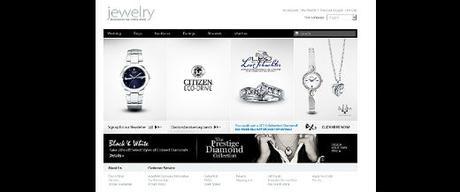 2. Responsive Antique Theme – Antique shops
For the folks who deal with antique items, the Responsive Antique theme makes an ideal fit. It encompasses a powerful Zoom Image plugin, Add to Cart, Compare, Add to Whishlist, Product Labels and numerous other useful features. Moreover, it also includes One step checkout extension, Ajax cart pro, Magento mega menu extension, and a lot more. This responsive theme works great on all screen sizes and can be managed with a flair via its user-friendly Admin panel.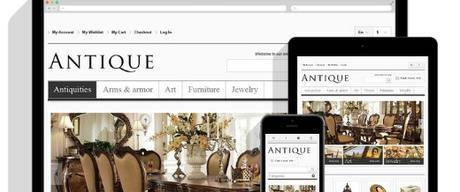 3. ZORKA – Wonderful Fashion eCommerce Magento Themes
Zorka is a powerful premium theme that features an appealing retina-ready design. It is specifically designed to buttress fashion websites that sell trendy and fashionable products. The elegant interface of the theme showcases a vivid image of products in the center, which helps rivet viewers. Since, it is developed in Bootstrap framework, the theme is responsive in nature and runs smoothly on a variety of devices.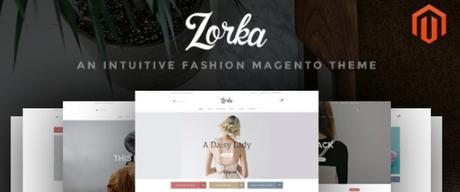 4. Autoparts – Bike, Car & Automotive Accessories Store
Make your automobile business more profitable by embellishing your online store with this marvelous theme. You can tailor the theme to create an effective look and feel and captivate your potential visitors and convert them into customers. This premium theme is completely responsive in nature, and offers banner management, incredible searching options, an intuitive navigation bar in the header, and several useful features.
The theme also features several Ajax functionalities that further add to its credibility. It is compatible with the Magento Community Edition 1.9 and delivers a great performance.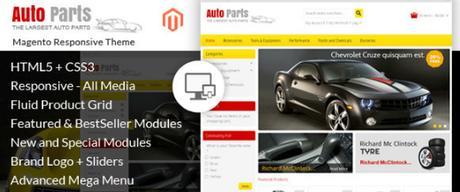 Wine Store Theme is an ideal example, how the slick interactions can be offered by an interface. This free theme ensures smooth navigation and generates fabulous UX. It is great for selling wine, liquor or other drinking items.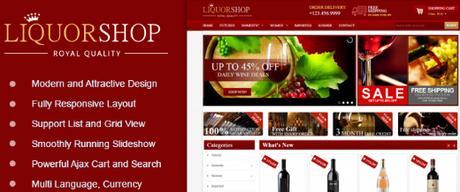 6. Military Store Magento Theme
Military related products can be proficiently sold with this kind of theme on an online store. The minimalist layout of this theme makes the featured items easily accessible. While offering easy navigation, the theme also boasts an intuitive interface. Your potential visitors can efficiently explore the store and get the requisite item. It offers easy customization and is translation ready so it is all set to boost your eCommerce business success.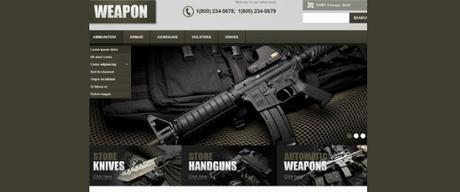 7. "Healthier" – Responsive Theme
If you are looking for a responsive and feature-rich theme for your medical or health care e-store, this theme makes an awesome choice. It is loaded with blissful features like newsletter subscription box in footer, easily accessible navigation menu, services block included on the pages and so forth. Furthermore, it also displays the short product description of a product upon hovering. You can easily get started with the theme as it comprises a comprehensive documentation.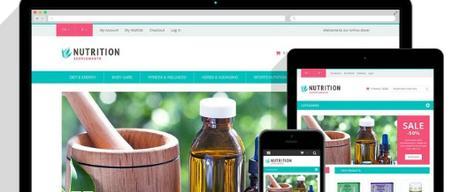 The appealing and welcoming design of the Unique Gifts Magento theme is perfect to attract potential visitors to store. Boasting beautiful colors on white background, bold banner and blue CTA makes add to its conversion rate. It not only has remarkable interface, but also has features that make it highly usable. This responsive premium theme is perfect to complement an online gift store.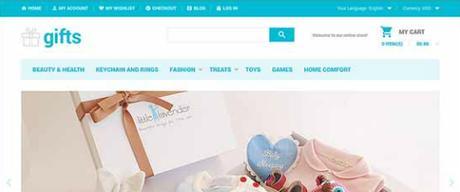 9. Apparel Store Magento Theme
Apparel Store Magento Theme is designed keeping the expectations of online customers in mind. Its neat and clean interface displays the products in an organized and uncluttered fashion. It is easily customizable and makes an optimal choice for a clothing store, though you may choose to personalize it for selling other products as well.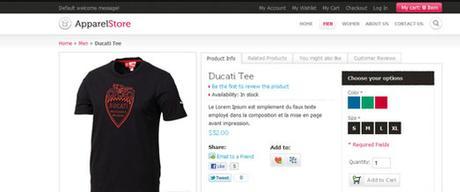 10. Car Wheels Online Store Magento Theme
Custom made to sell wheels and other car parts, Car Wheels Online Store features a well-designed layout. Its red CTA button and badges never fail to attract viewers' attention. The integrated product slider further makes it easy for visitors to scour the available items. The theme is responsive in nature, cross browser compatible and optimized for search.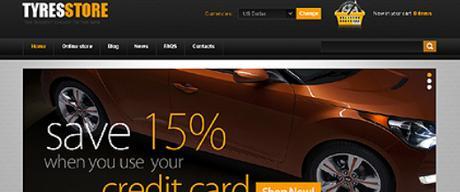 Conclusion
These are a few of the ravishing Magento themes that are specifically designed for certain e-stores like wine store, fashion store, beauty store, and so forth. However, there are several themes that are multipurpose and thus, are great for any type of store. Scrutinize your choice by taking your business requirements and target audience into account, and create an aesthetic and functional Magento store.