5 AI-powered House Design Software to Redecorate Your Home - Interior or house design software was valued at 3.82 million dollars in the last year, and it will increase to about $6.43 million. Nowadays, people spend their savings to make their homes comfortable and pleasing to their eyes. However, hiring a professional to design your house is costly. Although the benefit is good, it sometimes cannot fit the budget, as you'll also need to hire architects, engineers, or contractors too. Let's not forget the cost of the materials you'll need.
That's why house design software became a valuable tool not only to professionals but to many individuals. Anyone who wants to create a 3D design of their interior can rely on these tools. They are packed with the latest technology to keep up with the demands and skills of users.
What makes current house design software excellent for budding designers and individuals who want to take matters into their hands is the power of Artificial Intelligence (AI). There are plenty of AI-power house design software free and paid available in the market.
Homeowners don't have to be tech-savvy to manage these home design software applications. Since AI is part of the new home design software, homeowners can create the design they want with a single click.
But, even professionals can benefit from these home design software programs. It can assist them in managing multiple projects and send designs to their clients for immediate editing.
Furthermore, interior design software programs can now work on various platforms. Hence, it's easy to bring your designs with you anywhere you go and open them on any device.
So, without further ado, let's take a look at five of the best house design software you can use to redecorate your home.
1.Planner 5D
Planner 5D is a home and interior design software program that both amateurs and professionals can use for their interior designing projects. It comes with tools that are easy to use, a simple interface, and creates high-definition 3D designs that are realistic.
Planner 5D gives users the ability to work even outside of the office or home. With iPad and Android versions, you can bring your designs wherever you go. Furthermore, you can share it with colleagues, friends, and contractors.
Aside from working on the go, you can access your designs offline.
With over 40 million users, it is for sure that Planner 5D stands out as one of the best AI-powered house design software. Its AI Plan Recognition technology allows users to upload an image floor plan. Then, the system will analyze the content and turn the 2D design into a 3D model instantly. Planner 5D has also announced that their AI Plan Recognition technology will include Intelligent Auto Furnishing. It means that 2D designs with furniture can be turned into a 3D layout.
View your work in a high-quality and realistic manner as Planner 5D is rich in elements that can add effects such as color, shadow, lightings, and more.
* 2D or 3D Designs
You can add various elements and furnish them in 2D and 3D forms. Then, view it from different angles.
* Wide Array of Items
You can either use your designs and add them to the gallery or browse through the user-generated library offered by Planner 5D. You can choose different furniture, colors, and materials.
* Intuitive Interface
Amateurs will surely enjoy Planner 5D. Its user interface is easy to navigate, and tools are accessible at all times.
* Experience Your Design
Get the feel of it by walking inside with AR-drive 3D technology. Planner 5D is a free tool that works on the web, desktop, and mobile devices. However, to access high-quality rendering, you'll need to pay for them. Prices vary from the bundle and users (personal vs. commercial use).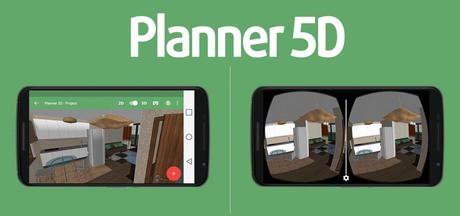 2. Homestory AR
Homestory AR is a smart AI-powered interior designing software that you can carry anywhere you go. It's a home design application that's exclusive to iOS users only.
It visualizes how your dream furniture will look like when it's in your home. You can try a new coffee table, sofa, bed, and so on with augmented reality technology. You don't have to go shopping for a piece of furniture before knowing if it would look better in your home.
Homestory AR includes popular interior design brands and top-notched designers to help you design your home.
It is easy to use the application. All you have to do is open the app and scan the desired area in your house. Since Homestory AR is an AI-powered app, it will check the whole area and measure the space. Then you can select the furniture you want and see if it'll look good in your home.
Aside from seeing how a piece of furniture looks in your home, it can also provide information or suggest what furniture you can buy. Homestory AR enables users to save and exchange designs with others in the virtual 3D room.
3. Home By Me
Another home design free tool that is capable of home décor and planning is Home by Me. It is a friendly application. Beginners can use to build 2D rooms, add furniture, and covert to 3D models. Home by Me is similar to Planner 5D, where it creates a realistic view of the design.
There are plenty of ways to begin your design project in Home by Me. You can start by drawing a 2D design of your project or import a 2D plan you've already have and edit it on the planner. After, you can convert your 2D drawings into a 3D design, add effects to make it look realistic.
* Designing Details
If you want to create a 3D realistic design, Home by Me comes with powerful design tools. Also, you get various materials and structures such as mezzanine, sloped walls, windows, doors, stairs, and others. There are measurements provided that are accurate for the design process and with adding of furnishings.
* Mobile App
You can work anywhere and anytime with its app version, available at Google Play Store and Apple Store.
* Explore Finished Design
Want to see how your design looks? Get a chance to experience your design with a 360 degrees' view. Furthermore, you can get high-definition images that you can send to anyone via email or social media.
The pro version offers a virtual tour opportunity for clients to experience every corner of their dream home and add furnishing as they go along.
Price and Plans
Home by Me offers a free plan with a limited amount of projects and images. For their paid plans, they have two, the One-time Pack and Unlimited Plan. The latter is a subscription plan for professionals.
They also offer other paid services like creating 360° images, looking for a professional's opinion, and more.
4. Homestyler
Homestyler gives an edge to designing your dream home. The free designing tool offers plenty of rendering options, even for the Basic plan alone. Users can create 2D and 3D floor plans with the right measurements and choose from different furniture, materials, and products.
After designing your dream home, you can get to experience it with walk-through features such as HD realistic images, a 720° panoramic view, and more. You can get to switch on the lamps and lights to get a better feel of your future home.
Homestyler is an uncomplicated software to use. Simply design your 2D plan, convert it to 3D, add furnishing and other elements, then view your design.
The free version offers three forms of renderings and up to 100 3D model uploads. Meanwhile, two of their paid plans are Pro and Master. It includes 4K rendering, 10K Panorama, Video rendering, Watermark removal, and Interactive lightmix.
Get to work on a design, online or via your mobile devices (android and iOS).
5. FloorPlan Home & Landscape Pro with Lightworks
IMSI designs are known for their tasteful floor plan, interior design, landscape, architectural, and CAD software programs. Even though they are designed for professionals, beginners can easily get a grasp of their use.
The FloorPlan Home & Landscape Pro with Lightworks offers unique features only seen in TurboCAD. Even without experience, you can drag and drop items to your design and estimate the cost of it.
Overview Features
* Ready-made templates
* QuickStart option
* Training videos
* Drag-and-drop tools
* Creates precise 2D/3D dimensions
* Create a "Green Home"
* Tools for building structure, landscape, and interior design
* High-quality 2D tools
* Thousands of materials, elements, appliances, and furniture
* Lighting options
SmartWand technology to add materials in a room and paint walls in a single click. FloorPlan Home & Landscape Pro has no free option. It's a one-time payment software but gets updates when IMSI designs roll them out.
Conclusion
Artificial Intelligence is a vital technology made by humans. It has driven innovation in multiple industries, including interior designing. Professionals, beginners, and homeowners can now have the luxury to design a future home without tedious work. AI made house design software simple and easy to use. With just a click of a mouse, anyone can create and experience how their design looks.