AlphaSSL is owned by Globalsign. The aim of this SSL certificate provider differs from Globalsign. AlphaSSL targets mostly the small ventures that are cost-sensitive in nature whereas Globalsign mostly targets the big business organizations. AlphaSSL utilizes same infrastructures to curate the SSL certificates at a much lower cost.
They also offer free customer care service 24*7 through live chat and email. The installation tools are also included in the package.
VISIT WEBSITE
SSL Certificates FAQs
What is an SSL Certificate?
An SSL certificate is a digital file that attaches your identity (or if you're a business, the identity of your company) with that of your website through a file containing a cryptographic key. They help in encrypting data that users submit through your website so that no one else but only you/your organization can see it. This helps in eliminating the risks of eavesdropping and data tampering.
If you've not yet installed an SSL certificate, but you've been collecting user data of any kind on your site, that data may be visible to ISPs or other individuals/entities which are in the position of intercepting traffic. Therefore, SSL certificates are must if you collect sensitive user data i.e. passwords, credit card data etc. But even if you don't collect sensitive information, you should consider installing it on your server because no information that web users submitted to you through your website should be allowed to slip into the hands of prying eyes.
Besides that, SSL certificates provide some other benefits too: they protect your site from hackers, improve Google rankings, provide safe shopping experience and enhance customer assurance. No one can alter your personal information during the online conversation if you've SSL certificate installed on your server.
How does an SSL certificate work?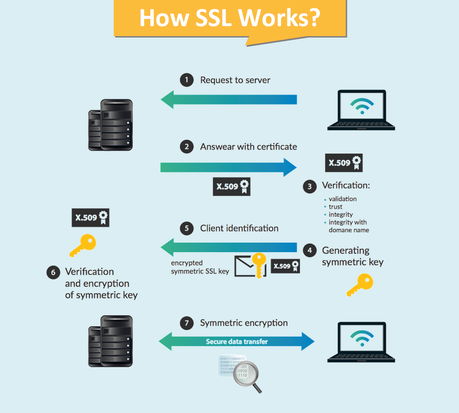 After the activation of the SSL certificate of your website, the server will send a 'finished' message to the visitor which is encrypted through an encryption key. This process is also known as 'handshake' as it indicates that your website is now secured.
This process generates two different types of encryption key:
Encrypted connections with a public key can only be decrypted with a private key but it is not possible the other way round.
Apart from this, an SSL certificate also enables encrypted traffic between the website and the user's computer. This level of encryption protects sensitive data like passwords, OTPs, credit card details, and so on.
What are the types of SSL certificates?
There are several different types of SSL certificates that are issued to websites. Some of the most popular types of SSL certificates are listed down below: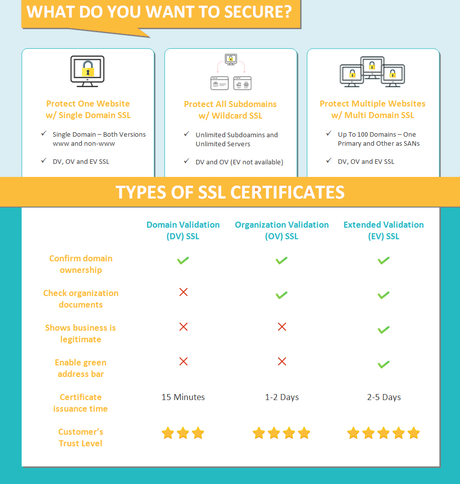 DV SSL - Domain Validated
Just started an online business? It is necessary to offer protection to your customers. In that case, it assumed that you have a specific budget but do not worry! You can even protect your valuable customers with domain validation certificate.
Domain validation is a primary level of the certificate that avoids lengthy validation process and follows instant issuance. Certificate authority will verify domain ownership and issue SSL certificate immediately. Domain Validation certificates are available at cheap price compare to other certificates.
OV SSL - Organizational Validated
In addition, organization validation certificate is the best option, which refers to marginal high price but it also verifies your business over the web. Business validation offers establishment of business identity. After confirming business related documents, the CA issues organization validation certificate. The certificate provides same encryption to a website, but with set up identity.
You can provide strong protection to your customers on the website. The certificate as per industry standard gives up to 256-bit encryption, 2048-bit RSA encryption. Customers would easily put trust to your website once they see HTTPS instead of HTTP ahead your website domain name.
EV SSL - Extended Validation
To get protection from phishing fraud and unauthorized web identity, Extended Validation (EV) certificate is the best online security solution for websites. EV holds highest validation and protection compare to other types of SSL certificates.
However, EV follows a strict verification process including checking of legal, physical and business existence, government records and other important documents. After following the process, the CA issues certificate to the applicant. Most eCommerce websites, payment merchants, financial sectors use EV SSL certificate as these sites have hundreds of transaction taking place on daily base plus a strong authentication is needed for customer assurance.
When EV SSL is on your website, the address bar turns into the green bar and displays company name to assure visitors and customers that the website is reliable and passed through the strict validation process.
With EV SSL, strong encryption, highest validation, protection against phishing, 2048-bit CSR encryption, green bar assurance and many other features is offered to websites.
You may have large size of business and have multiple domains or websites to needs to be secured with SSL certificate. It is costly and time consuming task to manage an individual certificate for each domain, so in that case, multi domain SSL certificate is an ideal option. It can secure multiple domain names with a single certificate.
A multiple domain certificate can secure many SAN names during certificate cycle for example, an enterprise can secure domains like
www.mycompany.com
www.mybusiness.com.au
mail.companydomain.com
shop.abcdomain.co.uk
any.sub.snydomain.tld
However, It is also called SAN or UCC certificate and ideal for shared hosting, exchange servers as Microsoft exchange server 2007, 2010, and 2013 as well Microsoft communication server. Your website will have robust protection plus save money of a business.
Wildcard SSL certificate is best suitable for business that has different sub domains for forum, blog, login, checkout, and portals. Wildcard SSL is a cost saving certificate that allows unlimited sub domain protection under a single certificate. A single asterisk (*) can secure sub domains and allows to share same wildcard SSL on multiple servers.
For example, a certificate request for primary domain *.mybusiness.com can secure sub domains like,
mybusiness.com
mybusiness.com
mybusiness.com
mybusiness.com
mybusiness.com
Wildcard certificate offers centralize certificate management that takes care of your certificate's expiry and prevents warning of expired certificate in browsers. All your sub domains will have robust 256-bit protection and root encryption.
How to Fix Mixed Content Error on HTTPS site?
If web page refers HTTP element on secure HTTPS secure page than web browsers will shoot warning message. To avoid the mixed content warning, you can use relative paths instead of absolute paths.
What are the things to be consider during SSL implementation?
SSL certificate is able to attract visitors and customers towards your website and can change customer psychology in the way they perceive the company. It is true that company requirement affects the selection of SSL certificate. Below is the simple consideration before choosing any SSL certificate.
Reliable Certificate Authorities: It is quite important that SSL certificate is issued by a trusted third-party certificate authority. CAs follows certain guideline prescribed by NIST and CA/Browser forum.
Decide your Need: Every business has its own security requirement hence, a business or individual should mull over the business needs to choose a right SSL certificate.
Use 301 Redirection: 301 Redirection is an efficient way of permanent URL direction that lands users on HTTPS pages and experiences a secure environment over the website.
Use of HSTS: HSTS (HTTP Strict Transport Security) requests the browser to load the page via HTTPS even the user types HTTP to visit the website.
Strong Protection: Always prefer 2048-bit key certificates for better protection.