Just forget about gold & silver. This is a smart world for smart people; choose your favorite best android wear smartwatch now.
Hmmm!!! Confused, I know it's quite tough job to choose the best android smartwatch. But today I am sharing best android wear collection of the month September 2015. Hope it makes easy to choose your favorite watch…na na smartwatch . Enjoy.
1. LG G Watch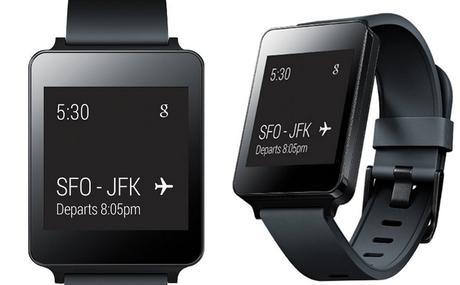 LG G Smartwatch
LG G electronic smartwatch – LG G smartwatch is available in solid black & white.
Features
Compatible with most devices with an Android 4.3 or later operating system
Voice activated
Powered by Android Wear
Mobile notifications
1.2GHz Qualcomm processor
2. Pebble Steel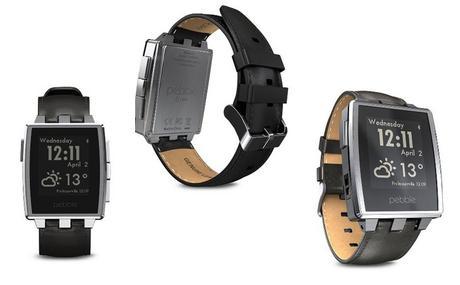 Pebble Steel
Pebble Steel – Pebble Steel Smartwatch Stainless is available in solid black.
Features
Read email, texts, incoming calls, calendars and access your favorite apps on your wrist
Discover thousands of apps and watch faces to customize Pebble Steel to fit your life
Control your music right from your wrist with iTunes, Spotify, Pandora and more
Rechargeable battery lasts 5-7 days on a single charge
Waterproof up to 5 ATM (approx. 165 feet)
Crafted from marine-grade stainless-steel and Corning Gorilla Glass; Ships with black genuine leather band
3. Pebble Time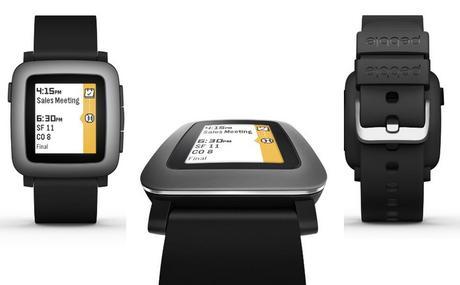 Pebble Time
Pebble Time – Pebble Time Smartwatch is available in three colors:- Red, White & Black.
Features
Always on, color e-paper display with led backlight
Battery life up to 7 days
Water resistant to 30 meters
Built-In microphone for voice notes and quick replies
Choose from thousands of custom watchfaces in the Pebble appstore, with more added every day. Please note: Sending voice replies works with most major Android apps including SMS, Hangouts, Gmail, Facebook Messenger, Whatsapp and hundreds more. Voice features for iPhone users will be available in a future software update.
4. ASUS ZenWatch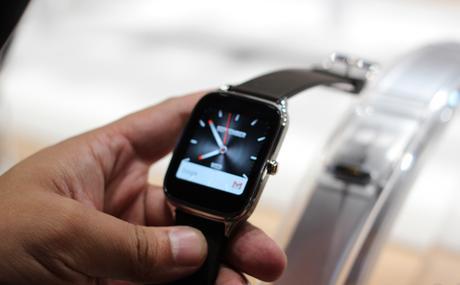 Asus Zenwatch
Asus Zenwatch – ASUS zenwatch is available in black.
Feature
Compatible with Android devices (not compatible with iphone)
Qualcomm 400 processor, 1.6″ AMOLED touch screen
Measure your heart rat, steps taken, calories burned, etc..
Silver and rose gold color layering
Brown leather strap
5. Sony SmartWatch 3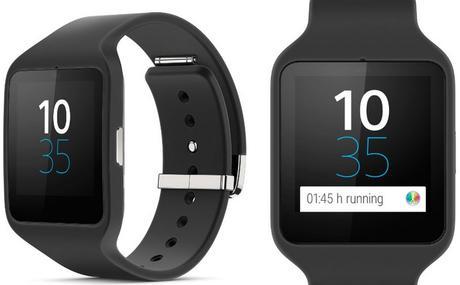 Sony Smartwatch
SW3 SmartWatch 3 – Sony Smartwatch is available in solid black only.
Features
Waterproof. IP58 Rated. 1 Year Manufacturer Warranty from Sony Mobile US.
Battery Life: Up to 2 days of normal use
Sensors: Ambient light sensors, Accelerometer. Compass. Gyro. GPS.
Notifications, Voice Commands, Lifelog, Impressive stand-alone functions.
Powered By Android Wear – Useful information when you need it. Apps for everything. A SmartWatch powered by Android Wear is forever expandable. As developers create new ways for you to customize and enjoy the Android Wear experience, your SmartWatch 3 SWR50 becomes increasingly personalized.
6. LG G Watch R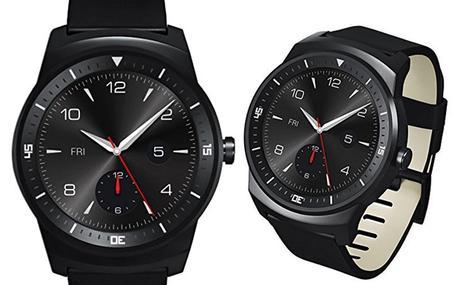 LG G watch R
LG G smartwatch R – LG G watch available in black only.
Features
World's First Full Circle P-OLED Display
Compatible with most devices with an Android 4.3 or later operating system
Fitness Integration with Built-In Heart Rate Monitor
Classic Wristwatch DESIGN WITH Full Circle Face and 22 mm Interchangeable Strap
"Ok, Google" Voice Commands with Android Wear
7. LG Watch Urbane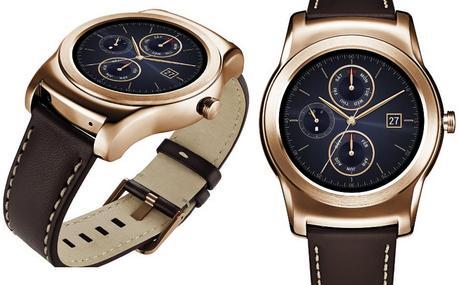 LG Watch Urbane
LG watch – LG Watch Urbane Wearable Smart Watch is available in Pink Gold.
Feature
1.3″ Full Circle P-OLED Display with Gorilla Glass 3 and Full Metal Body with Screw-Less Back Cover
Compatible with most devices with an Android 4.3 or later operating system.
Fitness Integration with Built-In Continuous Heart Rate Monitor and syncs with sensors and applications for real time health and fitness data
Environmental Biosensors – detects and tracks Barometric Pressure, Gyroscopic Movements, Accelerometer, Geomagnetic Sensor, PPG Heart Rate Monitor
Music Streaming – stream music stored in the internal memory to a compatible Bluetooth device.
8. Motorola Moto 360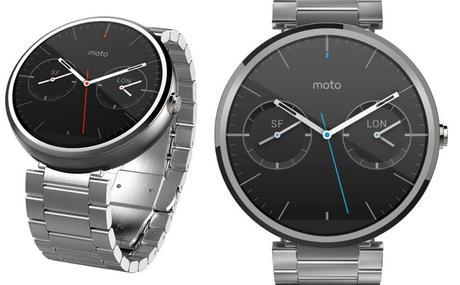 Motorola Smartwatch
Feature
Quality craftsmanship – Finely crafted with stainless steel, genuine Horween leather and scratch-resistant glass
Timely updates at a glance – Get both the time, and what that moment means to you
Responds to your Voice – Just speak to get the info you need
Tracks Health and Fitness – Moto Body tracks your steps, distance and calories burned along with your heart rate
Works with your AndroidTM phone – Pair with any smartphone running Android 4.3 or higher
Doubles as an activity tracker
Quality craftsmanship
9. Samsung Gear S2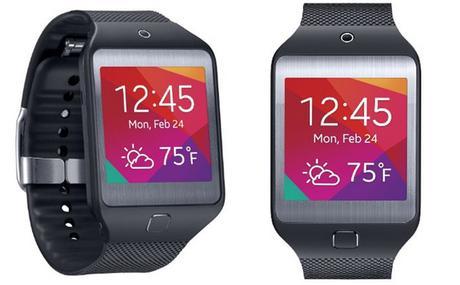 Samsung Gear S2 – Samsung Gear S2 Smartwatch is available i Black, Grey & Orange.
Feature
Smart Notification: Samsung Gear 2 Neo allows you to make and receive calls and read more on a large sAMOLED display making communication smooth and seamless.
Instant Notification: Samsung Gear 2 enables you to receive instant notifications from your phone and apps plus a variety of 3rd party apps which you can view clearly on a sAMOLED screen.
Personalized Fitness Motivator: Samsung Gear 2, with its built-in Heart Rate Sensor, S Health features, and pedometer, track your daily pattern of exercise to give you customized real time coaching to help you achieve your goals.
Enjoy Music On The Go: Gear 2 Neos Standalone Music Player connects with Bluetooth headsets to bring musical enjoyment to your fitness routines without the need to carry around a smartphone.
Compatible with Samsung Galaxy S5 / Galaxy Grand 2 / Galaxy Note 3 / Galaxy Note 3 Neo / Galaxy Note 2 / Galaxy S4 / Galaxy S3 / Galaxy S4 Zoom / Galaxy S4 Active / Galaxy S4 mini /Galaxy Mega 6.3 / Galaxy Mega 5.8 / Galaxy Note 10.1 (2014 Edition) / Galaxy NotePRO (12.2) / Galaxy TabPRO (12.2/10.1/8.4) [Compatible device models to be further expanded] Devices must have the following criteria to be compatible: Android version 4.3, Jelly Bean or higher / WVGA or higher screen resolution / 1.5GB or higher memory
10. Huawei Watch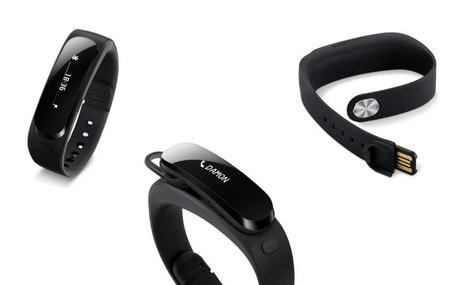 HUAWEI TalkBand B1 w/ Activity & Sleep Tracking Hybrid Smartwatch is available in Black.
Feature
IP57: Water and dust resistance
Compatible with Android 4.0+, iOS 5.0+
1.4-inch flexible OLED, Connectivity: Bluetooth 3.0, NFC fast pair
Sensors: G-Sensor
Calling Quality: Dual-mic reduction