Last weekend, I was working at a friend's house for the whole two days. This meant lugging a portion of my tools (mostly hand tools) and accessories from their storage location, in to my car, to and from the house and then back again, once the job was complete.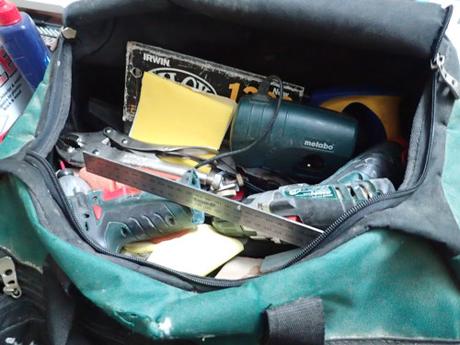 I quite like being able to do jobs for other people but I've never been a fan of physically moving tools back and forth.
My main toolbox for the past few years has actually been a holdall-style bag that came with the Metabo 10.8v drill and impact driver set I purchased in 2010. I used to work for a carpenter who favoured a tool bag over a box… We didn't see eye-to-eye on many things but did find a bag was somehow more convenient to carry (I no longer own the bag I was using in 2006).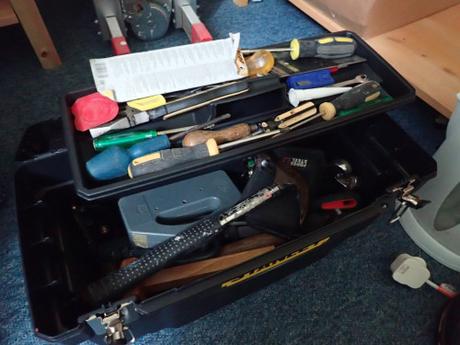 As you may recall, I do keep a toolbox in my home and this is one that I purchased a few months ago. Here, I keep all of my 'surplus' and 'home DIY' tools. Things I might actually need around the home, from time to time.
But, as you can see, a box (in my experience) is no more organised than a holdall.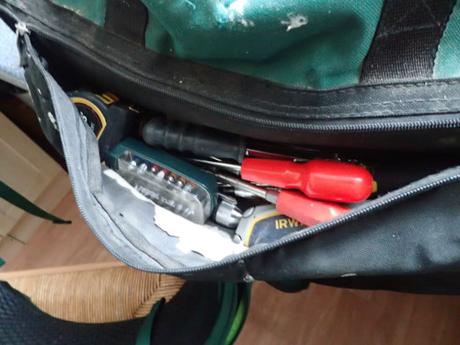 …But that's not to suggest that a holdall makes it any easier when you need to find a specific tool!
But what I mostly dislike about any box or bag is that you physically have to carry it under one arm. They're often heavier than we'd like them to be and, let's be honest; it puts an uneven strain on one side of our bodies. Speaking to a physio about pains in my right leg and knee, earlier this year, I've learned that I have a lot of tension from those muscles. Being right-handed, I suspect this has come from years of working on that one side. Carrying tools may or may not have been a cause.
As you may also know, I do a lot of walking and hiking. Each time, I'll typically carry 8kg-10kg in weight (food, spare layers, water, map, etc.). Now, I don't carry this under my arm… It also fits within my backpack.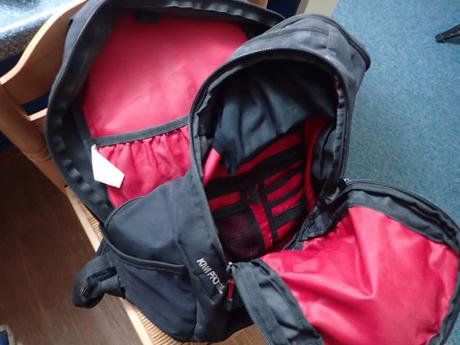 Wearing a backpack, the load is centrally located to your body, as opposed to pull on one side. When fitted correctly, you can also carry a loaded pack using a good portion of your leg muscles (the strongest, in most people's bodies), as opposed to one single arm. So, the idea of a 'tool backpack' is one that currently appeals to me… No surprise to find that it's already been done!
In the photo above, I've actually shown you my old hiking pack which – although it is perfectly serviceable as a backpack – is not geared up for carrying heavy tools. I'd like something with dividers. Better yet, some models I've looked at (Stanley and DeWalt, to name two) contain removable totes for all your smaller, narrow tools (screwdrivers, chisels, pliers).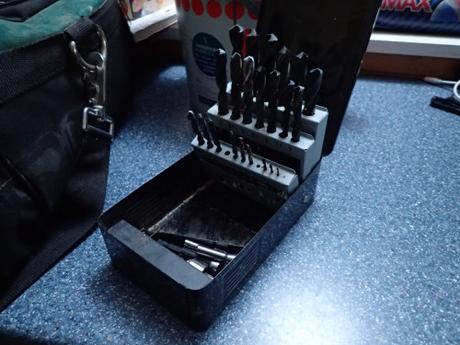 In an ideal situation then, all of the heavier tools would live on my shoulders. Then, I could still use the holdall for general accessories and less heavy tools.
Why don't more people keep tools in a backpack?
It makes a lot of sense, when you think about it (…To me, anyway).
Next time, I'll write about the work I completed last weekend.
…If you're a manufacturer or supplier who would like to send me a backpack to review, please get in touch. 😉
Thanks for reading.
Advertisements