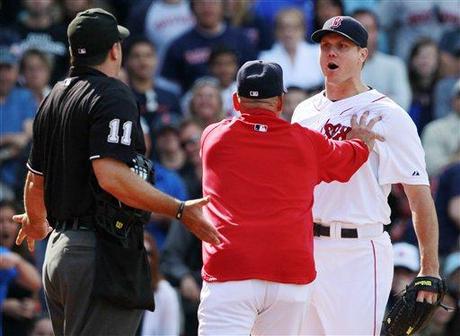 OK, Jonathan Papelbon was awful in the ninth inning, and he was mostly responsible for Saturday's game going into extra innings. And Dustin Pedroia botched what looked like a sure double play grounder to end the game in the same inning. (I didn't see any of this. Once again, thanks to MLB Extra Innings. Please see previous post.)
But once again, incompetent umpires tried to make themselves a part of the game, and it nearly cost the Red Sox dearly. Tony Randazzo, another one who should be given his walking papers if MLB cared about quality umpiring, tossed out both Jason Varitek and Papelbon in the ninth inning. Tek questioned Randazzo's strike zone, and later in the inning, it appeared Randazzo was insulted by Pap turning his back on him and seeked out a confrontation with him. Papelbon went ballistic and was tossed.
After the game, a reporter from the Globe tried to get a comment from the umps and was rebuffed and told to talk to the league office. These umps are gutless cowards who avoid the press after any controversy happens during a game. And any player who talks about them after a game is sure to be fined by MLB. Yes, you can criticize the President of the United States, but don't you dare criticize any umpire!
Peter Gammons said it best on Twitter during the ninth inning:


"Does MLB have anyone administering umpires? Dreadful, with no interest in the sport's integrity."


Amen to that, Gammo.
It seems like being an MLB umpire is like being named a Supreme Court judge. You're there for life and have no accountability. MLB umpiring has become a bad joke, but MLB does nothing to weed out incompetents like Randazzo. And the on-field product suffers because of it.
And yes, the Sox came back and won in the 14th inning on J.D. Drew's single, 9-8.
Great job today by Alfredo Aceves, who pitched the last four innings and got the win.