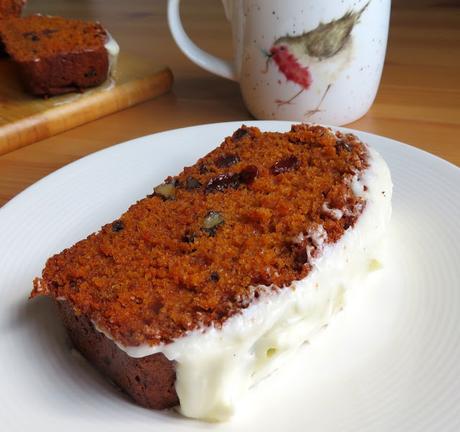 You know it is autumn when the temperatures start to dip and the kitchen starts to smell like sugar and spice and all things nice.  Cinnamon. Cloves. Nutmeg.  Yep, a Tomato Soup cake is in the oven! 
Tomato Soup Cake?  What the heck? Say what?  Today I am tipping my hat to this fabulously retro recipe which dates back to days of old. I got the recipe from my Canadian MIL.  I am sure she got it from a tin of tomato soup!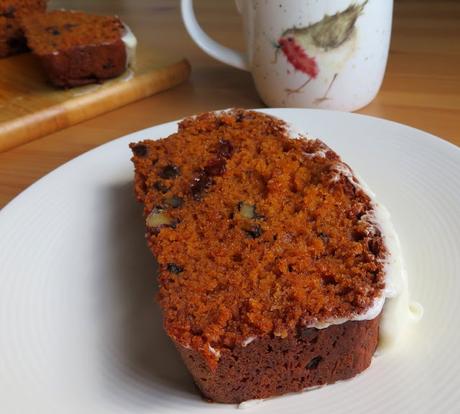 People are always really surprised when you give them a slice of this delicious cake and are told what kind of cake it is!  You can almost guarantee their eye brows will rise in question.  Almost like they have heard you wrong.
Nope, you tell them. It is Tomato Soup Cake.  And then you can see them kind of nervously dipping their forks into it.  Not quite sure of what to expect.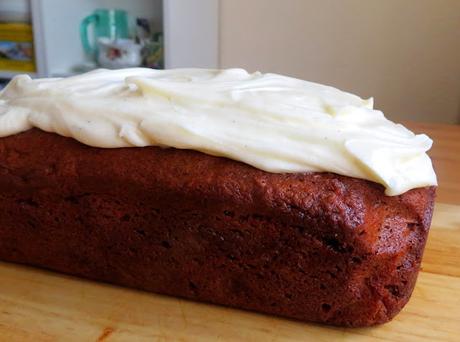 They raise their fork to their mouth and you can almost see them cringing.  They are not sure what to expect but it can't be good right? 
WRONG!  They are almost always pleasantly surprised and have no problem digging their forks into the cake for a second bite. This is love at first bite, every time.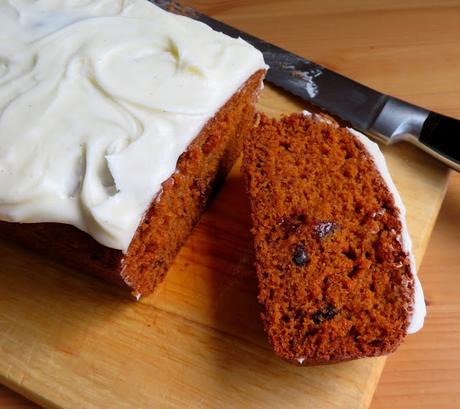 Tomato Soup Cake is a spicy sweet classic that has been gracing tables across North America for a great many years, back to the 1930's and the great depression.  This simple spice cake is also known as Mystery Cake. 
The secret ingredient, a tin of condensed tomato soup, has kept people guessing to no avail as to just what it is. You cannot taste any tomato soup in it. It just tastes nice and spicy.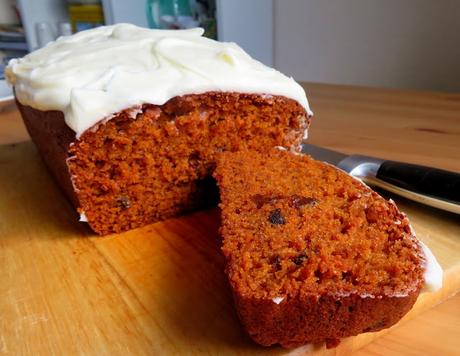 I can only guess some really brave housewife happened upon the idea of using tomato soup to help cut back on butter and eggs which were really scarce at the time, along with wages.  There is some, but not a lot.
What a wonderful way to think outside of the box! How very innovative.  Whoever it was, I thank them very much!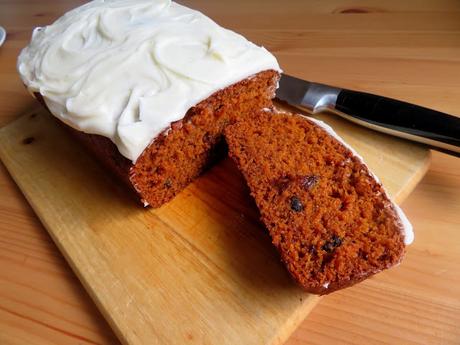 In all truth it was probably a dietitian working for one of the soup companies who came up with it as a way to sell more tinnd soup. It doesn't really matter. The end result is one very delicious cake! 
I had never heard of it before my MIL gave me the recipe. It was not something my mother had ever made.  The first year I was married my MIL gave me a little handwritten notebook filled with all of her tried and true recipes. This was one of them.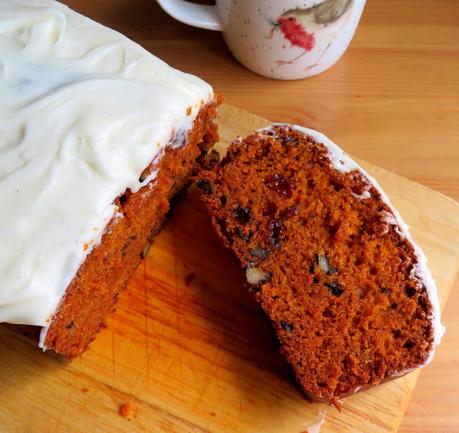 I confess, I, too, was quite sceptical when I first saw it.  It was my ex husbands favorite cake however and so what was a good wife to do. Eager to please, I baked it for him. 
It smells heavenly when it is baking.  All spicy and warm, like autumn.  Your house will smell amazing.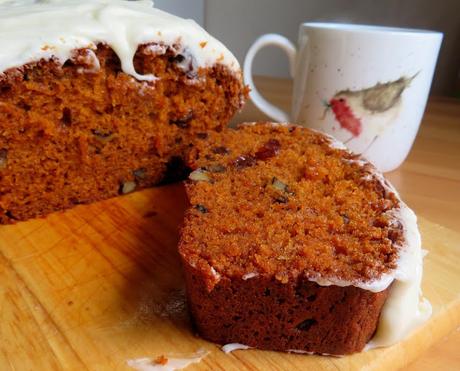 To me, this is the smell of Home Sweet Home. Homecoming. Changing leaves. A briskness in the wind. Crisp and cooler mornings.  The smell of spice and woodsmoke.  
This tender and moist, spicy cake is to be honest, simply wonderful. It is very similar to my
Applesauce Spice Cake
both in looks and in flavor.  They both smell fabulous when baking.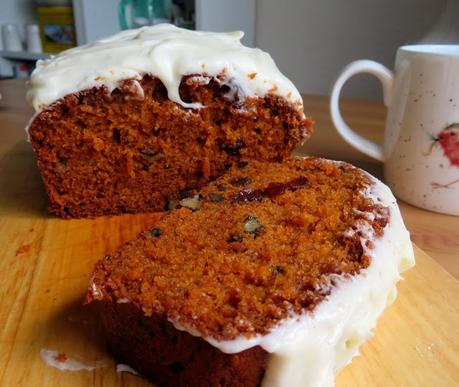 The applesauce cake is not quite as dark in color.  Both recipes are a nod to the ingenuity of the cooks and bakers of days gone by, when nothing was ever laid to waste and every scrap was used. 
I have added a cream cheese icing to my MIL's recipe. Hers was always plain.  Where she used to bake hers in a square pan, I like to bake it in a loaf tin. I think it turns out much moister baked in a loaf tin.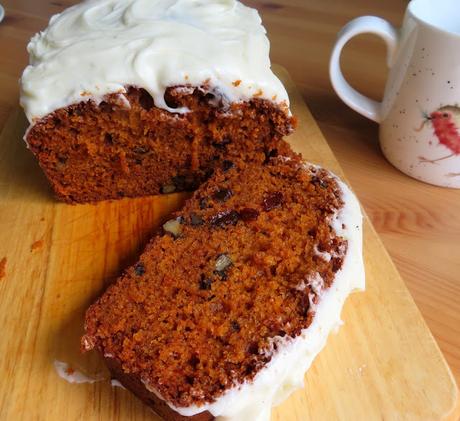 The cream cheese icing really adds a special touch I think.  A certain richness. I have had to fiddle a lot with my cream cheese icing since moving here to the UK.  Cream cheese here is wetter I think. It took me a very long time to get it to work out properly.
It is a fine balance between butter and cream cheese, and I do find it takes me a lot more icing sugar to get it to the right consistency here, which does result in more icing, but you can freeze the extra. Or keep it in the refrigerator for a short time if you know you are going to be using it up soonish.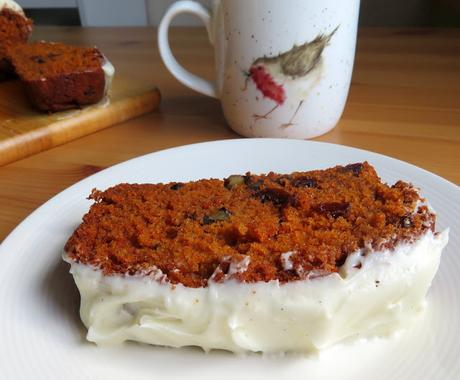 You can leave it plain if you wish, or just make a vanilla butter cream.  Plain it is lovely toasted lightly and spread with butter. 
Yes, I do know how to add extra calories to just about everything.  What can I say?  Guilty as charged.I guess I just know how to put the good in taste.  And my hips don't lie. They are the proof of the pudding.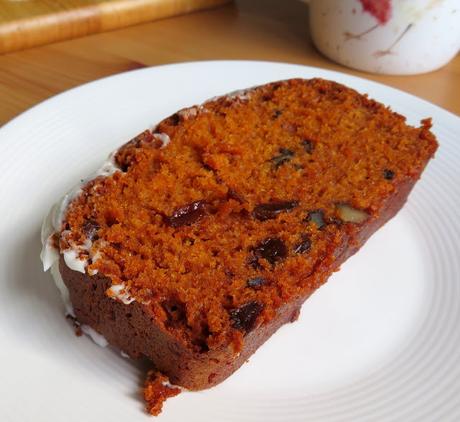 This spicy moist cake is studded with sweet sticky raisins. You can leave them out if you want, but if you are a raisin lover, I highly recommend you leave them in. You could use chopped dates in their place if you wanted to, or even both.
Same with the walnuts.  Leave them in and do toast them first if you can. It does make a difference. You could probably use pecans in their place, but I have just always used walnuts. Where I come from if a recipe calls for nuts, its usually walnuts.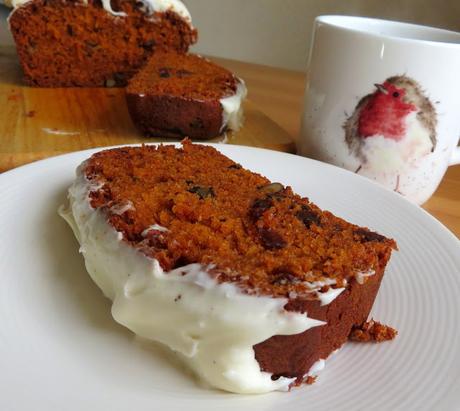 I really hope you will bake this.  Don't tell your family what it is until after they have fallen in love with it and then watch for the surprised look on their faces.
This has been a family pleaser for about 90 years now I reckon. There is something to be said about the staying power of a recipe such as this. Like the music of the Beatles and Spaghetti Bolognaise, may it never go out of style.
Tomato Soup Cake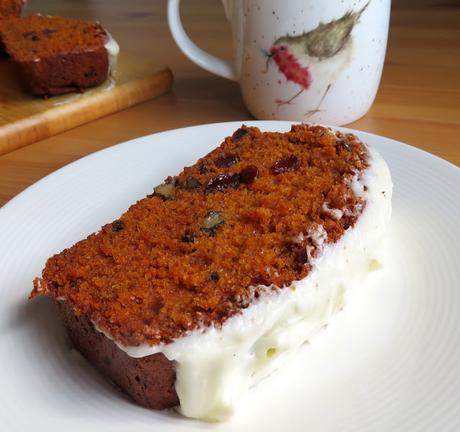 Yield:
1 (8 by 4-inch) loaf
Author:
Marie Rayner
prep time: 10 Min
cook time: 45 Min
total time: 55 Min
This sweet and spicy classic loaf cake is studded with sticky raisins and crunchy toasted nuts. A cream cheese frosting is its crowning glory. You know its autumn when one of these is in the oven!
Ingredients
1/4 cup (60g) butter
1 cup (195g) sugar
1 large free range egg
1 (10 3/4 oz)(295g) tin of condensed tomato soup, undiluted
1 tsp  bicarbonate of soda
1 1/2 cups (210 g) sifted all purpose (plain)flour
1 tsp ground cinnamon
1/2 tsp ground cloves
1/2 tsp ground nutmeg
1/4 tsp salt
1/4 tsp baking powder
1/3 cup (50g) raisins
1/3 cup (40g) toasted walnuts (coarsely broken)
For the cream cheese frosting:
2 1/2 TBS butter, at room temperature
4 TBS cream cheese, at room temperature
few drops of vanilla extract
1 cup (130g) icing sugar sifted (or enough to give you the consistency needed) (In the UK it may take considerably more)
Instructions
Preheat the oven to 180*C/350*F/ gas mark 4.  Butter an 8 by 4 inch loaf tin and line with baking paper. Set aside.
Cream the butter and sugar together until light and fluffy. Beat in the egg.  Beat in the tomato soup.
Sift together the flour, soda, baking powder and spices.  Add to the creamed mixture and mix together just to combine.  Fold in the raisins and nuts.
Spread in the loaf tin and bake for 40 to 45 minutes until well risen and a toothpick inserted in the center comes out clean. (Here in the UK, mine took an additional 10 minutes.)
Let cool in the tin for 10 minutes, then tip out onto a wire rack to cool completely.
When the cake has cooled make the frosting. Beat everything together until smooth, adding enough icing sugar to give you a smooth, thickish yet spreadable frosting. Spread over the top of the cake. 
Cut into thick  slices to serve.
Did you make this recipe?
Tag @marierayner5530 on instagram and hashtag it #EnglishKitchenCreated using The Recipes Generator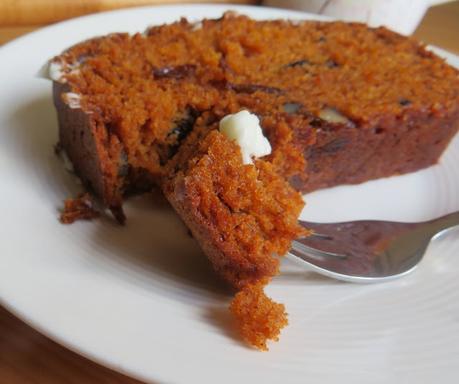 How are you coping with all of the changes in Blogger? I am having a heck of a time myself. I have never been one much for writing code etc. Like a car, I just want to get behind the wheel and turn the key.  This sure is different!  I suppose in time it will become old hat! Things are not quite looking the same on my home page, but I am hopeful that they will sort themselves out in due time.
This content (written and photography) is the sole property of The English Kitchen. Any reposting or misuse is not permitted. If you are reading this elsewhere, please know that it is stolen content and you may report it to me at: mariealicejoan at aol dot com Thanks so much for visiting. Do come again!