Tomato chutney is a tangy and spicy chutney which you can serve with endless number of dishes. You can eat it with roti or parathas.  
   Quick and easy recipe which you can make in a jiffy !!!! I have made it with tomatoes only, but you can add onions too. Instead of making tomato puree for it, I like to keep medium chunks of tomatoes, so that it gives an awesome chunkiness to the chutney. So lets begin !!!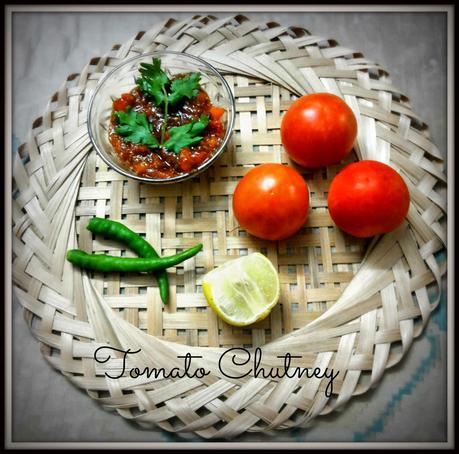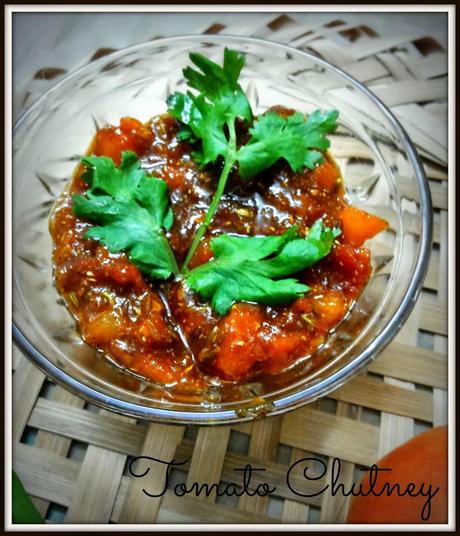 Serves : 2-3 persons
Preparation time : 5 minutes
Cooking time : 5-10 minutes
Ingredients : 
Tomatoes : 2-3 big ones
Green chili (finely chopped) : 1 
Curry leaves : 4-5 
Fennel seeds : 1/2 tsp
Ginger (grated) : 1/2 tsp
Red chilli powder : 1/4 tsp
Turmeric powder : a pinch
Cumin seeds : 1/4 tsp
Tomato ketchup : 1 tsp
Sugar : 1/2 tsp
Lemon Juice : 1/4 tsp
Salt : to taste
Oil : 1 tbsp
Method :
1. Wash and cut tomatoes in medium chunks or dices.
2. Heat oil in a kadhai or deep bottomed pan. Add fennel seeds, cumin seeds and curry leaves. Saute them.
3. Now add ginger and green chilies. Saute them for few seconds.
4. Add tomatoes and cook it for a minute or until tomatoes are tender.
5. Now add the spices : turmeric powder & red chilli powder.
6. Add tomato ketchup, salt and sugar. 
7. Cook all the ingredients together so that it blends with the tomatoes. 
8. If you want more tangy flavor, you can add lemon juice. 
9. Serve hot with roti or parathas.