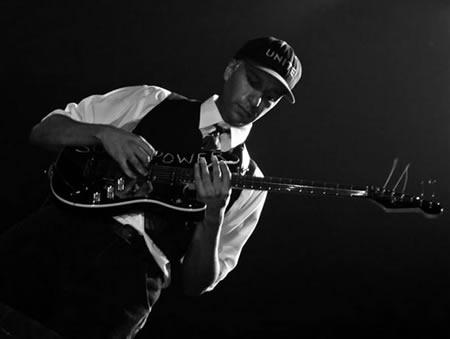 Tom Morello is obviously a big fan of The Clash and Woodie Guthrie. On his new album World Wide Rebel Songs he takes ai, at wold wide wrongs, using his guitar like a weapon to gun down dictators, with a choir shouting encouragement on the title track. With his new steel string guitar Black Spartacus as his main axe - the album's opener Black Spartacus Heart Attack Machine has Morello testing the strings to the limit, he approaches the world as an alternate CNN, reporting from the trenches and famished countries.
Make no mistake - World Wide Rebel Songs is an angry album about serious causes, but it sounds a bit date, especially when a wealth of backing vocals is used to conjure a crowd of protesters brandishing weapons to make readjust the life span of particularly nasty specimen representing The Man Inc. Save The Hammer For The Man was written with Ben Harper, who must have insisted that he could sing on it too, gets stuck in the mud with two voices trying to get out of the mess. The message sounds a lot more urgent, when it's just him with a core band. Songs The Dogs of Tijuana, The Whirlwind and the slow rumble of Facing Mount Kenya are good enough to make it to the fighters and rebels song book.
Wold Wide Rebel Songs is released on New West Records.
Tracks:
Black Spartacus Heart Attack Machine
The Dogs of Tijuana
It Begins Tonight
Save The Hammer For The Man (featuring Ben Harper)
The Fifth Horseman Of The Apocalypse
Speak and Make Lightning
Facing Mount Kenya
The Whirlwind
Stray Bullets
Branding Iron
World Wide Rebel Songs
God Help Us All
Union Town (bonus track)

(Tom Morello: The Nightwatchman - It Begins Tonight by Here Comes The Flood)