I've been desperate to get my hands on this the minute I saw it's release. The bottle had me sold, think of it as love at first bottle sight, I was obsessed. You think the bottle's nice? just wait 'til you smell it!
Feel Unique
very kindly sent me this and a few other bits for review consideration and as you can imagine, I was all too happy to try it out.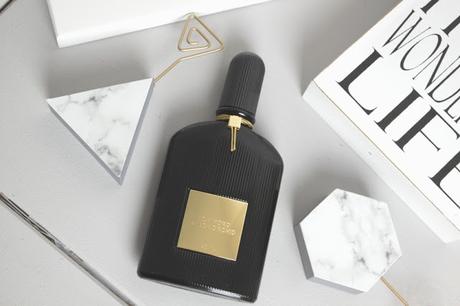 THE BOTTLE
First up, let's talk about the part that excited me the most about this scent – the packaging! Tom Ford are renowned for having classic packaging. Black Orchid is s
imple, elegant and
oh
so sexy.  The bottle is a matte black color with a ridged texture and gold hardware. For me, this is the epitome of what I love. If I could, I'd even dress like this bottle
haha
!
THE SCENT
Described as a unisex scent, this is sweet enough to be feminine but spicy enough to be masculine. I love scents like this. For me, this is a definite Autumnal scent.
If I wanted to smell like Summer, I'd rub a flower on my wrist (which I of course have NEVER done...
LOLS!)
This
has:-
Top notes:

Jasmine, Gardenia, Blackcurrant, Lemon, Bergamot, Mandarin, Tuber

Heart notes:

Orchid, Spicy notes, Fruity notes, Lotus

Base notes:

Vetiver, Patchouli, Sandalwood, Incense, Amber, Chocolate,

Vanille
The most noticeable smell for me is amber, Sandalwood blackcurrant and spicy notes.  I must admit, I was worried when I read that Jasmine was a top note because although I like Jasmine, it can be overpowering in a fragrance. If you're a jasmine-
phobe
then you'll be happy to know
you don't even notice it.
HOW DOES IT WEAR?
Given that this is quite an expensive fragrance, you would expect this to last all day long with a single spritz. For me, this lasted pretty well and I could still smell it a few hours after applying. I couldn't smell it all day long but someone did ask which perfume I was wearing so as always with perfume, although you don't necessarily smell it, it's still
there
and usually this is caused because we all become 'nose blind'.
It's my new favorite fragrance and will be wearing this throughout Autumn!
Tom Ford Black Orchid is available at Feel Unique.