★★★★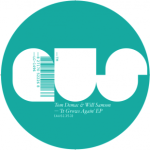 Tom Demac and Will Samson recently decided to work together as a result of both losing close family members months apart – and what they have produced is a delicate and tender EP called It Grows Again. 
It begins with the title track, soft percussion and strings fall beneath pounding kicks and bass flickers. The rise of Will Samson's gentle vocal against the droning sub bass provides a well-placed contrast. On the breakdown the heavy gets stripped out and leaves the light, layering the strings with echoing vocals, as the track builds again it unravels a darker sound and that tearing bassline. A good sign of things to come on this decidedly emotive EP. 'Chasing Shadows'
is just as  textured as 'It Grows Again', a  whaling vocal starts the track as sub tone notes fill the low end, the bass eventually extends out into a rolling rumble and  breaks up again as the track slides along to the shuffling percussion and delayed key notes amidst Samson's captivating vocals. The 'Formula' remix
of 'Chasing Shadows'
is Tom Demac's own re-working. Its sharp heavy kick sets the pacing house number on towards chopped up vocals and a huge sub bass, its late night theme is a welcoming alternative from the original, once again using Samson's vocal to flow over the flickers of reverbed keys. This sentimental debut EP from Tom & Will on Aus sees the imprint, better known for its straight forward house, demonstrate a softer side.
By Jonathan Hill
Aus Music | November | Format: vinyl, digital