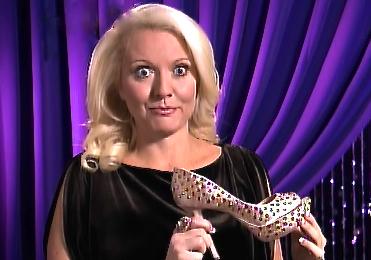 Shut Up with these sick shoes. I am so totally wearing them to the next Real Housewives of Texas Reunion Show.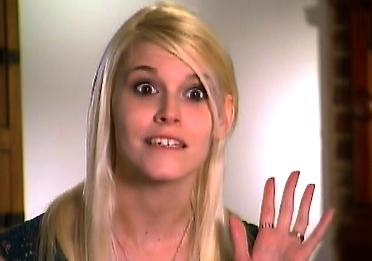 Hand to Gawd. It's only sweet tea, soda, pixie stix and that stuff they give to greyhounds before the race starts.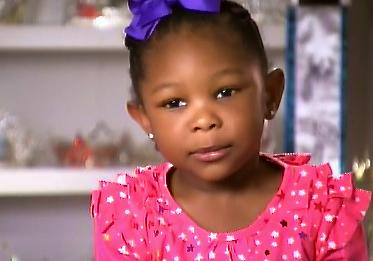 Bitch, please.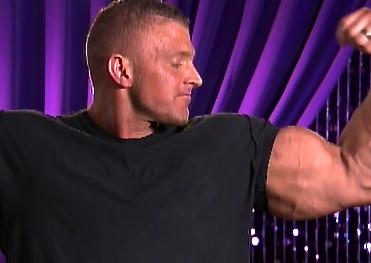 Oh yeah. Dat's what I'm talkin' about. Who's yer Daddy? These'll make you spit your cupcakes out, ladies. Pow. Pow.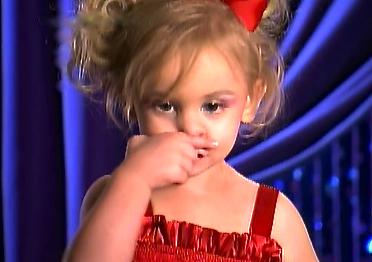 Srsly. Is it just me, or does that man with the Popeye arms smell like baby oil and Axe sport spray?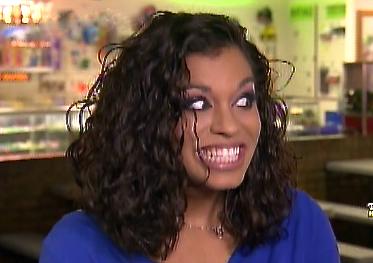 Ok. Don't tell JD, but I tried that Tinker Tea and that s*** is off the hook. My hair was straight when I woke up this morning.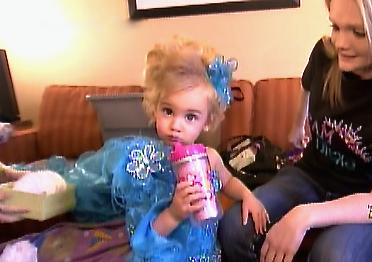 Whatchoo lookin' at? Hell, yeah I'm drinking straight sugar out of a sippy cup. Maybe you should just find your seat, cuz it's Go Time.
Umm…yeah.
So Toddlers & Tiaras is back.
Is there a problem?  Cuz if there is, maybe we should just take this outside and settle it.
Or maybe over there by the weight bench, and see who can max out on tricep dips.
Gold's Gym or Bailey's Pageants.  What's it gonna be, you little pussy?
Whoa.
Sorry.  Didn't mean to get so aggressive.  Apparently I'm still coming down from either Roid Rage or Pixie Pump, because this week's premiere was definitely jacked up on sumthin.  Biceps and Booties were literally poppin' up and out everywhere you looked.
And except for the sudden crash after the closing credits, you know I love me some Toddlers & Tiaras.  Not to mention platform shoes.  And Tonya Bailey.
So when Bailey's Pageants put 'em all together for the Disco Fever Pageant…it was an incurable case of Boogie Fever.
Pageant Director Tonya got the disco ball rolling by explaining how this whole extravaganza was gonna go down.  And it was gonna go down hard.
The pageant was full Glitz, and if you don't know what that means by now, there's really not much I can offer you this late in the game.  Sparkle and Tans and Big Hair and Glitter and Confetti and Laser Tag and who knows what else.  Just make it Glitz.
Tonya always gets really excited over her pageants.  Like wide eyed excited, which is how you should get if you just spent all that money on Ramada security.  And this time, since she wasn't wearing her signature Swarovski crystal pirate eye patch, you could really see her enthusiasm.
Sometimes she reminds me of a long lost friend who is so excited to see you that she forgets to blink, and other times I flash back to the look your Mom gave you when she first found that Playboy magazine under your mattress.  Hypothetically, of course.
But either way, Tonya was excited to be getting her disco down.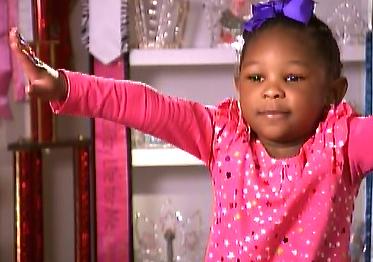 Not only is Tonya big on eyes, but she's also big on props.  And this time it was a Studio 54 Jimmy Choo stiletto.  Thank you Disco, for this shoe…which…umm…ok.
It was really more the kind of shoe that you'd thank your pimp for, but whatever…she's paying.  She can thank the Academy if she wants to.  She's Tonya.
The Grand Supreme deep dish winner this week was going home with…well…with basically a second summer home, I guess.  A ginormous (…say it with me…) $15,000 toy house from Lilliput Play Homes, and the thing was massive.
One:  Tonya.  Honey.  Where the hell are you supposed to put that monster?  You tell me half the Moms weren't throwing the score just so they didn't have to tear down the garage to make room for that thing.  I couldn't afford the property taxes, much less the zoning ordinance fees.
Two:  Props to the dude from Lilliput Play Homes who had to walk around in public with a button down shirt that said Lilliput Play Homes on it and not get beat up on the playground.
Our first little princess was 2 year old Alexa and Mom Tori.  Seriously cute.
She had the kind of face you just wanted to squish it was so cute.  But you'd have to catch her first.  And good luck with that, because Mom puts Super Premium in her tank.
Alexa drinks coffee.  Just one cup a day, though.  Since she was 9 months old.
That's right.  I didn't even know what my own toes were used for when I was 9 months old, but apparently Alexa knows how to place an order at Starbucks.  Mom said one cup was not an abundancy, which rhymes with redundancy…and neither word makes sense.
Clearly, through the magic of television editing, it looked like Alexa slugged it down from morning to night, with no caffeinated nap time in the middle.  But if that was the case, we'd be trying to track her down on America's Most Wanted or she'd be running the Olympics next to Usain Bolt, and neither of those things happened during the episode.
But Mom clearly loved her daughter, and that's always the most important thing if I'm gonna sit through all this crazy every week.  All the parents did.  And supporting your kids is key.  You heard it here first.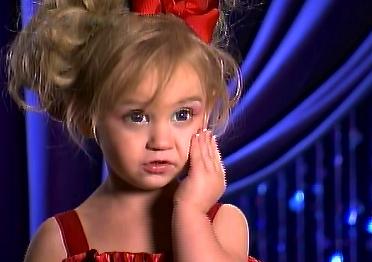 Alexa also talked in the best baby gibberish.  Evah.  And it needs to be my new outgoing voice mail message immediately.  Sorry I can't come to the play in the water look so listen no I don't…..unicorn.  Beep.
I have no idea what she said for most of the show, and it usually had nothing to do with the subject at hand or the questions she was asked.  But who cares?  When TLC waves the white flag and doesn't even try to subtitle her ramblings ten minutes into the show, then you know it's good stuff.  Did I mention cute?
Down the road a bit they were a little more focused, thanks to protein shakes, ginseng and grilled chicken with the skin off.
Between reps in her Fisher Price gym, we met 4 year old Brooke, Stepmom Linda and Dad Lou Ferrigno, better known as JD.
Dad liked to Pump.  It.  Up.
He was a competitive bodybuilder who only believed in extreme lifting, extreme healthy eating and those extreme animal print MC Hammer pants that they all wear down at Mike's Gym.
Granted, we never actually saw him rocking any Zubaz (…please tell me that someone else remembers those…) but you know he totally had a pair in the closet hidden behind a FedEx box from BodyBuilding.com.  Linda was a fitness model and Brooke got Muscle Milk if she didn't mess up her practice sessions.  Booyeah.
JD pretty much sealed his fate in the pageant world by blatantly making fun of thick girls and Honey Boo Boo's Mom before reenacting the opening sequence of a He-Man cartoon.  It wasn't pretty.  And he swore that he didn't like to judge people.  But when your biceps are bigger than your head, I guess you sometimes say things that really piss off everyone in line at Walmart.
The last contestant this week was sassy 3 year old Janeyah and Mom #1 Toya and Mom #2 Naye Naye.
I know, right?  Two Moms.  Dos Mamás.  How progressive.
They totally looked like they should be sharing the middle box in Hollywood Squares back in the day, like those two whacky ladies from 227 or something.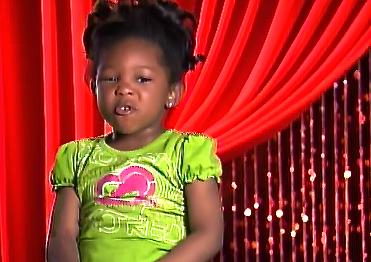 (OMG.  If your favorite show right now is Bunheads, you may have to Google it to get that last joke.  But trust me…a long time ago, in a galaxy far away, there were non-HD sitcoms.  I swear.  And you couldn't watch them online.)
Mom and Mom were like VH1 meets BET meets LOGO TV.  And they were a hoot.
Janeyah (…JaNEIGHaah…not Jane-Yeah like some internet doofs were saying after the show…) was diva sassy sassy diva all the way.  She kept saying "Spread Your Leg Out" which had something to do with disco I assumed, but it reminded me too much of NeNe Leakes telling Kim Zolciak to "Close Your Legs To Married Men" on one of the Real Housewives of Atlanta Reunion Shows, and before you knew it the whole NeNe vs. Naye Naye thang got me so confused I had to walk away for a second.
Mom 1.0 had Type 2 Diabetes and tried to pay attention to what Janeyah ate so she didn't overdo the sugar intake, which was a smart move.  Just a thought, but she might want to avoid any future play dates with Alexa just to be safe.  I'm sure that JD, on the other hand, would be more than happy to have GiGi (…why isn't it JayJay?…) come over and learn how to use his Montel Williams juicer.  Or she could join them at the roller disco, because that totally happened before the pageant.
Speaking of Alexa.  After she had drained her Box o' Joe, Mom whipped up another special cocktail to get her through some mid-day pageant rehearsing.
Go-Go Juice is so 2012, people.  It's all about the Tinker Tea now.  Soda, sweet tea and a 12 pixie stix shooter.
BOOM goes the dynamite.
Alexa tore through Amber Tatum's dance studio like Speedy Gonzales in a hair bow until somebody suddenly hit the Pause button on her DVR and she just stopped moving.
NASA calls it a crash & burn, I believe.
Amber said working with Alexa while she was tanked up on TT was like trying to put two cats in a bag, which I thought was a little goofy, since I don't think putting one in a bag would be any easier.  Two cats would be a bit of an abundancy, don't you think?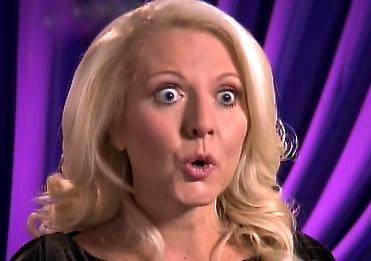 The other little princesses also worked on their routines a bit, but nothing too jaw dropping hit the screen other than Janeyah singing "We're going to the pageant" so many times that I thought Mom 2.0 was going to tape her up inside that giant box they were gift wrapping for the stage.
Finally, it was Showtime!
Tonya showed us the difference between a fake smile and a real smile, which turned out to be no difference, and then we got down to disco bidnez.
(Side note:  I was oddly fascinated by those gigantic sparkly crowns that had a little disco ball dingle dangling in the middle like a Charlie Brown tree.  I kinda need one, for some reason.  And I have a huge head, so they may have finally found someone who fits into those things.)
My boy Todd Bailey was back as emcee.  Still looking like the lost Backstreet Boy with those frosted tips, he's my new spotter at the gym.  He just doesn't know it yet.
Not gonna lie…now that I know he's actually Tonya's husband and not some  young lover that she picked up in the hair care aisle on Cougar Double Coupon Day, I'm a little bummed.  In my head it was such a great story that I may still use it anyway.  She could be lying, right?
Alexa looked like Kellie Pickler sucking down Tinker Tea at the CMAs.  Her one-on-one interview spots pretty much gave me life.
Janeyah brought her "A" Game and had some pretty sassy Showtime at the Apollo hair going on up there.  She froze on stage for a second in the Beauty part, but the two Hollywood Squares ladies snapped her out of it pretty quickly.
Brooke was really dragging.  And crying.  And since JD had banned all unnatural pixie stix from their medicine cabinet, he and Linda scooted her into the ladies room (…ie…out of sight from what must have been a male camera guy…) and pumped her full of a mystery beverage that looked a lot like Red Bull on a foggy day.  At first I thought it was just my eyes glassing over from all the aerosol and glitter at the hotel, but then I realized that they blurred out the label.  But it was Red Bull.
Go read the online stories about Red Bull.  Something about Vietnam and heads bursting off at the neck or something.  I'll stick with my Tinker Tea, thanks.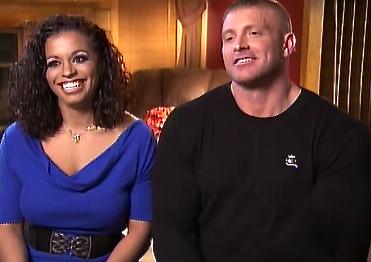 The Disco Wear portion was exactly what we've all come to expect from the Disco Wear portions.  Except for JD, who jumped up on stage to assist Brooke in her routine.
Wearing nothing but an afro wig and Under Armour man panties, he flexed and did pushups and basically forgot that it was supposed to be Brooke's day to shine.  I didn't think it was possible, but somehow Tonya's eyes got even bigger, and one lady in the audience fell out of her banquet chair.
Maybe it was just me, but with that nappy 'fro and that roll-on, spray-on tan that they use for body building shows, he almost looked like Al Jolsen on steroids.  Am I right?
Pageant Mammy, how I love you.
It's 2013.  I don't know if I'd be taking that act on the road anytime soon, dude.
Brooke's real Mom Vanessa showed up to watch her daughter compete, and after the musclepalooza she pretty much let the world know she thought her ex-husband was a Dbag.  She didn't come right out and say it, but when a person swallows their gum, rolls their eyes and then says that "Yeah…he's…umm…he's something alright" you pretty much know she de-friended him on Facebook and threw out the two pair of lifting gloves that he left at her place.
Everyone did their thing.  And then some kids won some stuff.
None of the three tiny tots won that summer home.  They were all bummed.  But it is what it is, so build a pillow fort like the rest of us and get over it.
What really mattered was that waaaay in the background during the crowning flashmob was crazy Jessica McClamroch and all her crazy Mom hair and baby Ava.
Hey, Girlfriend.  Nice herrrrr!
Yup.  Toddlers & Tiaras is back.
Wednesdays.  9pm.
And Tinker Tea and crumpets at noon, of course.  Cuz we're klassy like dat.
Sparkle, baby.