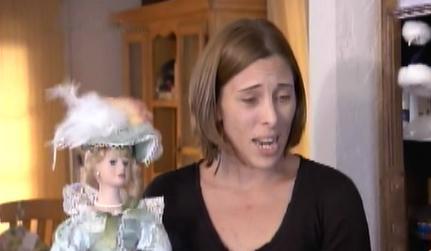 Lady Crazy Hat says you need to practice your routine or you both go back in the glass display case.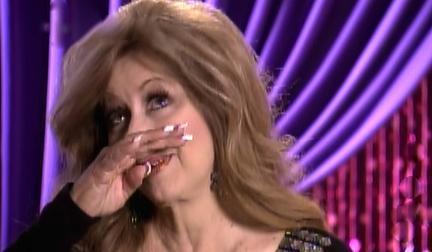 Seriously. Stop. You're gonna make me pee my pants. That kid doesn't stand a chance.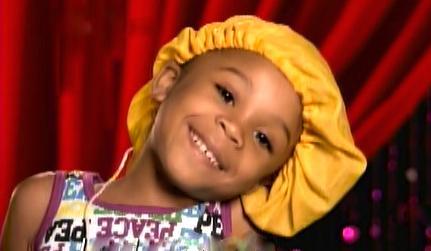 I don't even know where I am, but I bet there's a Starbucks around the corner. Let's get this party started, bitches.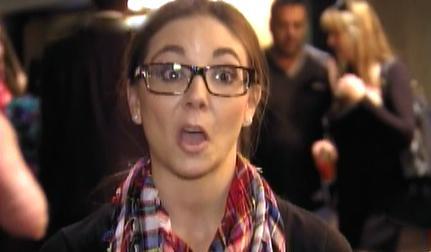 WTF just happened?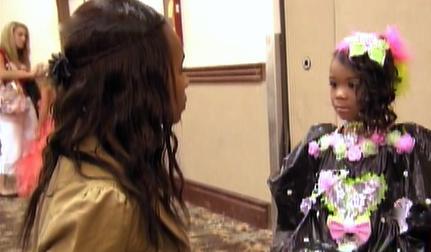 Don't you worry, baby. None of them haters are gonna have a trash bag as fancy as yours.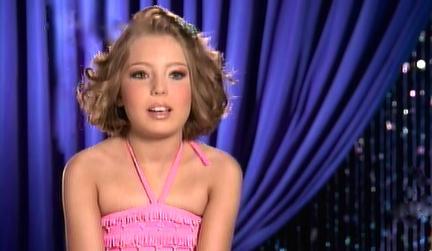 I'd rather eat worms than do this again. Even if they were hanging off the end of a fishing line on a rusty metal hook.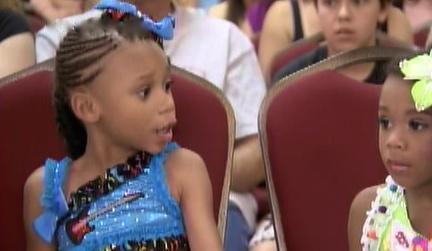 Oh. Hell. No. They didn't pick you? This pageant is boughetto ratchet.
Your Pageant Mom was right.
Always wait 45 minutes after eating before you go back in the water.
Otherwise, those Pixie Stix will cramp you up so tight you'll spit out your flipper and sink right to the bottom of the judge's sheet.
Toddlers & Tiaras did a sparkly belly flop face down into the ocean as the California Tropic Pageants took us way over the top and then back down Under The Sea.
It was Disney meets Liberace in an aquatically  themed Glitz pageant, and wide eyed Director Carol Fleming couldn't have been happier as she explained how it was all going to go down this week.
If you've never had the pleasure of meeting Carol, feel free to just scoot on over to your local mall and select any certified bra-fitting expert at Lady Grace.
You know exactly what I'm talking about.
With that big Aqua-Net head and Free Macy's Makeover Day eyeliner, you know you've seen Carol smiling behind the register, smelling like that fancy holiday cologne gift set you always recognize on your Aunt but can never name, happily stacking Double D cups into little pyramids with a tape measure around her neck.
You know you have.  And you know she has a little sissy dog at home, too.
The Under The Sea part was pretty self explanatory, so the big takeaway from her presentation was that every little girl should look like a little doll.  A little living doll.
Or fake one.  Which brought us to the first Ultimate Grand Supreme hopeful.
Tomboy Jordan and her Mom Crystal gave us a quick show & tell of all the swag collected from the 150 pageants that they had competed in over the years.  None of it signified Über Top Dawg status and none of it was more important to Jordan, when asked, than a tiny football trophy.  Mom did some quick pageant math in her head, and wasn't too happy with that answer.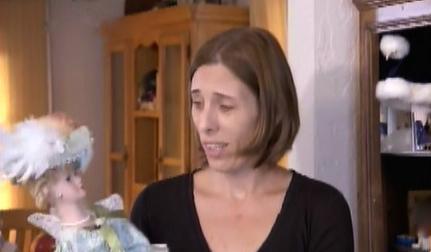 Crystal explained that pageants are like drugs or something, and that you end up spending your budgeted household bill money on sparkly stuff just so you can have friends.
Then there was an awkward silence.  Right.  About.  Here.
Yeah.  Mom seemed to be a tad more into the pageant system than her 9 year old daughter.  Perhaps even more than just a tad if you really followed the clues.
The first clue being Mom's constant reminders that Jordan had yet to bring home the ultimate prize, despite over 150 chances to get it right.  But we're going to keep going and going and going until you do, right?
The second clue being Jordan flat out stating that she'd rather be home eating worms all day than doing these pageants.
And then she ate some.  Real ones.  Red Wigglers, the Cadillac of Worms, as they say on the docks.  But none of them were filled with the flavorful pee that she had acquired a taste for during her last fishing trip.
I was a little concerned that a 9 year old girl even knew how to tell if a worm had to go to the bathroom, while Mom was a little concerned that Jordan was never going to hook a man if she kept eating all the bait.
Our second princess was trying to get a jump start on her scores, and had already arrived in Reno ahead of schedule.
Mama Miss Thang Ty and 9 year old Cariah were already at the hotel marking their turf, accompanied by a second little wannabe sister.
Now you know how much I love me some randomly placed, unexplained children roaming through every T&T scene.  This one was at least introduced, but then she was relegated to running around and getting sassy on her own while Mama laid it all down for Cariah.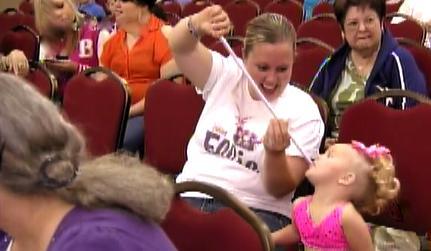 Sister had some attitude.  She reminded me of a pip squeak Solange Knowles trying to get some candy while sister Beyoncé hogged all the good stuff.  It was kind of like that, with a little bit of neglected Destiny's Child thrown in for good measure.
Spoiler Alert:  Sister was the best part of the actual pageant when the sugar finally kicked in and she went full-on fierce sassy pants in the audience.  If I'm ever up for an award I want that kid in the audience, crossing her fingers and testifying to the Lawd so hard that she almost passes out.  She was a hoot.
Mama started to explain how her daughters were beautiful from the day they were born, but she lost me when she started talking about stuff coming out her Exit Womb and I had to go get a cold compress for my forehead.  Thanks for sharing.
Last, but not least, was 5 year old Alyssa and her GlamMa Tina.  Mom Marilyn was also there, but Glammy was large and in charge.
Alyssa was seriously cute in that sweetie pie Telemundo music video kind of way, and had no problems following GlamMa's instructions to smile until her face hurt.  The entire family was actually exceptionally smiley.
When the whole gang was together in the living room for pretty feet practice, accompanied by two more random boys chilling on the couch, the whole thing looked exactly the way you would imagine a recording studio would look if En Vogue was laying down fresh new tracks for a reunion album.
I'm not even making it up.  Check the Instant Replay.  Chicks standing up in the sound booth.  Dudes working the mixing boards on the couch.  And a little girl running around the building because the babysitter never showed.
While they all tweaked their new Top 40 hit, Jordan was back home rehearsing and getting creeped out my Mom's porcelain doll collection.
Her massive porcelain doll collection.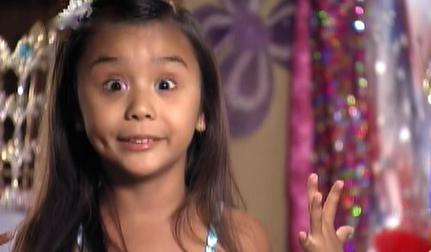 Throughout the episode, Crystal had made numerous references to their financial situation and how tight the budget was for everything that is required to stay in the pageant game.  It didn't take long to figure out that all the money they could have put towards reseeding the front yard had gone to cupcake dresses, refrigerator magnets and dolls.  But mostly magnets and dolls.  Lots of magnets.  Lots of dolls.
Enough dolls to fill a three hour block on QVC with nothing but Marie Osmond as a guest.  Porcelain for miles.
And they all creeped out Jordan.  Especially when Mom did the worst attempt at ventriloquism I've ever seen and made the crazy judge dolls give their scores.
Run, Jordan.  Run like the wind.  And never look back.
Maybe if she ran far enough she could even meet up with Cariah & Company for a pedicure.  Mama Ty had a strict NO Crusty Feet policy in her family contract (…who doesn't, right?..) so with all that spare time in Reno she took Cariah and Solange downtown for a foot buff.  Between scrapes of the sandpaper we also got a chance to really see where the girls get their sass.
Mama sez: Pageant World…we comin'.  Pay the Cost to be the Boss.  You know what time it is, mmmkay?  Oh, snap.
Seriously.  Every word out of Ty's mouth needs to be screen printed onto a t-shirt and sold outside the Apollo Theater on the weekends.  Love her.
Back at En Vogue's crib, Alyssa tried on her new Under The Sea outfit, which brought the tally for this pageant up around the $3000 mark.  Think how many dolls Crystal could buy with that bankroll.  Especially if they were Today's Special Value.
Dang, girl.
Alyssa looked like a mini JLo as she worked the carpet in her latest bathing suit-ish ensemble.  She is cute.  End of story.
GlamMa compared pageant prep to a football pre-game ritual, and now all I can imagine is that at least one male judge a week must be wearing a cup under the table.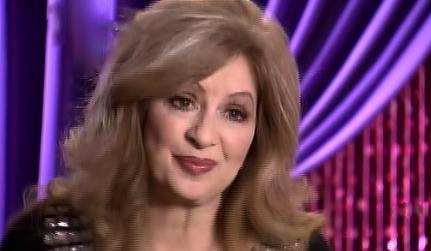 Thanks for that visual, Glammy.
Finally, it was Showtime!
Emcee Derrick Chrisinger was back, working the table in his logo polo.  He's a rockstar.
I'm not sure why I'm so fascinated with Derrick being able to sit down and work it like he's demoing sun tan lotion at a local bar, but I am.  He totally looks like he was supposed to be set up with a WTLC 95.5 radio remote at one of those places that makes their own beer and accidentally pulled into the wrong parking lot in the company van.
But he works that MacBook Pro set list like a Boss and isn't going to let go of the microphone even if the building catches on fire.
Dude grips that thing like it's Karaoke Night and his ex-girlfriend just showed up.
Our girl Carol Fleming lost composure for a second and had a little giggle fit when she let us all know that Jordan didn't have a chance in Hell of winning this thing, and I could picture Crystal's email requesting a refund going out before the next commercial break.
Carol felt that Cariah had the element of surprise in her favor, but our little princess was too busy sucking down a gigantic frozen Starbucks up in her hotel room to hear the compliment.
Ty had hired a new makeup girl for this show, and flabbergasted Shanna tried her best to keep Mama happy, which was an exercise in futility.  Ty kept nagging and pointing out uneven eyebrows and pale lips until I thought Shanna was going to just hand over her eye shadow tray and hit the road.
Shanna looked exactly like one of those preppy, nerdy, quiet types who suddenly take off their glasses, undo their ponytail and just get freaky on yo' a** at the clubs.  Like a naughty secretary in a naughty movie.  I liked her, but she didnt' stand a chance with Ty. After one pageant she turned in her makeup card and left a patch of rubber in front of the hotel, never to be seen again.
Thanks for playing.
Jordan and Alyssa had a tougher, overly bleached out, tattooed lady for their hair and makeup and this one had no problem keeping up with the drama.  Except for Jordan's see-through fake hair piece that was so flimsy it couldn't even be used for the pageant.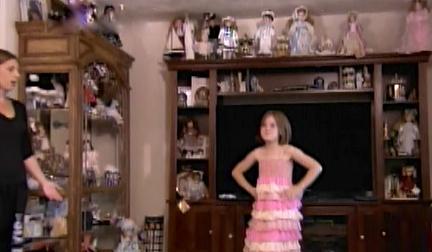 Crystal had spent $200 on that wispy weave (…how many glassy eyed Victorian dolls could those Benjamins have paid for?…) so she had a little melt down when she found out it was useless.  There was also what appeared to be a naked dead body in the bed behind her during all the dramz.
Maybe it was just a no-name brother still asleep in a tangle of bed sheets.  But it was weird, regardless.
After being told to swallow her spit (…whoa…yes…I also thought Mama said the other thing the first time I heard it, but luckily it wasn't the question I thought it was…) Cariah hit the stage and showed off the 50 pound dress that Ty had made as a DIY project.
There was a lot going on with that dress.
Jordan was a little speedy on her stage walk, but she looked nice with only real hair attached to her skull.  She got points taken off her score for not piling on another foot of synthetic curls, but it was refreshing to see a normal sized head.
Every week someone gets locked out of their room.  This week it was Jordan and her out of control Mom.  The way Crystal was going off on the front desk on her cell phone you would have thought one of her dolls was unresponsive in the bath tub or something.
It's also not saying much for whichever factory makes those defective hotel swipe cards with the magnetic strips.
The Under The Sea part was what you'd expect.  Fish and Whales and a girl with lobster claws instead of hands.  I think they were just mittens and not a medical thing.
Cariah fell down in the lobby, cried hysterically and almost ran her makeup.  Mama didn't know what to do.  I was thinking maybe she could help her kid back up off the floor or hug her or put pressure on the wound, but she seemed to be more worried about runny mascara and why Solange was always in the way.
Then some kids won some stuff.
Jordan and Cariah didn't win what Mom and Mama had wanted them to win, so there were plenty of issues with those announcements.  What the Hell is a Mini Grand, anyway?  It's crap.
Alyssa won Ultimate Grand Supreme and the entire recording studio erupted in applause.
At the end, all three Moms had to sit together in that little confessional moment that I love so much.  Picture three college girls who all dated the same guy being forced to sit side by side, knowing that only one of them was still getting any action back at the Ultimate Grand Supreme Frat House.
It was like that.  But way better.
Over the top.  And Under The Sea.