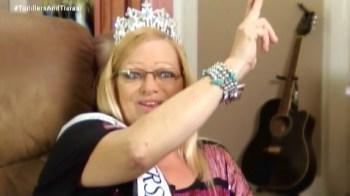 I have a special pink room upstairs with no doorknobs or windows just for Eden. She's pretty.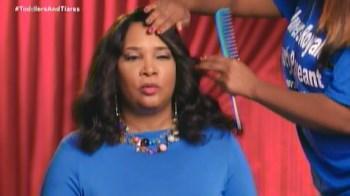 You get them curls on point, girl. I know that little man and his blog are coming for me this week.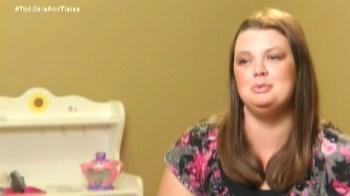 So, yeah. $8,000 on a teacher's salary is basically why I do all my cooking on that plastic stove back there…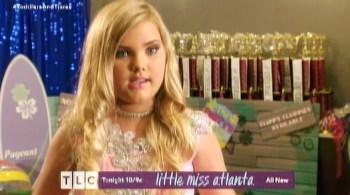 I know I didn't come back just so TLC could pimp all their new shows in my shot. Get this s*** off my patooties.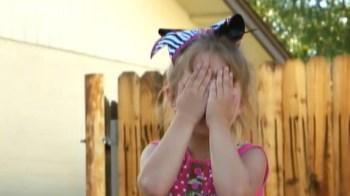 I don't even work for that lady and she sprayed her stuff in my face when I got off the elevator.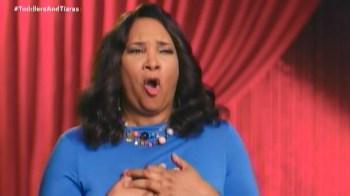 Lawd Geezis! She got that baby right in the eyes. She's blind now but her skin is like buttah.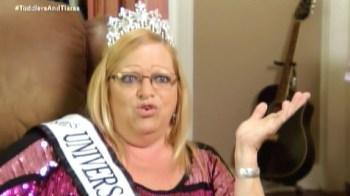 And by 'pretty'…I mean I'm pretty sure I'll find Eden Wood some day and keep her up there forever.
Wait.  What?
Why you crying, Boo?
It's only been a week.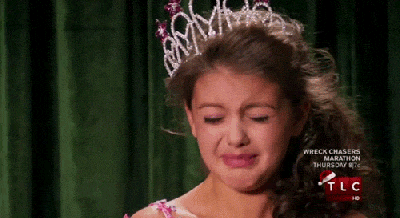 Really.  Stop it.
Toddlers & Tiaras is back already.  It's ok.
No more tears, please.  We only like #HappyEyes here.
Well hydrated, wrinkle-free #HappyEyes.  Which (…Spoiler Alert!…) are way easier to attain than you might think, even if your orbs are still burning from last week's Me And My Pet Pageant PoopFest.
So stay tuned for all the details.  I wouldn't joke about crows feet on a 5 year old.
And neither would my Pageant Coach/Internet Girlfriend Cambrie Littlefield, who kicked off this week's episode by taking the entire Cambrie's Court contingent back to Amnesia Salon & Spa to celebrate last week's poop-free victory and get yet another one of her favorite hangouts some free advertising.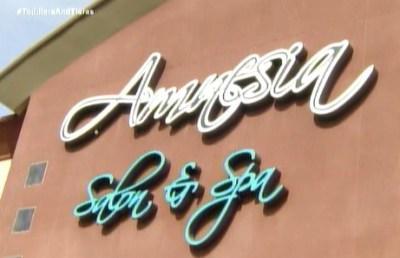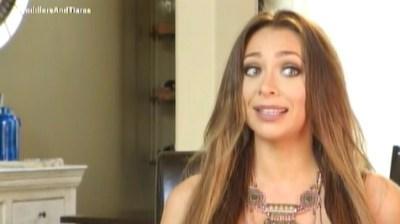 Look at me when I'm talking to you, woman.  I see what you did there.
But it's all good.  The kids deserved a congratulatory Spa Day, especially since they would be going back up against the Sassy Supremes at this week's upcoming competition.
Cue the Split Screen.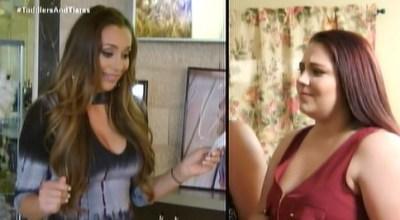 Dat's rite.  You heard me.  After a brief hiatus, 
Jaimie
and the
Sassy Supremes
were back!
And back with a vengeance, apparently.  Just check out the action over at Supreme Headquarters.
Surrounded by her Supreme Squad, some seriously retro '50s window coverings and a whole bunch of snacks, Jaimie laid out the game plan for this week's Universal Royalty Pageant.  S² was back, yo.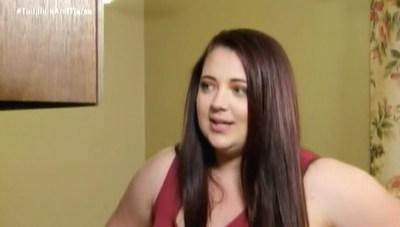 And all the Sassy Moms were eating it up.  Literally.  Like soldiers preparing for battle.
All of them except for that one in the back, that is.  The one who couldn't stop looking at whatever was happening up on the ceiling.  She even stopped eating a slice of pizza to check out the action.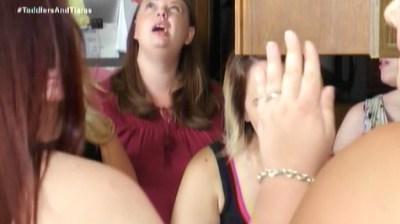 Whoa.  Now it's over there.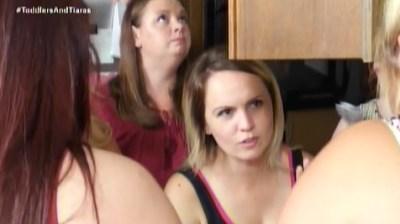 And now it's back over there.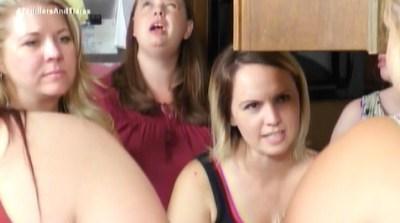 That little Mom who called Cambrie's Court
'Criminal Court'
is gonna hit her head on that kitchen cabinet if she gets herself any more worked up over the competition.
And isn't that third Mom the one with the husband who always wears cowboy hats and almost threw down in a hotel lobby a few weeks ago?
Thought so.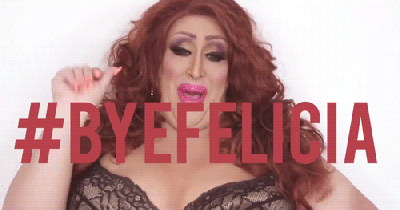 So the (…alleged…) word on (…Jaimie's…) street was that all the UR Pageants were fixed.  Straight-up rigged so that Cambrie's girls would always win.  Jaimie said it on camera.  I think she even sang it once.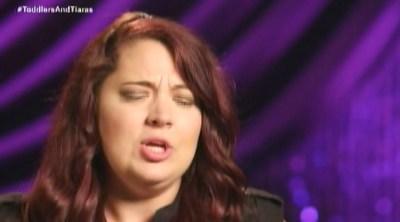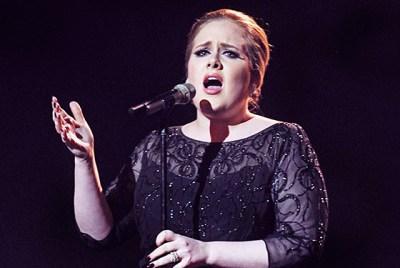 One:  Gurrrl, I do NOT wanna be around when UR Pageant Director Annette Hill hears dat.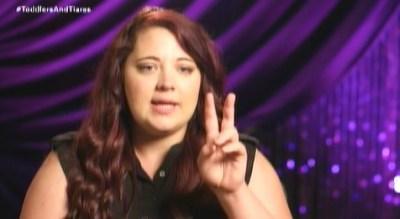 Two:  Gurrrl, I do NOT wanna be around when UR Pageant Director
Annette Hill
hears dat.
I love Jaimie, tho.  And Adele.  And Jaimie/Adele.
And this show.  Times Infinity.
Back at the Spa, where (…holla!…) Cambrie gets her own hair did, FYI…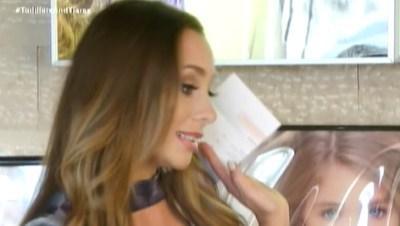 …the Court Coach was reliving some of the most emotionally scalp-scarring moments from her own pageant career:  Split Ends and Breakage.
True Fact:  Jackin' it to Jesus can take a toll on a girl.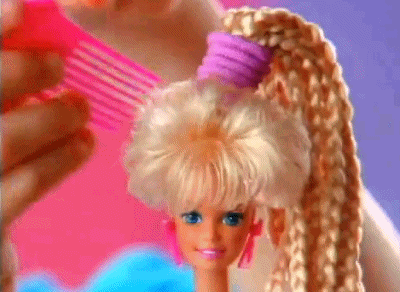 And don't even get me started on #HappyEyes of the #TexasTease.
But have no fear, America.
Cambrie's Collagen Spray© is here!  And only 19.99 if you order before midnight tonight.
I know, right?  Cambrie Littlefield has a line of Pageant Products?  Who knew?  Because I didn't.
Probably because she hasn't sent me any free samples.
Or maybe because my mall doesn't have a Pageants 'R' Us store yet.  Or both.
Regardless, I have no real excuse for my ignorance surrounding this necessary and life changing aerosol-free spray that not only miraculously restores elasticity to your damaged hair but also undoes all the wrinkly old lady creases you get from squinting while you finger kiss.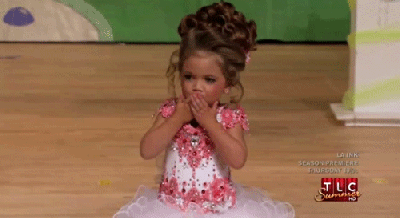 #HappyEyes.
And #Goals.  I heart Cambrie a little too hard sometimes.
Side note:  When that P'R'Us store does sign the lease and that last Radio Shack finally moves out, you just know one of those Nisa Hooper Throwing Shade Sunglass Hut kiosks is gonna open up right in front of their damn door and the shizz is really gonna start hitting the fan.
Which reminds me.  No Nisa again?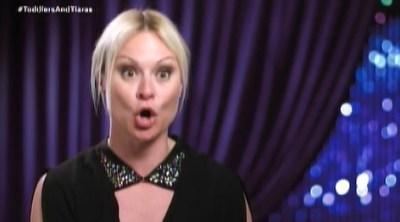 Yeah.  What she said.
Anyway.
Cambrie had all the women yank out each other's hair…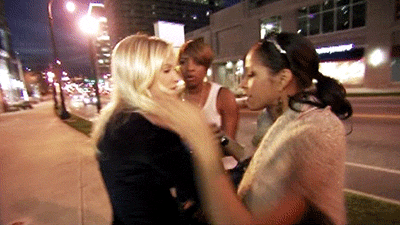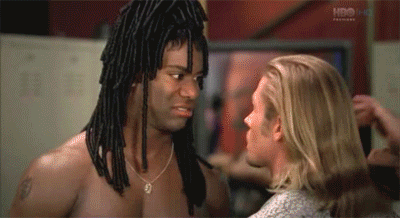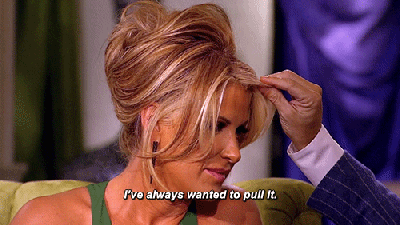 …and then coat the strands with a few squirts of magic collagen made from the tears of unicorns…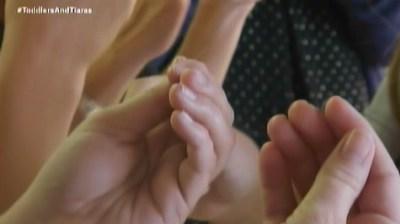 …and suddenly the hair was not only invisible, but also stretchy and now stood a much better chance of actually making it all the way to Jesus without breaking off like uncooked Wednesday night spaghetti.
And then all the kids took it in the face.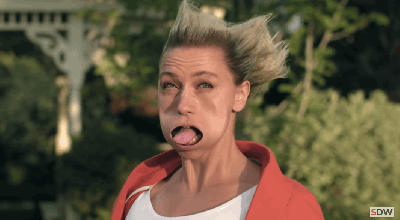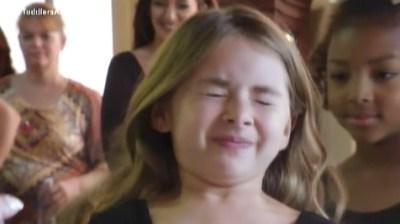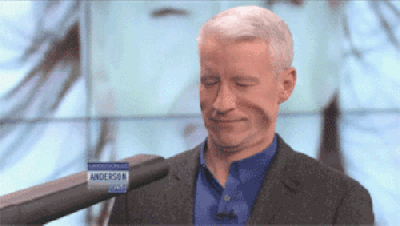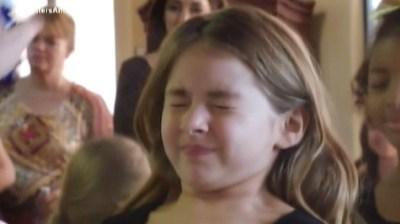 How do you feel about that?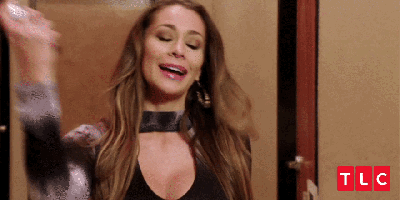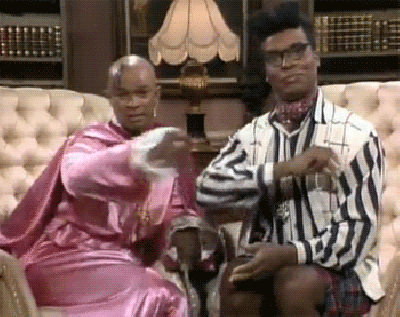 Side note:  Look at
Jayliana
's Mom
Deb
when all this was going down.  Really?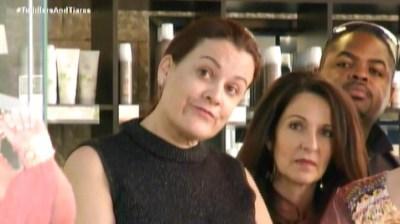 I don't think so.
And that guy with the visor on his head wasn't buy it, either.  These kids are kids.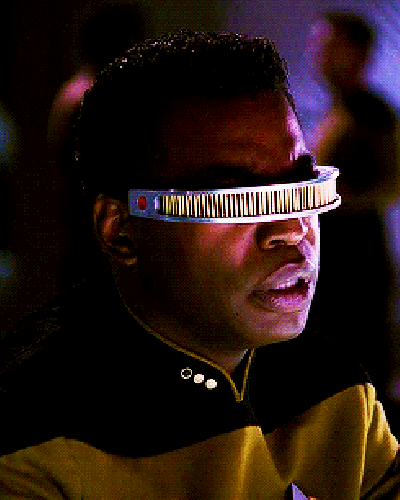 Deb couldn't even deal and went home to have another cocktail on the couch…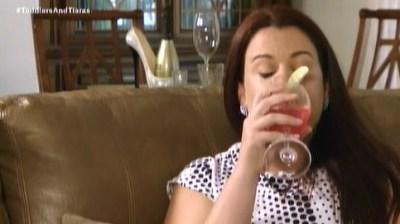 …where she lost her shoe again, forgot what year Jayliana was born and now I love her even more.
Side note #2:  Isn't that Mustache Guy again?  Hit me.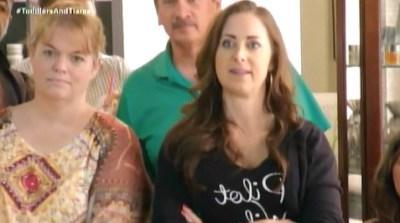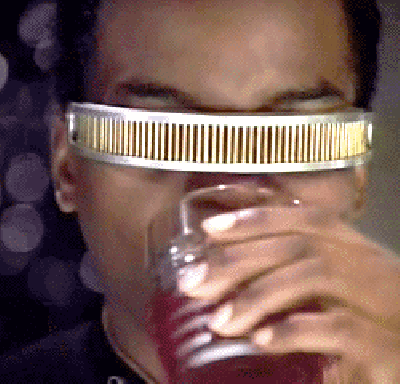 Finally, we moved on to some town that was clearly in the middle of a life threatening drought and met our first little contestant, who was trying her darnedest to paddle up a dried-out river bed and make it to safety before her teddy bear passenger got heat stroke and died in a pool of his own furry sweat.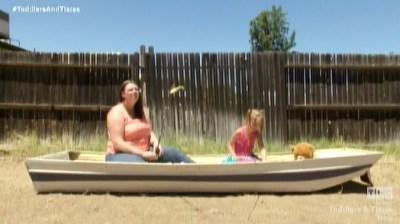 Meet  5 year old
Kaydence
and her Mom
Autumn
.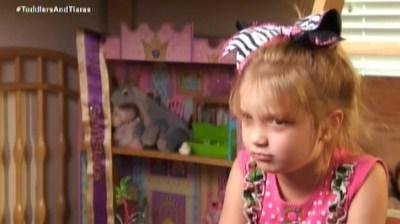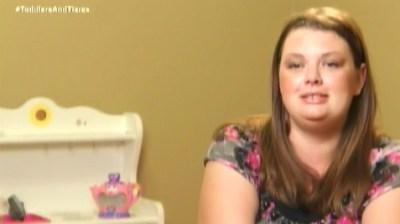 Kaydence liked baitin' a slimy hook and fishin' and huntin' a whole bunch better than she liked getting her makeup done for pageants.  Getting that same wormy hook right in the eye might even be more fun for tiny KayKay than pageants, if we're being completely honest.
But she was so cute that she can do whatever she wants.  She has my permission.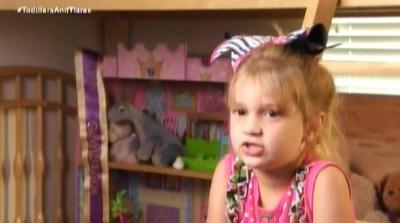 Mom was super smiley and nice and I pegged her as either a nurse or a teacher before she even blurted out that she taught school children for a measly $38,000.
People in Charge of Paying Teachers:  Shame on you for not paying our teachers more.
They're grooming the future of our country, fercryinoutloud.  And that's not even sarcasm.  The part about Autumn cooking dinner in an EasyBake Oven and hoping her husband doesn't find out that $8,000 went to pay for Kaydence's pageants instead of a new muffler might be…but gah.
And then the Gods of Reality Television gave us an early holiday gift.
They gave us this.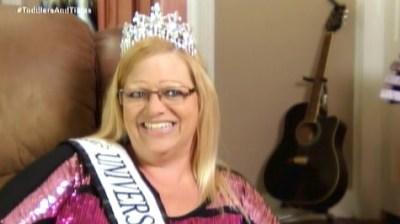 And this.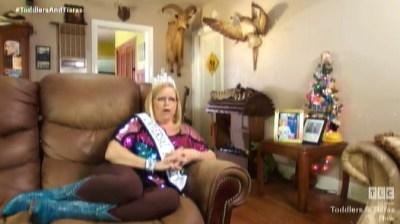 And all of this.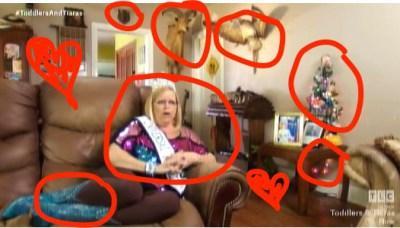 Pageant Mom
Sharilynne
and 8 year old
Mehalye
have arrived, America.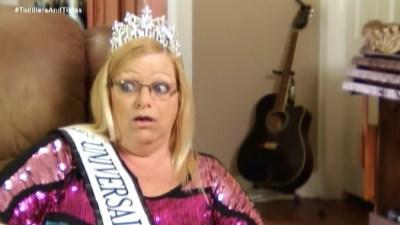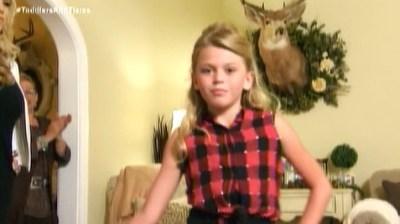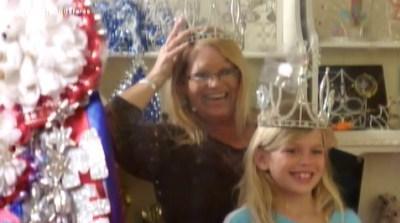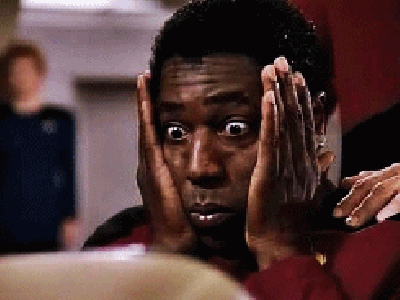 Exactly.
Love.  Them.
And it doesn't hurt that Mehalye is coached by Nikki Nicole, who made it to the last round of Dallas Cowboy Cheerleader Day Camp.  Because, you know…Dallas Cowboy Cheerleader Day Camp.
That's Nikki Nicole right there, calling her lawyer because I called it Day Camp when I know better.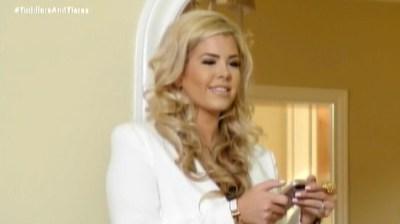 Side note:  Mehalye also knows how to do the Cowboy Dip and you don't.
Drop it like you're diving for cover under the saloon table, girlfriend.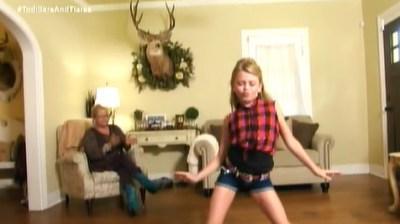 Q.  If that Christmas wreath around the deer head catches on fire, how are they gonna get out when the couch is blocking the door?  Or better yet, why are there two doors side by side in that house? And please tell me this episode was shot during the holiday season and that Sharilynne is not just one of those people who leave their lights up all year long?
I.  Love.  This.  Show.
Almost as much as Sharilynne loves Eden Wood.
Almost.
You remember Eden, right?
One of the breakout stars from Toddler 1.0.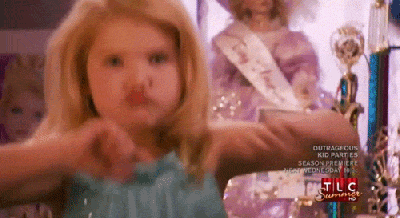 She sang that song 'Cutie Patootie' and had this whole situation going on in her room.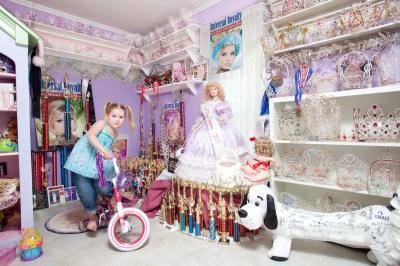 Eden even had her own spin-off show where her Mom
Mickie
 would always fight with their old red haired manager.  The one who always wore khakis.  And there was also another guy who carried a little dog around all the time but I forget his name.  
I think this is Eden, too.  If it's not, it's still trippy.
There was also a whole lot of post-show drama that caused Eden to don a black wig and temporarily go undercover, just like when
Luke
and
Laura
had to leave Port Charles to escape the Mob.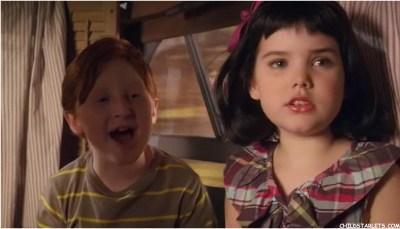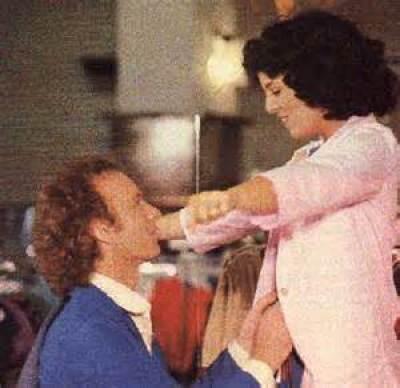 It's a long story.  Google it, because I'm not sure if any of it is actually true.
But Sharilynne LOOOOOOOVES Eden.  That part I know is true.  You just wait.
First we had to meet 10 year old Abby and her Mom Christie and Christie's black Amex.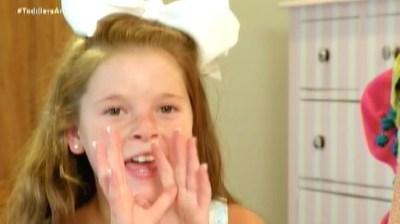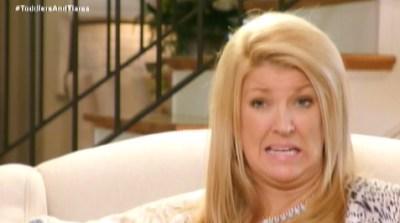 Abby was redoinkulously cute.  Like Alfalfa from The Little Rascals.  But with a bow.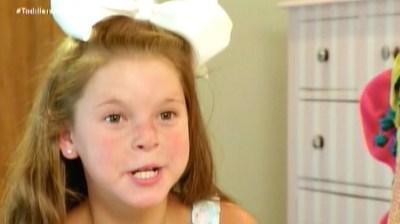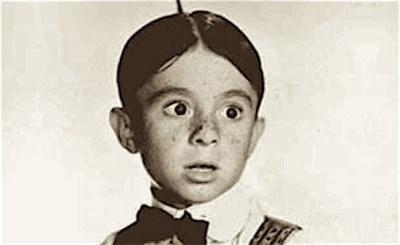 And way more money.
Like $1,800 for a dress.  And $650 for something I forgot to write down.  And $250 for hair.  And $35 for a spray tan not done on your kitchen table.  And $200 for flippers.  And something else that her Mom rattled off but the sound of my bouncing rent check drowned her out.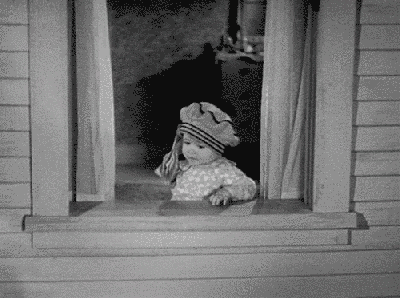 $16,000-17,000 dolla make me holla dollas.
And a privat jet.  Did I mention that yet?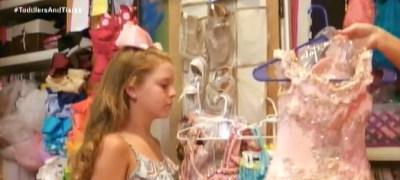 Side note:  Her hangers don't all match.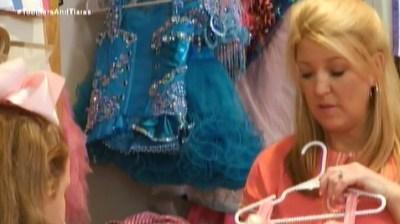 You can fly all around the planet on a private jet, chewing on $200 worth of vinyl teeth…but Mama can't pick up a case of Huggable Hangers on HSN?  #NotJudgingTho
Look at how cute she is.  Really.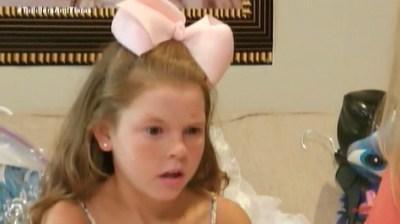 Side note #2:  Cambrie showed up in her daytime au natural makeup and broke the internet.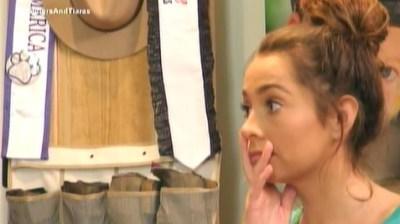 Finally, it was Showtime!
And time for my girl Annette Hill to arrive.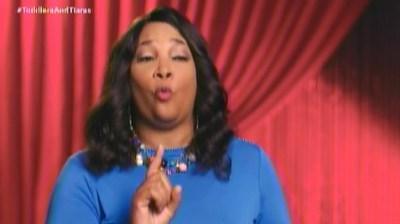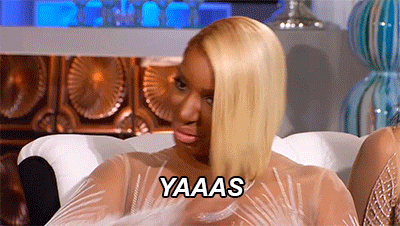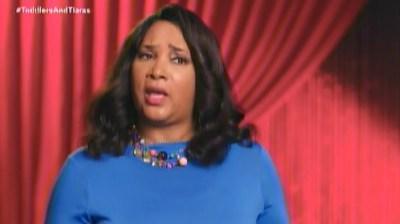 Mama don't wear no bun no more, boyeeez.
Annette is the Queen.
If it twinkles, sparkles or sounds like Motown…yes, please.
But more than ONE winner?  Excuse me?
You don't see 4 Miss Americas when the show's over, do you?
You know that's right.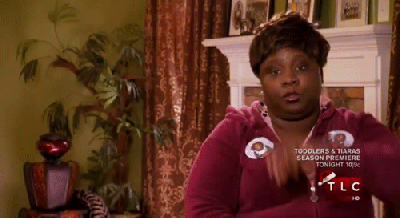 This week was divided into 2 categories:  Beach Ball Beauty and Swimsuit Cutie.
And the whole shebang was chock full of celebrity guest judges and bad hair choices.
Like poor Mehalye, whose brand new Hair Lady sent this creation down the runway: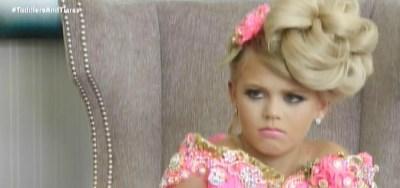 But we're getting ahead of ourselves.
First, the judges.
Yaaaaas, Gawd.  The Top Hat Boyz!  Both of them.
This one…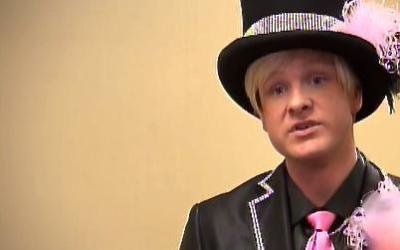 And this one…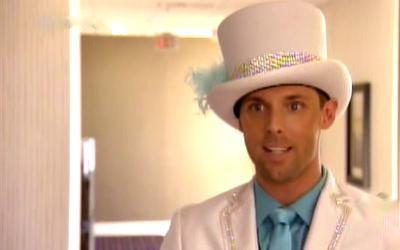 Full Disclosure:  Those are old photos to prove my point that the Boyz were only given 12 seconds of screen time this week and that there was not nearly enough glittery goodness to capture multiple shots.
Shame on you America for underpaying our teachers and not giving the THBz enough FaceTime.
And Mickie Wood!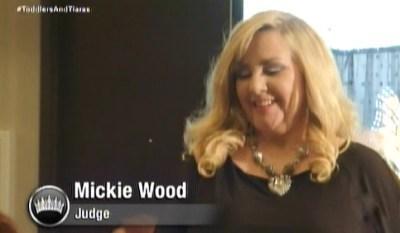 Wait.  What?
Mickie?  Does that mean…?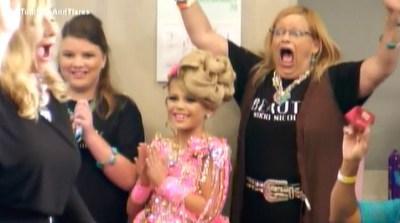 Dial it down, honey.
Don't even tell me…or Sharilynne, God help us…that Eden Wood is in the building.  Don't.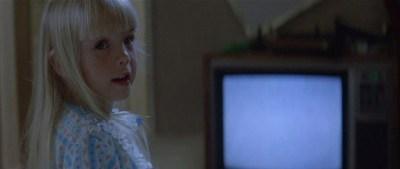 Too late.  She's baaaaaaack.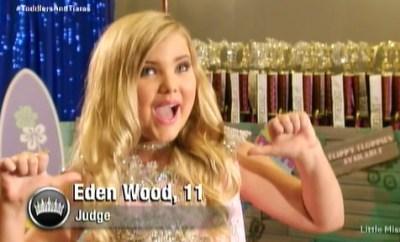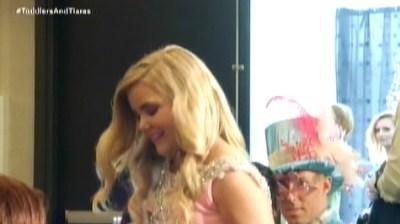 Bonus Points for that Top Hat #SideEye.  Snap, gurl.  Take my screen time, bitch?
Sharilynne lost her noodle.  And her glasses.  She cried so many times I lost track.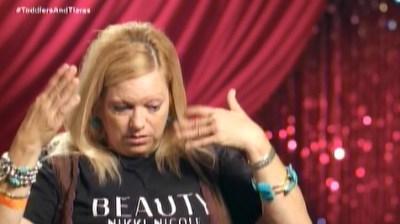 To lighten the mood, here are the two girls who hand out samples at Sephora every weekend.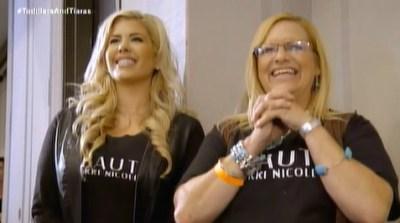 Somewhere in all of this hilarity was also when Mehalye sat in the lobby with her (…Spoiler Alert…) #KrispyKremeHair, refusing to do her on-camera interviews until Mom greased her #DonutHead and palm with a crisp new Andrew Jackson.
$10 Poorer: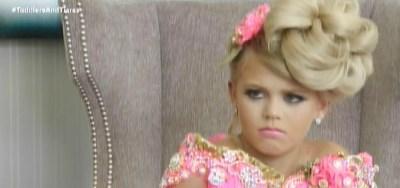 $10 Richer: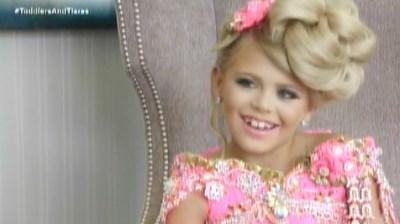 If I got 10 bucks every time I had a bad hair day in grade school…srsly.
Since this is another 2-parter and we wasted so much time making collagen jokes, I should probably speed this up a little by just hitting the high points until next week.
Mehalye's #KrispyKremeHair was a big hit with the Boys.  While the one on the left got hilariously snarky about her #DonutHead, the one on the right literally licked his lips just thinking about a hot one rolling down the conveyor belt.  You think they buy those suits off the rack?  Cuz I'm kinda digging 'em.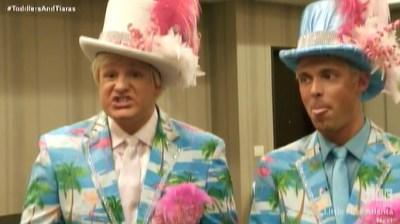 Look.  
Marcy
likes donuts, too.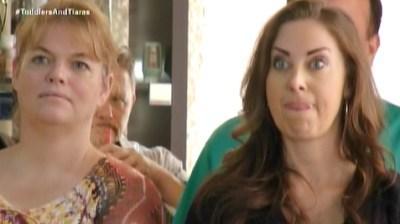 Sharilynne cried again and then crazy laughed, which now haunts even my waking moments.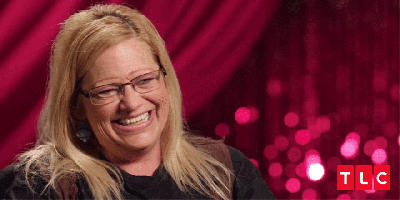 All the kids were cute on stage.  They always are.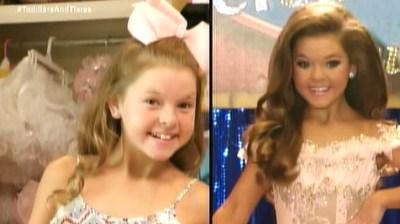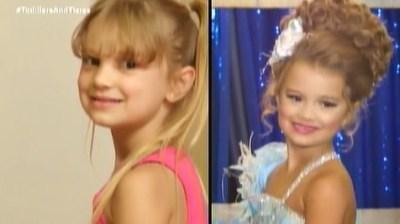 Cambrie kicked #DonutHead out of the lobby chair so she could plop herself down in her new Miss Universe couture and pretend she was at a Real Housewives Reunion Show or something.
Girlfriend knows good lighting when she sees it.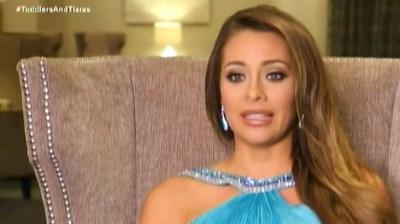 #Goals.
The producers got a little shady and did a flashback with Mickie Wood's old hair and face.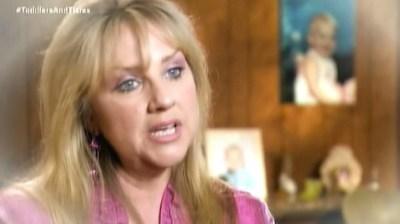 A couple of Moms and coaches gave hand cues, which we all know by now is not cool.
And then the TLC censors tried to cover up Cambrie's full frontal with yellow Lady Gaga tape because there were so many kids in the ballroom.  Nice try, guys.  It can't be done.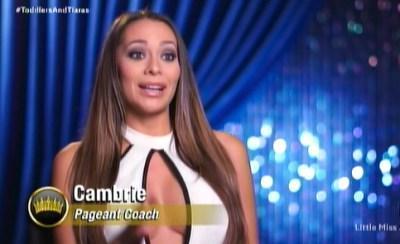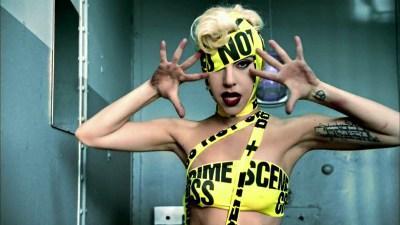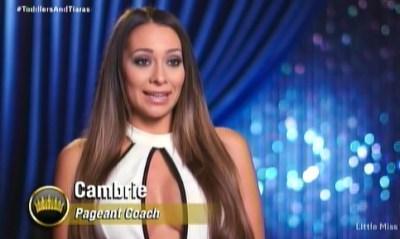 #Goals.
And then it was over.
Well.  Except for the part where Sharilynne went back upstairs and passed out behind her hotel room door while somebody was trying to dismantle Mehayle's #DonutHead and somebody else with a walkie talkie was trying to come in to ask some questions.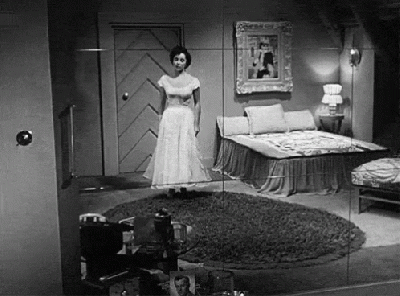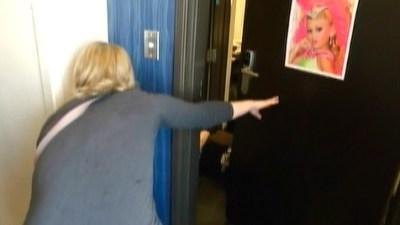 Side note:  That lady took her sweet time putting down that boom mic before coming to Sharilynne's rescue, but I know those things are expensive.
And then it was really over.
Until next week, I mean.
…to be continued.