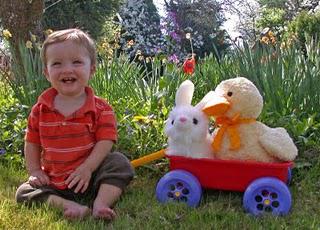 FROM ABC: A new study shows that when given a toy that does not work, children at a very young age are able to determine whether the problem is with theirs or the toy's.I have definitely seen this! My little guy is 21 months now, but several months ago he could tell whether the batteries were dead in toys or whether they were broken(we have a lot of broken toys in our house.) I think it's amazing. He brings them to me and points and tries to tell me something's wrong with the toy.
FROM ABC: Infants are attracted to toys by color, shape, size, texture or the sounds they make. Authors of a study published in the journal 'Science' found that children as young as 16 months seem to be able to figure out whether a toy does not work as it should because something is wrong with the toy or because of the way they're playing with it.
Researchers showed toddlers the same toy but in different colors, green, yellow and red. The green toy played music when the experimenter pushed a button.
They gave some infants the green toy, others the yellow and they placed the red toy on a cloth near the infant. When the toddlers with the green toy were unable to make it play music, they would hand it to their parent, implying they thought their own actions were the problem.
Those given the yellow toy were more likely to reach for the red one, suggesting they thought something was wrong with the yellow. Authors concluded that infants learn whether they ask for help or explore on their own.
-NewsAnchorMom Jen
Skin Dimensions, SB products are manufactured with Pharmaceutical-Grade ingredients. Products are not just "Feel Good Products," as they contain unique and innovative ingredients in concentrations that can assist you in the achievement of your own personal skincare objectives. Our products contain higher percentages of Glycolic, Vitamin A, C, E, Co-Q10, green tea, than what you can usually purchase over the counter.