Today the diocese of New Ulm, where now Archbishop Nienstedt previously served, was forced in court to release THEIR list of sex-abusing priests.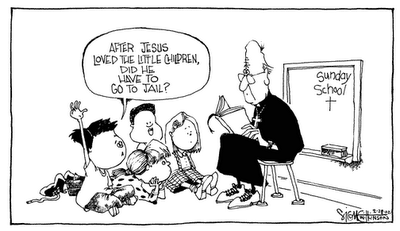 KSTP did an interview with the Archbishop, who seemed a lot less involved with the most important topic for his church than he was with trying to prevent people who believe differently than he does from the free exercise of their religion in gay marriage.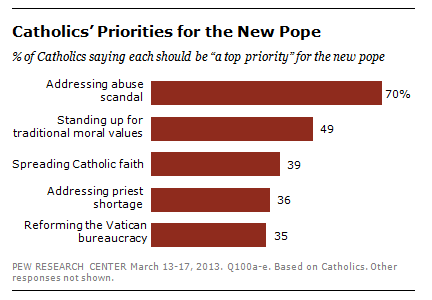 There is the short version:
or the extended version:
As the KSTP news interview noted, it led to MORE questions. We've had enough "the dog ate my homework" excuses.
It is WELL PAST TIME for Nienstedt and the rest of the RC in Minnesota to STOP tossing out empty, lying assurances that things are better now.   We are ALWAYS being told, no, it's all better now, and DON'T LOOK AT THE MAN BEHIND THE CURTAIN!,  in this case the curtain OF RC SILENCE.  It is ludicrous to think that there has been any lack of preferential treatment given to the 'rights of priests' and utter contempt occurring as regards the rights of victims.
There is no justification for believing Nienstedt on anything.  The changes the church makes are poor, slow, and resisting the compliance with law that is routine from other religious faiths and denominations.
Nienstedt needs to go, permanently not just temporarily stepping aside, as has been noted in not only local media but in the New York Times.  There has been a lack of GOOD leadership, only leadership of church self-interest.
GO!  And don't let the church door hit you anywhere inappropriate on the way out.  We are no longer patient with excuses and lies and the inability to genuinely change.
My impression of Nienstedt is the same as my impression of Tim Scannell the recently convicted sex-offending county attorney in northern Minnesota who was just removed from office involuntarily after his conviction, after refusing for an extended period of time to leave.  There is a sense of entitlement to the job. to the authority, and to the privilege to engage in whatever inadequate or outright bad conduct occurs without accountability.
Resigning or removal is the LEAST of what should happen to Nienstedt; he should face the full weight of the law, as should everyone else in the MN RC hierarchy, for protecting pedophiles and other priests engaging in sexual misconduct.
As noted at religioustolerance.com
Child and youth sexual abuse by Roman Catholic clergy
Part 1: Overview:
Introduction; The Church and the cover up;
How common is/was the abuse?


The vast majority of abuse by priests who victimize minors -- persons under the age of 18 -- has taken the form of ephebophilia 2 -- involving post-pubertal youths who are often 16 or 17 years of age.

Yet most of the public has concluded from the media that most of the abuse is taking the form of pedophilia 3 -- involving young, pre-pubertal children under the age of 11.


In 2004-FEB, CNN was able to view a draft copy of a survey prepared by the church. It reveals that 4,450 of the 110,000 Roman Catholic clergy (4%) who served between 1950 and 2002 have been accused of molesting minors. This has resulted in 11,000 individual abuse claims filed against Catholic clergy during that interval. More details
In 2005-FEB, Dr. Kathleen McChesney of the U.S. Conference of Catholic Bishops said that the crisis is not yet over because thousands of victims across the country are still reporting the abuse. She said:
"In 2004, at least 1,092 allegations of sexual abuse were made against at least 756 Catholic priests and deacons in the United States. Most of the alleged incidents occurred between 1965 and 1974. What is over is the denial that this problem exists, and what is over is the reluctance of the church to deal openly with the public about the nature and extent of the problem." 4
About the Roman Catholic Church and its cover ups of abuse:
Some investigators have been reporting for decades that many dioceses within the Roman Catholic Church in the U.S. have been routinely covering up sexual abuse by its ephebophile 2 and pedophile 3 priests.
On policy matters, the Church has been quite decentralized; each bishop establishes his diocese's own methods of handling this problem. This changed in 2002 when the United States Conference of Catholic Bishops developed a unified policy, had it approved by the Vatican, and implemented it.
Many dioceses had found it expedient in the past to pay off the victims and their families with hush money. Generally, a confidentiality agreement was a standard part of these settlements. 5 Perhaps because of the church's tradition of forgiveness and perhaps out of an unrealistic belief in the effectiveness of therapy, the dioceses often routed abusive priests through residential treatment centers, and later reassigned them to a different parish. Unfortunately, this often resulted in a whole new group of children being abused.
The Seattle Archdiocese broke new ground under then-Archbishop Raymond Hunthausen in the late 1980's. They created a new sex-abuse policy which involved the creation of semi-independent review panels composed of both Catholics and non-Catholics. The panels have included therapists, attorneys, prosecutors, church-law experts, and priests. It is headed by a bishop. They hear from accusers, review psychological evaluations of the alleged abusers, and listen to testimony from counselors. The panel makes recommendations to the Archbishop which may include having the priest defrocked or ordering him to undergo psychological treatment. According to author Jason Berry, "Hunthausen was really the first archbishop to deal with this problem publicly. The fact that Hunthausen spoke out and was so forthright — you cannot underestimate a statement like that." Berry added that certain aspects of the policy were "pioneering" efforts at the time. These included reaching out to victims, and making sure that perpetrators weren't shuffled from parish to parish. 6,7
Although many books on clergy abuse were written during the 1990's, it wasn't until allegations surfaced of sexual abuse by Roman Catholic clergy in the Boston, MA area during 2002-JAN that a moral panic materialized among the public. It has since spread across the U.S. During the first half of 2002, about 300 of the 46,000 priests currently serving in the U.S. were relieved of duty over abuse allegations. 8 This represents about  0.65% of the total population of priests. Allegations of new instances of child and youth sexual abuse appear frequently in the media. Hundreds of priests and at least one bishop of the Roman Catholic Church in the U.S. have been accused.
After a 16 month investigation, the Massachusetts Attorney General's office issued a 76 page report in late 2003-JUL which concluded that Roman Catholic priests and other workers in the Boston Archdiocese probably molested more than 1,000 people over six decades. Attorney General Tom Reilly blamed church leaders for the abuse. He said:
"The mistreatment of children was so massive and so prolonged that it borders on the unbelievable....The choice was very clear, between protecting children and protecting the church. They made the wrong choice. In effect, they sacrificed children for many, many years."  Attorney Jeffrey Newman, whose firm represents more than 200 alleged victims in lawsuits against the archdiocese said: 'The fact is that a group of lawless rogues were allowed to reside in our community and to harm our children under the protections of the freedom of religion and the First Amendment, and this simply cannot be allowed in the future'."
No church leaders could be charged, because the state's incredibly weak statute of limitations laws for child abuse crimes made this impossible.


How common is the abuse?


In moral panics, as in wars, truth is often the first victim. There is massive speculation about the scope of the abuse. But there is also an almost complete lack of reliable data. Much heat is being generated, and very little light. Some claim that sexual abuse by priests is quite common; others claim that:
"There is no good data either from the general population or from the priesthood about numbers of pedophiles or people who have a vulnerability that increases their risk to children. The issue of sexuality, particularly of people who may have unusual kinds of sexual cravings, has been one that society has tended to sweep under the carpet. Getting that data is terribly important, but as of now I know of no systematic surveys that would allow us to come to any firm conclusions." 10
Two widely circulated estimates suggest that approximately 2% to 6% of Roman Catholic priests abuse children and youths. This compares with other common estimates: that perhaps 1% of all adults and 2% of all adult males are abusive pedophiles. However, priests have freer access to many children than does the average male. His position of authority and trust can facilitate abuse. Thus the number of abused young people per abusive priest may well be larger than for the average molester. William Reid has written that "careful studies have indicated...that child molesters commit an average of sixty offenses for every incident that comes to public attention." 11 But Thomas Fox estimated that the "average pedophile priest abuses 285 victims." 12


Ephebophilia and pedophilia among Roman Catholic priests:


It is extremely important that the public knows the precise nature of the evil that is out there. The media has not been particularly helpful in educating the public. They tend towards sensationalism.
One serious problem is that the meaning of "pedophilia" appears to be in a state of transition. It is changing in two ways:


  
In the past, it meant an adult who is attracted to young, pre-pubertal, children -- typically less than 11 years-of-age. It is now evolving to mean the abuse of any person under the age of 18.
  
The term is now used frequently to refer to adults who are not only attracted to young children, but who actually abuse them. There does not appear to be a word in common use that refers to a non-abusive pedophile.


Much of the media has implied that most of the sexual abuse by priests involves pedophilia -- the molestation of pre-pubertal girls and boys. This is not true. The vast majority of cases appears to be by abusive ephebophiles -- adults sexually attracted to post-pubertal adolescents. This often takes the form of sexual activity by homosexual priests:
"...with young seminarians or 16- or 17-year-old boys. While such homosexual activities with minors are criminal offenses -- and immoral -- they are certainly not examples of pedophilia or child molestation." 1
Unfortunately, precise data on abuse is not available. Data is largely based on experts' opinions. But perhaps the following might be helpful:


In another essay, we describe various estimates of the percentage of Roman Catholic priests who engage in sexual activities with persons under the age of 18. They range from 0.12% to 6%. In the absence of precise data, a value of 3% might be a reasonable guess.

If the 3% value is accurate, then it is important to remember that 97% of priests are not sexually abusive to children and adults.

In the same essay, investigators have estimated that between 90% and 98% of those abusing minors victimize post-pubertal adolescents, while the rest assault pre-pubertal children and children going through puberty. A value of 95% might be a reasonable guess.

The percentage of males in the general population who sexually abuse young children is unknown. Some estimates are in the range of 1%

If those data are accurate then:


About 0.15% of priests sexually abuse young children.

This is perhaps 1/8 the rate of men generally.

Priests have a much lower rate of abusive pedophilia (that is, of pre-pubertal children) than does the general population of men.

The percentage of males in the general population who sexually abuse post-pubertal youths is unknown. We know of no reliable estimates.

If the above data are accurate, the:


About 3% of priests sexually abuse adolescents.

We cannot conclude whether abuse of adolescents is more common among priests then among the general population of men. We have a hunch that priests are significantly more abusive.


If the age of consent for homosexual activity were lowered to the age of 16, as it is in many countries, most of the criminal acts would disappear. Cases of ephebophilia would still represent an ethical quagmire, however. They would be a gross violation of the priest's ordination vows, an abuse of his power and influence, and would be an extremely harmful experience to most of the teens. For example, in Kingston, ON, Canada where our office is located, an Anglican church organist was convicted of sexually abusing many youth. Many people believe that two suicides eventually resulted from his molestations.
There is no more 'TRUST'; trust has been broken, and will only BEGIN to return with a strong sweeping broom from top to bottom that purges the 'old guard' at all levels. No more 'wait, really, NOW we fixed it' will do.
IT WON'T.