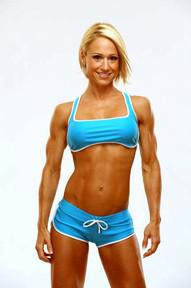 Fitness Model Jamie Eason
I'm going to begin working out again, today.  How do I say this...?  I sort of "stopped" for oh, about a month...  Yep, I absolutely, completely stopped working out.  I seriously did.  Anyhow, I am back on the bandwagon today.  It will be a hard start, but I'll get back in the groove.  It's like riding a bike, it all comes back to you.
Here's the workout I'm going to follow today (see below), courtesy of
pinterest
.   I'm also including my "body" inspiration, fitness model Jamie Eason.   Believe it or not I was half way to my body physique a few years ago and I got a little side-tracked.  However, I'm determined to get there. And I will!   Go me!  
Anyone else out there on a fitness mission...?
Do share.  I'd love to hear your fitness goals.  We can do this together.  Come on, let's go workout!