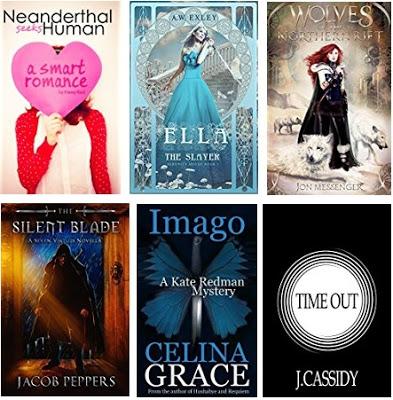 Personally, I have taken full advantage of all the wonderful free books available on
Amazon
- all sorts of novels, cookbooks, how to guides, business books - and so much more!
I have over 135 free books on my
Kindle
- and there are so many more to choose from!
In my opinion the
Kindle
is just plain fun to use. Plus it surpassed all my expectations.
Whether you are looking for your first ebook reader or have owned one before, if you love books, if you love reading - you will love your new
Kindle
. I love that I can find a new book and start reading in seconds!
---
Don't forget to Bookmark/Favourite this postit is updated with new FREE books every single day!
---
For a list of even
MORE
free booksclick the
Buy From Amazon
Button
now!
---
HOW TO ORDER: Click on the book title that interests you, then click on the Buy At Amazon.com button. You will get another chance to make sure the book is still free, before clicking on the final Buy Now with 1-Click button on the top right.
---
Click here for November 1 - FREE eBOOKS
The Collar and the Cavvarach ~~ Wisdom Shines ~~ Mediterranean Diet: A Beginners Guide ~~ How To Get Loyal Readers ~~ Cat Codes: 9 Life Lessons Cats Teach Us ~~ Imago ~~ The 25 Deadliest Animals in the World ~~ The Silent Blade ~~ 5150: A Transfer ~~ Time Out ~~ Vegetarian Cookbook: Healthy Vegetarian Cookbook ~~ 26 Love Ideas for a Happy Successful Relationship ~~ Summary of Astrophysics for People in a Hurry ~~ Meditation Creating a peaceful Mind to Calm ~~ 5 SECRETS OF HEALTHY LIFE IN THE OFFICE ~~ Follow your Dream ~~ 100 Popular Gratitude and Motivational Quotes ~~ Wolves of the Northern Rift ~~ Ella, The Slayer ~~ Neanderthal Seeks Human ~~ Spice Box
---
Be Quick! Though books are free at time of posting, prices may change at any time. Be sure to verify the Kindle Price, before purchasing. If you do happen to buy a book that you thought was free, you can return the book within 7 days for a full refund.
---
---
Authors:
Have your own free book(s) to add to this list? Fill out this form and your book(s) can be added!
---
Don't have a Kindle?
Use a free reading app! Available on your iPhone, Android phone, Blackberry, Windows Phone, PC or Mac computer, iPad, iPod Touch or Android tablet - just grab a
free Kindle Reading app.
Or grab yourself a Kindle or Kindle Fire.
---
MORE FREE BOOKS:
•
Smashwords Book Freebies - Free books for NOOK, KOBO, SONY and Kindle!  
•
Top Free Kindle Books 
•
More free book resources - including Kobo and Nook 
•
Free audio books
 • Click for even more free books • Click for Canadian free book list • Click for UK free book list
 • Click for free books in all other countries
---
NOTE -
If any of the above links are not working or the freebies or coupons no longer available, please post a blog comment below and I'll edit it!