New to little Indiana? Subscribe for free to my RSS feed. Thanks for stopping by!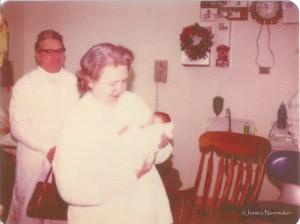 A Birthday the Day After Christmas: My Maternal Grandparents and Me
Some kids grow up hearing great stories of their joyous arrival, but for me, my dad liked to begin with, "You put us in so much debt, kid!"
Oops. But as I see it, I've always like to get stuff done–and sitting around doing nothing until February 19 just wasn't for me. So, the day after Christmas, I decided to grace my parents with a late Christmas present.
It's the thought that counts, right?
A Birthday the Day after Christmas
My paternal grandmother used to love to tell the story of how small I was–the length of her forearm. My Uncle rejoiced in the news that I would actually live with a hearty "God Bless Jessica!" My mom still keeps a shirt that was sizes too big for me.
So, I've heard that they weren't ready for me at all. Like, they didn't even have a crib for me. It turned out okay though, since I was stuck in the hospital for so long because I was just too small. Like 4 lbs. 1/2 oz. kind of small.
To make matters worse, my mom wasn't only examined by her doctor but had a crowd of doctors-in-training. So, not only was I scary-early, but she had a whole team of folks hovering around (she was too intimidated to tell them to leave) and, to make matters worse–I was breech.
They tried to push me back into the right position but I wasn't having it. After a quick C-section (so quick that they didn't even put a screen between my mom and the folks doing the C-section that my dad saw everything), and recovery, and a long hospital stay…they had a great story to tell!
A Birthday the Day after Christmas Truths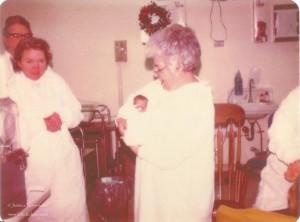 A Birthday the Day after Christmas: My Paternal Grandmother Gets to Hold Me December 31
Having a birthday the day after Christmas at 7:47 PM, the exact time of this posting going live is not so bad…oh, wait. Yes, yes, it is.
Growing up, my Aunt Jane always brought over pies for dessert on Christmas (combined with the TONS of cookies and bars my mom whipped up and it was quite an event!). Many pies. So, we always had plenty of leftovers–so I did not, in fact, have a cake, but a birthday pie.
I didn't get to bring cupcakes in to school on my birthday but the week before or after school was out. It's just not the same. Our boys get to wear a ribbon that says "Birthday Superhero" all day long. If I had had such a thing…who would have seen it?
Plenty of my favorite small Indiana town restaurants have special deals for you on your birthday…but who wants to go out again after all the holiday hub bub?
Growing up, I got more than my fair share of birthday/Christmas gift combos. Not cool. As a grown-up? Well, I was greeted to a phone call this morning from my hubby who sang all of "Happy Birthday!" and our boys agreed that fried eggs would be fine this morning (instead of the whisperings of cheese ham omelets) because it's my birthday. It's the little things.
Happy Birthday to Me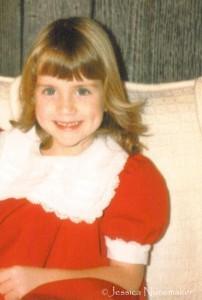 A Birthday the Day after Christmas: The Day Before I Turned 5
While it may not surprise you, I kept a journal from fifth grade all the way until I was 24, then again when I was expecting our first son. It's fun to go back and read about my life in general, but it's particularly fun on holidays.
I can read about how excited I was the night before my birthday at milestone ages like 13 and 16 and 18! I can also read about those moments that you sometimes forget about. I love that peek into the past and have recently started keeping a journal again. You know, because writing little Indiana is apparently not enough writing for me.
Kidding aside, last year was certainly something else and I'm thrilled to see what's ahead in 2013.
I may have turned 29 a few times now but I'm sure it'll still be great. I know that I (once again) have big plans in store for little Indiana and I can't wait to share it with all of you!
Find pictures in Indiana on my Flickr photostream or on the new little Indiana Tumblr blog.
Just don't forget to tell 'em that  little Indiana sent you!
Don't miss a moment. Subscribe to little Indiana and receive instant updates to stay on top of everything "little."
little Indiana: Where to Stay, Play, and Eat in Small Towns in Indiana. Discovering Indiana's best small towns! Now get little Indiana on your Kindle.
Targeted. Relevant. Affordable! little Indiana advertising.