Probably the least known of the famous French group of composers Les six, literally "the six", Louis Durey was born on this date in 1888.  Les six wrote their music in a reaction against neoromanticism and impressionism, in other words, they're angry about pretty music.  Some of the other composers became incredibly famous such as Honneger, Millaud, and Poulenc.  Their music is generally very beautiful, but according to Millaud, they were all incredibly different - they were grouped together only because they were friends and they appeared on several concerts together.  The other, "not so famous three" were Auric, Tailleferre, and obviously Durey.  Durey did write one opera L'occasion. A communist, Durey wrote his music against and about the wars of his lifetime from WWI to the Vietnam war.
Giovanni Legrenzi died on this date in 1690 from kidney stones (ouch!).  Most opera aficionados have no idea who this guy is, but he was probably the most famous opera composer in the world during the 1660s.  He was actually a priest but spent time at a monastery that was relatively uneducated, so he ended up just working on anything that he wanted.  So, he dabbled into opera, and ended up writing very elaborate productions with ideas from mythology - a new idea at the time, and especially shocking since he was a priest.  Who better to give you an idea of Legrenzi's music than Pav.  It's a double-billing...you should definitely listen to both...all of the opera singers out there are secretly excited to hear him sing Ingemisco from Verdi's Requiem.

One of the greatest violin virtuosos in history, Niccolo Paganini died on this date in 1840.  He has very little to do with opera history besides being the muse for Lehar's operetta Paganini, whose music inspired a Solo soda pop commercial from Norway.

"Solo - 60 years - Probably the only soda that does not help, other than against thirst."  If there are any Norwegians out there, let me know if there is another way to translate that.
Italian opera composer Luciano Berio died on this date in 2003.  I'll let you judge for yourself, but perhaps opera gets negative attention when composers create something rivaling the annoyance of Djibouti's national anthem.  Here's an excerpt from his 1970 opera eloquently titled, Opera.

Happy Birthday to St. Petersburg, Russia, founded on this date by Tsar Peter the Great in 1703.  St. Petersburg has been home to many of the greatest composers of all time including Anton Rubinstein, Aleksandr Borodin, Mikhail Glinka, Sergei Rachmaninoff, Pyotr Ilyich Tchaikovsky, Modest Mussorgsky, Nikolai Rimsky-Korsakov, Igor Stravinsky, Sergei Prokofiev, Dmitri Shostakovich, and Andrei Petrov.
On this day in 1930, one of my favorite pieces of architecture on the planet, the Chrysler Building in New York (the nation's opera capital) became the tallest building in the world.  It was named after the car executive Walter Chrysler, who was born in Wamego, KS and was raised in Ellis, KS.  The Empire State Building was under construction at the time and took over the title several months later.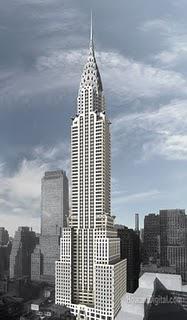 And finally, on this date in 1933, Disney released its Academy Award-winning short film, Three Little Pigs.  Evidently, there's a segment that has since been changed where the wolf dresses up like a Jewish peddler and speaks with a Yiddish accent.  Instead, it was re-animated as the wolf being a Yiddish Fuller Brush man.  It just so happens that the Fuller Brush plant resides in my hometown of Great Bend, KS.  Anyway, as far as music goes, the film is probably best known for its best-selling single, "Who's afraid of the Big Bad Wolf?"