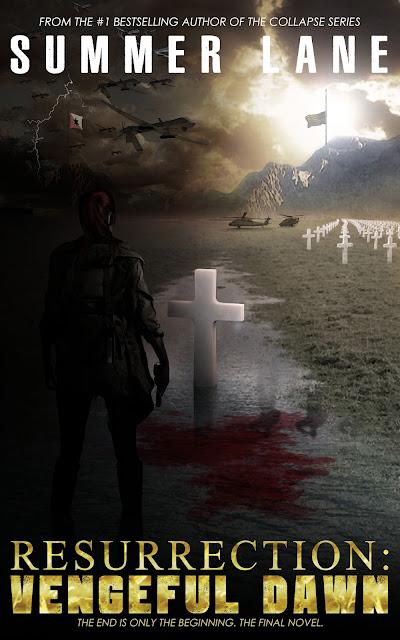 Finally! That's all I can say. After what seems like forever (in my world),
Vengeful Dawn
is officially
on
the market.
The last time I released a book was in 2020, so for me, it's been a hot minute since I've published anything. Vengeful Dawn is a big deal, because not only does it cap off the Resurrection Series (which began in 2018), but it also concludes Cassidy Hart's wartime adventures. I don't want to spoil anything for anybody, so I'll just leave it at that and finally confirm that Cassidy will return (eventually) in a trilogy of political thrillers. But as far as Cassidy being in the field, on the front lines of a major apocalyptic wartime event...Resurrection is literally the end! It's bittersweet but I'm looking forward to developing Cassidy's character as she continues to get older in later books. 
A few notes about the release: 
- The paperback will release in a few weeks. This is a "soft release," which means it is all digital. 
- There will also be a digital tour for the book in a couple of weeks, too! 
- I had some problems while uploading the book to Kindle, so if you bought a copy of the book and it had formatting errors, I'm sorry about that! I have a formatter working on it right now, and the issue should be rectified ASAP! 
In the meantime, my next project is - you guessed it - Expedition 99, the new Legion Collection that I've been working on behind the scenes for the past two years. I am finally in the home stretch of getting my B.A., so I likely will not release the book until after I graduate. However, I won't guarantee that I won't...because with me, you never know! 
I just wanted to commemorate this occasion because Vengeful Dawn marks my thirtieth published book. I feel like I need to pop some champagne or something now, seriously! I began publishing novels nine years ago this month...and I can't believe how many books I have released since then. It feels like a lifetime ago and a blink all at once. I am forever grateful for my readers. The fans are what made Cassidy Hart a success, and I will never NOT be humbled by that. I'm just so grateful that I get to write books that I love...because at the end of the day, it's just plain FUN. 
I will keep you all updated on Expedition 99 as I can. Currently, I need to write about 250-300 more pages before the book is finished. It marks a brand new series, brand new adventures, and a brand new storyworld. For me, it's been really fun to be able to create an entirely new story setting from scratch after working in the same story universe for a decade. So, that being said, I'm REALLY excited about Expedition 99 and all of the adventures that it will bring, too! 
BUT YES: Cassidy Hart WILL return. She won't make an appearance again until AFTER I release Expedition 99, but I've already got timelines and storylines cooking right now. I've always had Cassidy's story and life mapped out, so I'm just grateful and excited that my readers love her enough to ask me to continue the story. So I will!
***
NOW AVAILABLE IN THE KINDLE STORE

It all comes down to this.

This moment. 
This fight. 
This opportunity to avenge the fallen and restore the republic.

This is my war now, and mine alone.
Cassidy Hart is broken but alive.
After emerging from a bunker in the Yukon wilderness, Cassidy is once again united with the Freedom Fighters of the militia. Shattered from a gutting loss and struggling to readjust to life above ground, she is shocked at how much the world has changed during her time in Silo Nation.
The world is tightly controlled by a technologically advanced AI army that answers to the terrifying and evil globalist kingpin, Ares. Cassidy's three-year-old daughter, Penny, has been taken by Ares' forces, a crucial political hostage. Cassidy will stop at nothing to get her back.
For Cassidy, the war isn't just about freedom anymore: it's about vengeance. It's about rescuing her daughter from Ares' evil influence. It's about taking the post-apocalyptic world back from a diabolical madman and his seemingly invincible forces. It's about finding the ability to love again, accepting past deaths, and facing her first love, Commander Chris Young, once more. It's about bringing the fight for independence and liberty to a final close and making the ultimate sacrifice.
This is the end of the line.
This is the world's vengeful, burgeoning dawn.
The final, thrilling installment in the bestselling Resurrection Series, by Summer Lane.
Here's what reviewers are saying about the Resurrection Series:
"Another amazing book by Summer Lane!"
"Wow just wow. Summer has taken us on a wild ride, one that cannot be predicted."
"Lane's writing has become intense and descriptive since the first book "State of Emergency". She's killing it (pun intended)."
"Resurrection was a rollercoaster that I did not want to get off of. I honestly didn't want to finish it, just because I knew once I did I would have to wait so long for the next one!"
"Summer has wrote an amazing character with Cassidy and with everyone else in this story. When they go through their emotions you go through them with them. She knows how to tug at your heart in your chest.
She has a way of writing with her characters, story and world building that is second to none."
Share:facebook - twitter - pinterest

TODAY: I PUBLISHED MY 30th NOVEL! VENGEFUL DAWN IS AVAILABLE NOW!