Not much to blog about -- a lot of running around/errands these last couple of days, engaging in conversations with tellers, UPS personnel, gas station attendants and baristas about the unseasonal temperatures we've been having lately. After those -10°F Mongolia-mornings I don't actually feel entitled to complain though, so my participation in weather-bashing is pretty much confined to curtesy nod-alongs. In other news, and it's probably not helping jet lag matters much at night, my friend Ernie, god bless his heart, loaned me season 4 of the Big Bang Theory. How did I manage to forget how good this show is! Smokey loves it when I watch TV -- which is almost never. I think he generally likes the idea of me sitting still… almost as much as he loves the sound of me opening the fridge.
p/s: THOUGHTS ON RED LIPSTICK 
Probably no one can tell the difference, but it feels like I am a whole other person on the rare day (today) that I wear red lipstick. Somehow, 360 or so days a year, red lipstick is just not for me. Looks great on other ladies though (minus the the all-over-the-teeth and the bleeding-outside-the-confinements-of-one's-lips variations of course) -- so every once in a while I give it a new try.
Love the major time-saving factor, literally zero eye-make needed, no pencil sharpening, no brush cleaning, and somehow it still manages to yield the illusion that the offender put in some effort before leaving the house. That alone could help me become a convert if only I could learn to love the look. Or if I didn't have to reapply it after every sip of coffee.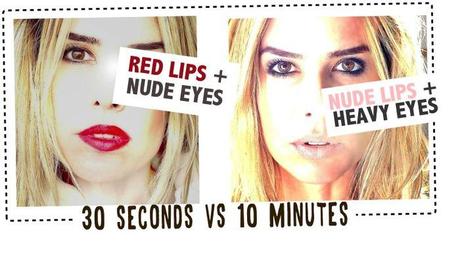 Be that as it may, off to Big Bang Theory with Smokey I go.
Until next time,
Agnes