Title: To Spell With It (Book Three of the Anna Wolfe Series)
Author: Casey Keen
Genre: Paranormal & Urban Fantasy Romance
Hosted by:
Lady Amber's PR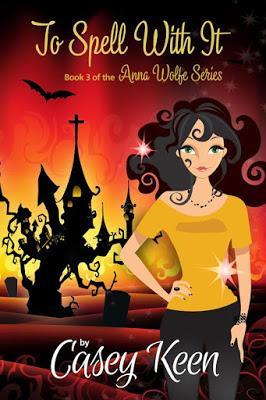 Blurb:

Valen disappeared.

Micah's quest for world domination is underway.
An ancient bond threatens to destroy Anna and Roman.
A vampire who cannot be trusted.
Grand Witch Anna Wolfe's worst nightmare has just begun. Valen is being held hostage by Micah and to make matters more complicated, an ancient bond brewing between her and Roman threatens their very survival. Anna will stop at nothing to get Valen back, even visiting the dreaded Netherworld and enlisting the help of Vlad, the King of the Vampires.
What Anna isn't prepared for is battling Micah and his endless army of demons, while waging war on The Highers. Faced with terrifying encounters and disastrous black magic, Anna must do everything in her power to rescue Valen and protect both worlds.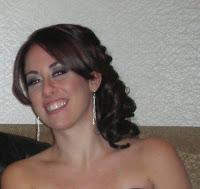 She was born in Philadelphia, PA and grew up in the suburban outskirts of the amazing city. She loves anything paranormal and/or supernatural. For those of you who don't know, Philadelphia is an awesomely haunted place! This healthy paranormal addiction has provided her with the motivation to write her first book, "I'll Be Damned."
Author Links:

Goodreads: http://www.goodreads.com/author/show/7020153.Casey_Keen
Facebook: https://www.facebook.com/authorcasey.keen
Twitter: https://twitter.com/AnnaWolfeSeries
Website: http://www.caseykeen.com/
Google+:https://plus.google.com/u/0/b/113456357553492972551/113456357553492972551/posts
Amazon: http://amzn.to/22k62e8
YouTube: http://youtu.be/WTnv7wsFPik

Buy Links:

Amazon: http://amzn.to/1RMA9DAB&N: http://www.barnesandnoble.com/w/books/1123505738?ean=2940157999544Smashwords: https://www.smashwords.com/books/view/621578


...The pounding in my heart floods my ears, drowning out all the other noises around me. On the dusty mounds, barely ten feet from us, stand an army of demons. I recognize a few of the brooding, steely scowls on the ghouls, goblins and jezebels.
"An army of Darkness," Roman murmurs.
The sea of creatures part, allowing a figure to swim through them. A Revenant Ghoul, front and center, steps aside as Micah strides forward, taking his place. I shake my head. Revenant Ghouls are prime warriors that lack any blood bond—in other words, a hostile demon without a lease. I frown at Micah. His large, emerald eyes watch me with an intensity that accentuates the emptiness behind them. Strands of silky, caramel hair fall loosely from his ponytail, framing his face. Then he smiles...