The focus of my today's article is our beloved vegetable - Potato!
Its one of the most popular and oldest vegetable still consumed all across the world. Well, its equally controversial as well!!
The first thing in the advice list that comes to you when everyone knows that you are trying to lose weight is "Stop eating Potatoes,..." so on and so forth.
I am going to give you an insight of what's good and what's not good about this veggie and leave the decision to you. If you are an ardent fan of potato you surely should read this.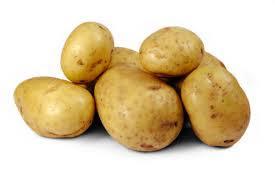 Benefits: 
Potato comes under the starchy food item section. Starch is a form of carbohydrate and carbs are necessary for our body to a certain extent. so you cannot ditch them totally.

Also, potato contains vitamins and proteins. So if you need a quick energy tablet you can have a smashed potato.  

Eating potatoes can reduce inflammation in stomach. It helps in accelerating digestion.

Proper consumption of potato can help in skin cells repair. Besides its easy to make.  
All the above benefits come to you only if you consume this vegetable in proper manner. Fries, crisps and salted potatoes don't do any good to you. You can consume potato roasted, boiled, smashed (minus the mayonnaise), some people eat it raw with little pepper and salt. It wont do any harm to you.
The method of preparation has a great impact on how helpful it is to your body. So next time think about the final dish before consuming rather than the vegetable thats into it.
Happy munching!!
Ciao..!!