To Catch a Spirit
Published April 15th 2011 by Breathless Press
Amazon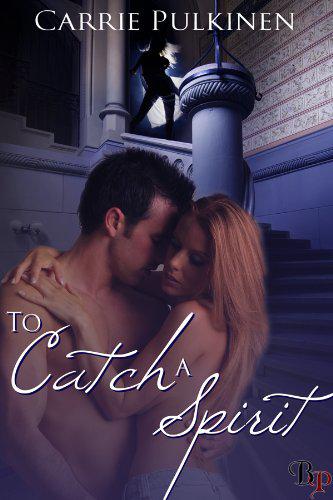 A psychic who's afraid of ghosts and a millionaire with a haunted past and a hidden power find that only love can catch a spirit. With love, all things are possible-especially if you need to catch a Spirit.
Psychic Allison Dupuis has a soft spot for Logan Mitchell, even though she's never met him. All it takes is one encounter for the millionaire's true emotions to slip through Allison's shields, and she is intrigued. He needs her help, but Allison soon discovers that the kind of help Logan needs is the kind she isn't willing to give. Logan has a ghost, and Allison doesn't work with spirits anymore.
But the ghost is the least of Logan's problems. Born an empath, Logan is constantly barraged with human emotions. And while his talent has come in handy in the business world, it's about to drive him insane. Literally. Logan has OCD, and his ability triggers unbearable attacks that have him counting and cleaning until he collapses from exhaustion.
Sex and money. That's all anyone wants from him. Even worse, he's plagued with recurring visions of his future wife's death, so Logan has spent his entire life avoiding love. He's given up hope of ever having a normal life, until he meets Allison. She's everything he's ever dreamed of, and now he has to decide if loving her is worth risking her life.
If she'll even have him. Allison's lost too much already – her mother to cancer, her father to suicide. But, Logan is so charming and so real, she can't help but fall for him. Now she has to overcome her fear of commitment…and ghosts…or face spending the rest of her life alone. – Goodreads

To Catch A Spirit has a great cast of characters, amazing characterization but lacks a better presentation when it comes to developing the story.

The author created a dense narrative, good description but not a great pacing for this story. The plot sounds very promising, but you'll have to go through some slow chapters and deep character presentation before you get to see the frist obstacle and development - when there's only 100 pages left.  The story kept building up to a moment that is somewhat predictable but still a moment that you want to see how it will present itself. Unfortunately, there wasn't enough to keep me interested to keep reading.

It just wasn't my cup of tea. Some of you might stop on the way and quit, like I did, or it might be just the right book for you!  You should give it a try.

SEXUAL CONTENT: 3/5

RATING 2/5

This digital book was provided by the author in exchange for a honest review.