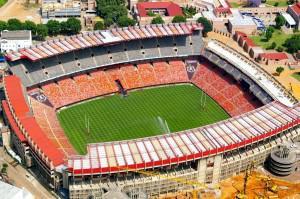 I remember walking onto the field of the Georgia Dome in 1994. My cousin worked for the facility at the time and I was struck by the gleaming structure. Less than two decades later the Atlanta Falcons apparently want a new, open air stadium. This got me thinking, what makes more sense? In an era of highly specialized, single venue stadiums and arenas, is it a wise use of land and resources – both fiscal and natural – to build these outdoor structures to suit just one "part time" tenant? Many of these (outdoor) stadiums are not even used as practice facilities, but rather they sit empty for six days a week and eight months out of the year (in the case of football stadiums). When the roof of the Metrodome collapsed this past winter, the Minnesota Vikings were forced to play in another city instead of their home arena, and then at an outdoor college stadium that received LEED certification, but was much smaller and had already been "winterized" as it was not intended for use beyond Thanksgiving.
With my hometown trying to lure a professional football team back to Los Angeles after an absence of more than a decade and a half, debate swirls about where to build a stadium in order to attract a team. Using the same venue as a college team (read the Coliseum, former home to the Oakland-LA-Oakland Raiders and currently used by the University of Southern California Trojans) is apparently out of the question. The demand for sky boxes and seat licenses have driven the discussion away from older stadiums like the Coliseum. Instead, a multi-use facility in downtown Los Angeles, a good compromise in terms of land use, may be the next best option. Slated to be built next to the Staples Center in the heart of Los Angeles, close to public transit, one proposal calls for a convention center/football stadium. While the outdoors seem to be the most natural place to play football, dedicating a large tract of land to a venue that cannot house multiple events throughout the year seems wasteful, which brings me to the other proposed stadium for a potential football team. Some 20 miles away from the sporting center of the city (in the less than desirably named City of Industry), visions of an open air stadium are being offered up. I've previously written about the energy concerns of indoor vs. outdoor stadiums. The main point is, in this day and age building a structure that will be used a dozen times a year doesn't make economical or environmental sense.
Despite the millions (and billions) of dollars at stake in sports and the construction of large arenas and stadiums, the intelligent use of land, site selection of buildings, impact on local populations and ecosystems, as well as the cost to taxpayers must be taken into account. I can't be the only one who looks at the 50+ yard (45 meter) long video screen at the Dallas Cowboys's recently completed stadium and wonder how much raw material was consumed and energy is wasted in operating that behemoth. FYI it cost $40 million, part of the $1.1 billion for the entire building, which was privately funded.
[Image source]