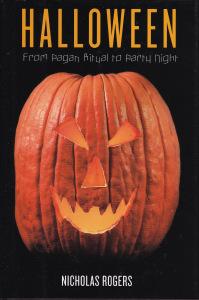 I always seem to be running late. Still, I wanted to be reading a book about Halloween on Halloween. If I might be pardoned for bleeding over into All Saints' Day, I'll share some thoughts this November on Nicholas Rogers' Halloween: From Pagan Ritual to Party Night. Academic treatments of holidays, I fear, often suffer because of dispassion. Academics tend to emulate Spock in their writing, and I think that those who write about Halloween should really "get" Halloween. Oh, one can discourse about its quaint history in this ever so rational world, but one might just miss what the whole thing is about. To be fair, Rogers was writing his book during the trauma of 9/11. He wonders if Halloween may be fading. Nashotah House was suffering under an evangelical administration at that time, and the usual Halloween spirit was muted. Some fifteen years on it seems that Halloween earns yet more money and people admit that it's hip to be scared.
Rogers gives a brief treatment of the early, but hidden, history of the holiday. The Celts weren't much into writing about their festivals and invaders didn't think much of their quotidian life to begin with. Trying to understand Halloween from modern times, piecing the puzzle together back over time, doesn't really help much either. Treating the day in its British context, then in its American context, Rogers favors a thematic approach. His section on Halloween movies is interesting. Like most modern treatments of the holiday, his book makes comparison with el Dia de los Muertos, and the usual complaints of cultural imperialism. Maybe Halloween is just too much fun to pass up. It also means this post isn't that outdated.
Nobody owns Halloween. It is taken as a serious holiday by some Wiccans, but liturgical Christians are far more intense about today, All Saints' Day. It isn't a national holiday and no national government decides the correct day for trick-or-treating. Perhaps prophetically Chris Christie cancelled Halloween the year of Hurricane Sandy, but did he really? Sitting in the dark for a few days with evenings lit by candles—some of them in Halloween holders—felt pretty spooky to me. Halloween may be a source of intellectual curiosity, but it is a holiday you either get or you don't. October is its prelude, November is its aftermath. It is, as the Celts used to believe, when cold weather seriously begins to take over and light is a rapidly vanishing commodity. I may be a day late, but Halloween isn't quite over yet.