Tipu Sultan's Summer Palace, Bengaluru, India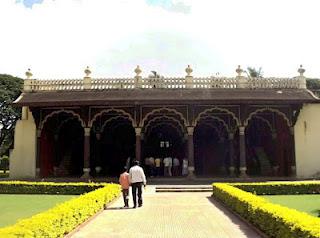 Located right in the heart of Bengaluru within a busy bazaar is located this very unique palace. I really wanted to visit this place after all it was the great Tipu Sultan's Palace. The palace is made completely of teakwood, my guide said that the teakwood was soaked for 2 years in water before being used in the palace. Since it is only a summer palace of the King one should not have high expectations with this place nor should it be compared to the palace of Tipu at Srirangapatna.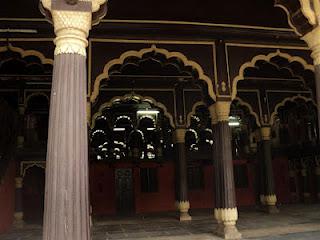 The construction of the palace started in 1781 by Hyder Ali who was the father of Tipu Sultan. The palace was completed by 1791, it was constructed within the premises of the Bangalore fort.  One can still see ruins of the Bangalore Fort nearby. As you enter the premises a walk through the beautiful gardens leads to the Durbar Hall. The palace is an excellent example of Indo-Islamic Architecture. It's a double storied palace although it appears to be a single storied one from far away.  The walls and wooden ceilings of the entire palace are painted in floral motifs. An interesting thing inside the palace is the large number of balconies.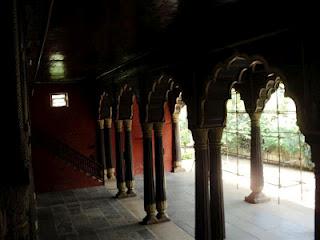 The ground floor is converted into a museum which is the most fascinated thing of the palace. The museum contains an actual Mysorean Rocket, there are apparently only 2 surviving Mysorean Rockets in the world. The Sultan was known to be a pioneer in rocket artillery which helped him in winning many wars. There is also a replica of the Tipu's Tiger in the palace which is a mechanical toy depicting a tiger savaging a European soldier. The actual toy is located in the Victoria and Albert Museum in London.