Do you experience soreness in your neck and shoulders after a nap while on an airplane? The reason behind you waking up to a painful neck and shoulders could be wrong posture and insufficient support to your neck while sleeping. Neck pillow/travel pillow is known to provide necessary support and comfort to your neck and head while you sleep.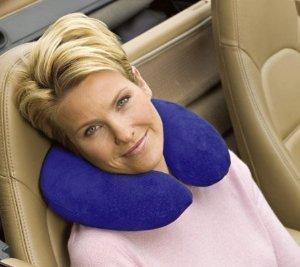 Picture courtesy- Amazon.com
Neck pillow can be used while not only traveling but also at home. A variety of beautiful and quality neck pillows for adults and kids is now available at online stores too. Envision your needs while you choose a neck pillow. Everybody needs a different kind of support from their pillow. Some people may need a firm supportive pillow. Others look for a pliable one that adjusts to the contours of the neck. Pick a size according to the circumference of your neck. Travel pillow is comfortable and does not accommodate a lot of space. It facilitates you to rest your head comfortably against the seat of the car or airplane.
Neck pillows may be inflatable or made up of memory foam. An inflatable pillow can be inflated in 2-3 breaths. Neck pillows usually come with a washable cover. Inflatable neck pillows fit into their own pocket and can be easily carried in you baggage. Memory foam pillow may need a little more space to fit into your baggage. However, it is worth having a neck pillow by your side for a sound comfortable sleep during long journeys. It's time you kiss goodbye to a sore neck!