Dorm rooms in UK are generally institutional, plain-looking and old and if you need to stay in one of them during your entire school year, it is quite obvious that you will want to decorate the walls for imparting a homely look to the place. However, most colleges usually have plenty of rules regarding what dorm walls can be embellished with. Almost every place prohibits usage of paint, nails and tacks. It may seem like nearly every possible decoration is forbidden, but there are some viable options which can very well bypass those strict regulations. These options have been described below in detail: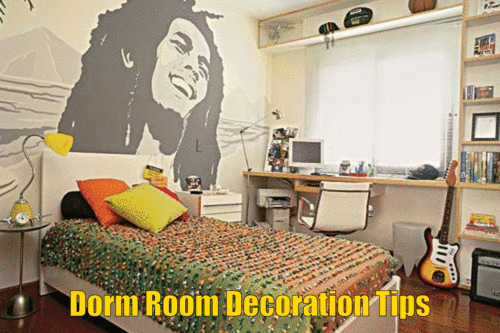 Wall Decal :
Also known as self adhesive wallpaper, this product can adhere to any surface because of its pre-adhesive backing. Besides that, it is also very simple to install. All you need to do is remove the protective covering from the back, place the product carefully on the wall and then press gently onto the surface. When there is a need to remove the wallpaper, you will just have to peel it off carefully. It would not leave behind any residual glue. Moreover, it is available in a variety of decorative options.
Photo Collage :
This is a very creative technique that can be used to decorate dorm walls. However, you will need a large number of photos or drawings to create it. You can either use them to cover the whole surface or make multiple shapes like a heart, kite, etc. But make sure that you utilise a safe adhesive such as painter's tape or dorm tape for avoiding damage.
Practical Décor :
In case you cannot put up either a wall decal or a photo collage, practical décor is your best alternative. They are simple timepieces and message boards that would serve the purpose of decorating your dorm walls without appearing too extravagant. They don't even need a nail or screw to be put up. Simply peel their covering and stick onto the wall, that's it.
DIY Embellishments :
If your budget is a bit tight, why not make something on your own? In case you are good in origami, just make some simple butterflies using craft paper and attach them onto the wall. Otherwise, you can create garlands, wall hangings and so on.
Thus, there are so many ways to decorate dorm walls without violating any regulations imposed by the management. Just be little creative and you will have a beautiful dorm room in no time.