Thinking of working with a freight broker: Where should you start?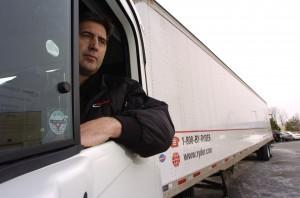 So you are thinking of utilizing a freight broker to help with your transportation network, but you are not sure where you should begin. It is likely that over the years, you have collected a large stack of business cards from different freight brokers interested in moving your freight. This can be overwhelming when you are not sure what direction to take.
On the surface, broker engagement seems like a simple and certainly convenient solution; however, as we mentioned in a recent post, there are many factors to consider. There are advantages, such as flexibility, scalability and in many cases, access to better technology.  However, there are also risks such as increased financial exposure, inability to meet special operational needs, and increased threat to security. This is why it is important to carefully research and analyze the brokers you are thinking of partnering with.
When searching for the best fit, here are some key factors to consider:
Have you carefully reviewed the financial viability of the freight broker? These steps include:  verifying their years in business, validating the brokerage authority with FMCSA, obtaining copies of their surety bond and insurance certificates, including contingent cargo coverage, and asking for references of both shippers and carriers.

What are their credit and financial scores? 

You can use a service like Ansonia or Dun & Bradstreet to provide you with a thorough financial overview to include in your evaluation of the broker partner.

How does the freight broker select and qualify their partner carriers?  

How does the freight broker match your freight with the carriers?  Is this done through postings on a load board?

Does the broker carry supplemental insurance? 

The broker should carry contingent cargo liability and errors and omissions insurance as additional coverage.

Is the broker an active member of a large reputable trade organization or association like TIA (Transportation Intermediaries Association)?

Could your freight be the first load to be moved with a new carrier for that freight broker?
Understanding the answers to these questions will help you identify the right freight broker for your business.  As you start down the path to qualify and establish a relationship with freight brokers, be careful not to over-commit or select too many broker partners.  The key to a successful broker strategy is to identify and develop partnerships with one or two key strategic brokers that have sound business principles.
Using caution when beginning to move freight with brokers and focusing on developing key strategic partnerships, you can create a strong foundation to support a successful transportation strategy for your business for many years to come.
Written by Paul Boothe, Group Logistics Manager, Ryder
Paul Boothe is a Group Logistics Manager in the Transportation Service Provider Development Team for Ryder.  He manages the development of the procurement strategy for Ryder's clients and the carrier setup, carrier on boarding, and carrier management within those client solutions.  His background includes operational management for several of the Ryder Transportation Management customer solutions.