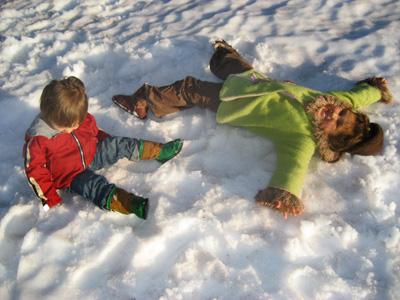 It's boot season!
We receive a lot of inquiries about winter footwear this time of year. At Soft Star, we're proud to offer a selection of winter boots and shoes for all ages.
To help you make the best decisions for your feet, we've compiled a list of the most common questions we receive about our boots. If you're thinking about ordering a pair then you may find the following information very useful.
As a reminder, every one of our boots is handcrafted in our Oregon workshop from high quality smooth (full grain) leather. Lined with genuine sheepskin, our boots keep feet warm and cozy while naturally wicking away moisture. All of our boots feature flexible, zero-drop soles made from durable Vibram rubber. As with the rest of our shoes, our boots are designed to mold to the shape of your foot, not the other way around.
What kind of use are your boots suited for?
All of our boots are designed to keep feet flexible and warm for casual use in light winter conditions. This includes walking, light hiking and snow play for moderate amounts of time.
What is the temperature rating of your boots?
None of our boots have been tested for an official temperature rating because they are neither designed nor recommended for use in extreme winter conditions. Our boots were created with light winter play in mind.
We do feel our boots hold up well in our Oregon winters, with temperatures close to freezing. We also have customers in very cold climates, such as Finland and northern Alaska, who find our boots to be adequate for their environments. Please remember, however, that each person has a different tolerance for cold; what one person considers warm enough may be chilly for another.
If you need a boot for severe winter conditions, such as prolonged use in subzero temperatures, then we recommend you seek other footwear designed specifically for that purpose.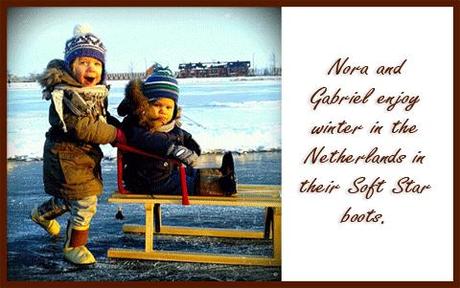 Are your boots waterproof?
No, but their smooth leather uppers are naturally water resistant. Using an appropriate leathercare product will further enhance protection against moisture. We recommend Bee Natural Rain and Snow as an excellent smooth leather waterproofer made from natural ingredients, and it can be purchased on our website. The rubber Vibram soles are already waterproof and require no treatment.
If you would like to protect the suede cuffs of our boots against moisture and damage then you will need a separate leathercare product designed specifically for suede, such as Bee Natural Suede Protector. Most people, however, find that treating the cuffs is not necessary for keeping their feet dry.
How long will the shoes last in the snow before they become wet?
It varies depending on how rough you and/or your kids are playing in the boots and how slushy your snow is becoming, but you can usually expect a couple hours of a high stakes snowball fight before you need to dry off. Using the leathercare products mentioned above will keep you dry longer, depending on how frequently you use them and how much you apply.
What's the deal with your sheepskin, and how does it compare to the sheepskin other brands use for boots?
At Soft Star, we use only real, high quality sheepskin hides that we cut ourselves. In this natural state, sheepskin is homeostatic and moisture-wicking, so it keeps your feet both warm and dry. Many other companies claiming to offer genuine sheepskin boots are actually using sheepskin fibers that are blown into a synthetic matrix and glued to leather. These artificial textiles do not offer the warmth and natural wicking properties of our authentic hides.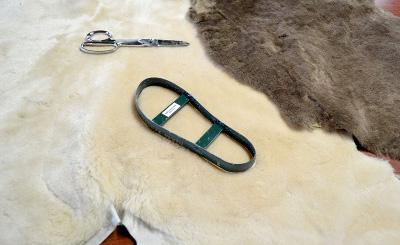 Please note that while genuine sheepskin is incredibly cozy and beautiful, it is also delicate and can stretch under strain. This is only a concern if you have the habit of stepping off the back or sides of your heels while you walk, as doing so repeatedly may affect the shape of the boots and alter the way they fit (kids usually don't need to worry about this since they don't put as much weight on their boots). The best way to prevent this is by insuring you purchase the correct size. For adults, we recommend selecting a boot size that fits very snugly at first, as they will stretch and mold to your foot over time. For children, growing room is important, so a little extra space is recommended. Proper care will give you many winters out of your handcrafted boot!
What are my choices for boots and winter shoes from Soft Star, and which one is right for me?
Below is a summary of our boot and winter shoe options. If you have any questions, feel free to contact our super friendly customer service elves ([email protected] or 866-763-2525).
---
Versatile Winter Boot/Shoe: North Star (Children)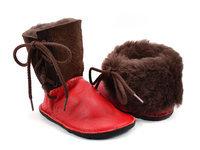 Our adorable North Star, available in kids' sizes 5–13, is suitable for a variety of brisk conditions. The sheepskin cuff can be worn up as a protective boot or rolled down as a cozy winter shoe, depending on the temperature and depth of snow. The standard version of this shoe includes a sheepskin innersole and cuff with plain leather uppers across the top of the foot, but if you design-your-own North Star then you can opt for a fully-lined version with sheepskin uppers for extra warmth. North Stars are secured with a lace that runs along the side of the boot.
Warmest Winter Boot: Phoenix (All Ages)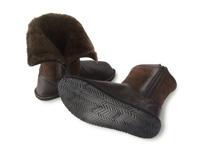 The Phoenix, our warmest and most protective boot, is available for children, youth and adults. The interior is fully lined with our genuine sheepskin and kept secure with a convenient zipper running up the side. Child Phoenix boots feature our 6mm Vibram Geo sole for optimal flexibility and traction with small feet. Youth and Adult boots are made with our zero drop Vibram Lightning sole, which offers increased durability and tread for heavier wear. Phoenix boots are a dream for keeping feet comfortable and dry all winter long.
Winter Casual Shoe: Classic (Children)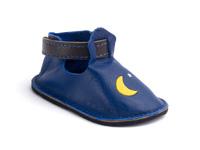 The Classic, one of the very first shoe patterns Tim developed when he founded Soft Star nearly 30 years ago, is still a favorite shoe year-round. Made from just one piece of leather, the shoe is sealed from all sides, making it an idea choice for keeping out water, snow and debris. Add sheepskin innersoles, either as a separate product inserted into the shoes or sewn-in when you design-your-own, for extra warmth on chilly days!
Winter Casual Shoe: Rogue (Adult)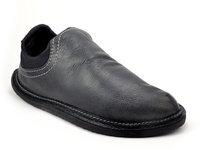 If you're looking for something simple yet rugged for a winter stroll then the Rogue is our top pick. Breathe-o-Prene lining fits snugly around your foot to keep cold air out while providing ventilation so you don't oversweat. Add the included sheepskin innersoles for extra moisture-wicking warmth and your feet will stay cozy all day long! An 8mm Vibram Geo sole gives durability, traction and excellent zero-drop groundfeel. Use protective leathercare for increased protection against rain and snow.
Winter Running: Dash RunAmoc (Youth and Adult)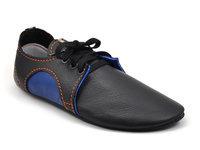 Looking to stay in shape in the chilly season? We hear from many customers who have enjoyed their RunAmocs through snowy runs and winter activities. If you're looking for the best protection against cold and snow, we recommend our Dash RunAmocs made from smooth leather. As with our boots, this leather is naturally water resistant and can be made more so with the use of Bee Natural Rain and Snow, or a similar leathercare product. We recommend the 5mm Trail sole for the best traction on snow.
---