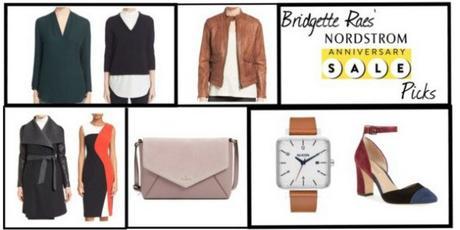 The Nordstrom Anniversary Sale is quite possibly the best shopping event of the year. I really enjoy the strategy of this sale. They give an early preview of fall merchandise and then offer it with tremendous discounts. All this newness on sale can get deliciously overwhelming, like the adult version of being a kid in a candy store. So laced within my Nordstrom Anniversary Sale picks, you will find some tips on how to shop this sale in a way that won't make you feel like a shackled starving person who just got released at a buffet.
Tips and Picks for this year's Nordstrom Anniversary Sale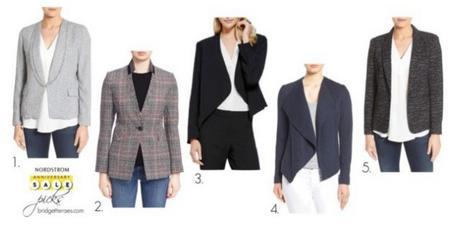 Gibson Fringe Trim Blazer 2. Helene Berman Contrast Collar Blazer 3. Vince Camuto Drape Front Blazer 4. Halogen Cascade Front Jacket 5. Vince Camuto Jacquard Knit One-Button Blazer
What's missing?
Don't hit the Nordstrom Anniversary Sale blind, go in with a plan. Start by thinking about what you felt was missing from your wardrobe last fall. What did you reach for or perhaps say, "If I only had <blank> I'd have a great outfit." Another way to assess your needs is to look for the orphans in your wardrobe. Think about what you can add to these pieces to create complete looks. Lastly, do you have versatile items in your wardrobe that you want to style multiple ways? What can you add to your wardrobe to get more use from these staples?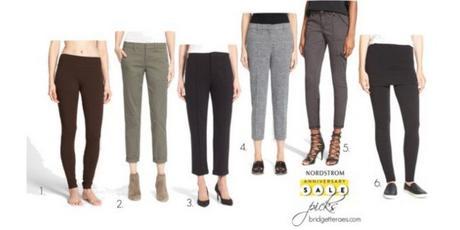 Hue 'Ultra WW' Leggings 2. Vince Stretch Cotton Boyfriend Trousers 3. NYDJ 'Denise' Cuff Slim Leg Ponte Ankle Pants 4. Theory 'Treeca K' Check Plaid Knit Crop Pants 5. BlankNYC Moto Utility Pants 6. Splendid French Terry & Jersey Skirted Leggings
What did you wear the most?
What did you wear most often last fall? Often we get surprised by unexpected workhorses. Presence these items as a way to get clear on what you really need versus what you want. You don't necessarily want to duplicate these workhorses, but, instead, see these pieces a guide for what types of clothes you should be adding.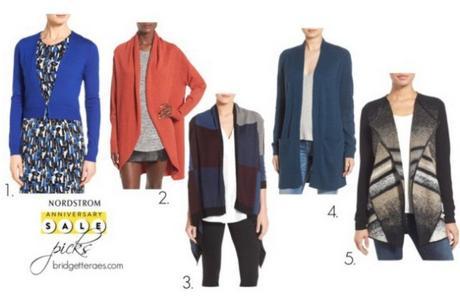 BOSS 'Feisa' V-Neck Virgin Wool Cardigan 2. Leith Shawl Collar Cocoon Cardigan 3. Foxcroft Colorblock Open Front Cardigan 4. BP. Open Front Cardigan 5. Nic + Zoe 'Slantwise' Colorblock Sweater Jacket
What did you wear the least or not at all?
What about the things that you bought that quickly got lost in the back of the closet? Instead of ignoring these things out of guilt, use these never or hardly worn pieces to guide you in what to pass up during the Nordstrom Anniversary Sale. Failures can often be just as helpful as successes in helping you establish your needs. Don't get wooed by sale prices and buy simply for the sake of getting something on the cheap. You risk repeating mistakes.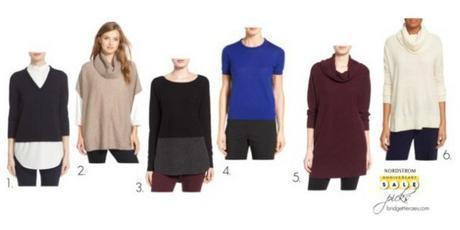 Akris Punto Poplin Insert V-Neck Wool Sweater 2. Halogen Wool & Cashmere Poncho 3. Halogen Cashmere High/Low Tunic 4. BOSS 'Fedora' Short Sleeve Lightweight Wool Sweater 5. Halogen Cashmere Dolman Sleeve Tunic Sweater 6. Diane Von Furstenberg Wool & Cashmere Cowl Neck Sweater
What needs to be replaced?
There are some things I love so much that when they wear out I will purchase them again. It doesn't have to be the exact same replacement, but something close. For example, once my cognac boots or navy blazer wear out I will most definitely be replacing them. Look at things you have worn for several years that might be showing some signs of wear and tear and consider using the Nordstrom Anniversary Sale to replace them.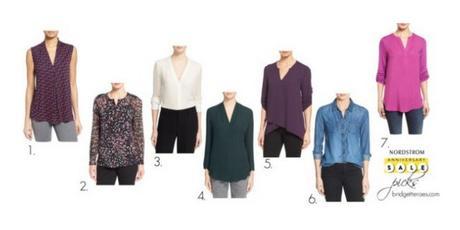 Halogen Pleat Front V-Neck Top 2. Vince Camuto 'Masquerade' Print Sheer Two Pocket Shirt 3. Vince V-Neck Double Layer Silk Blouse 4. Theory 'Helona' V-Neck Silk Blouse 5. Karen Kane Asymmetrical Wrap Front Top 6. Caslon Long Sleeve Denim Shirt 7. Pleione Split Neck Mixed Media Tunic
What are your goals for the upcoming year?
What are your goals for the upcoming year? Do you plan on getting a new job or a promotion? Has dating become a priority? Have you taken up any hobbies or have serious plans to start? Be careful with this tip, you don't want to wishful wardrobe, you want to be realistic. For example, I have gotten back to working out regularly. After several weeks of using the workout clothing I own, I have assessed I need more, and given the commitment I have already made, purchasing some new pieces makes sense. Make sure you have put some plans in motion for these goals to avoid being unrealistic.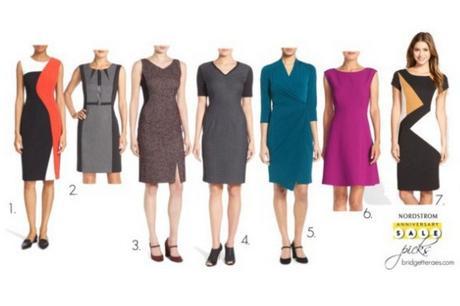 Milly 'Helix' Colorblock Sleeveless Sheath 2. Tahari Front Zip Colorblock Sleeveless Sheath Dress 3. Classiques Entier V-Neck Tweed & Solid Knit Sheath Dress 4. T Tahari V-Neck Sheath Dress 5. Chetta B Faux Wrap Jersey Dress 6. Tahari Woven Fit & Flare Dress 7. Ellen Tracy Colorblock Ponte Sheath Dress
Look at your life realistically
Just as with goals and future plans, it is smart to look at the current life you are living realistically. You want to love what you buy, but be sure to shop with passionate realism. How many times have you gotten caught up in a gorgeous pair of shoes and bought them on passion alone without being realistic only to then spend months (maybe years) staring at them because your life just never called for shoes like that. Yes, get excited, but not so excited that reason gets ignored.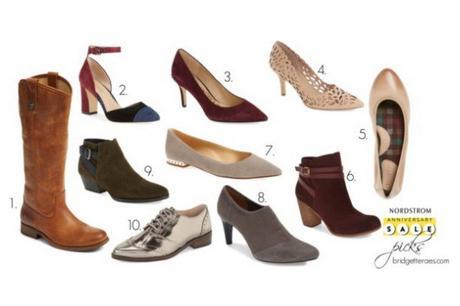 Frye 'Melissa Button' Leather Riding Boot 2. BCBG 'Billee' Colorblock Pump 3. Sam Edelman 'Tonia' Spike Rand Pointy Toe Pump 4. Charles by Charles David Pointy Toe Pump 5. Born Ballet Flat 6. BP. 'Tandem' Bootie 7. Sam Edelman Spike Rand Pointy Toe Flat 8. Ecco 'Alicante' Bootie 9. Aquatalia 'Farin' Weatherproof Bootie 10. Louise et Cie 'Adelise' Oxford
Add to cart, walk away, come back
Allow yourself to get excited about all the fabulous things on sale and even add all of it to your cart, even if it exceeds your budget and needs. Walk away with the cart full and come back at least an hour later to to go through it again. Have your spending budget in mind, your plan with your needs and goals laid out, and use this information as your guide in helping you edit down your cart.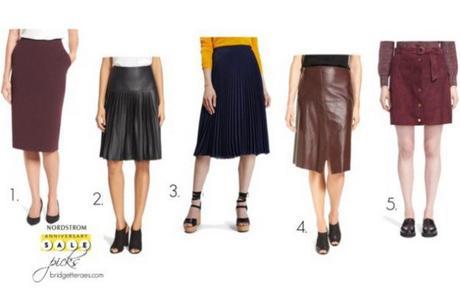 Halogen Neoprene Pencil Skirt 2. Rebecca Taylor Faux Leather Pleated Skirt 3. Topshop Chiffon Pleated Midi Skirt 4. Classiques Entier Faux Wrap Leather Skirt 5. Kate Spade belted suede a-line skirt
Don't duplicate
Sometimes it is smart to have multiples of one thing and only you will know how many is too many. However, when sales roll around, like the Nordstrom Anniversary Sale, we can get itchy to spend money and buy more of what we already own because they are safe bets. What we wind up doing is splitting our wears and with every additional similar item we buy what we already own loses value because the need to wear this piece is now spread out over more of the same thing.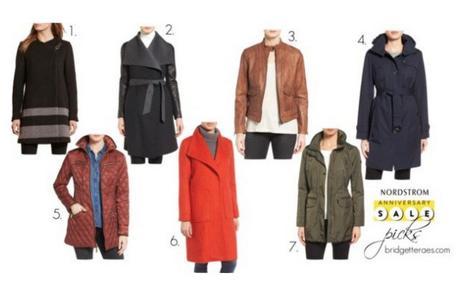 Lauren Ralph Lauren Stripe Wool Blend Coat 2. Mackage Leather Sleeve Wool Blend Wrap Coat 3. Bernardo Leather Jacket 4. MICHAEL Michael Kors Hooded Trench Coat 5. Vince Camuto Quilted Jacket 6. Bernardo Textured Long Coat 7. MICHAEL Michael Kors Detachable Hood Jacket
Order multiple sizes
If you plan on shopping the Nordstrom Anniversary Sale at the stores or online, grab multiple sizes to try on unless you know the product so well you know exactly what size you wear. Either drag extra into the dressing room or order several sizes and return. Rare is it that I don't take several sizes into the dressing room for my clients.
Sure, sending back the rejects may be a pain in the butt when ordering online. But you know what is worse? Ordering one size, having it not fit, sending it back and ordering a new size to test out.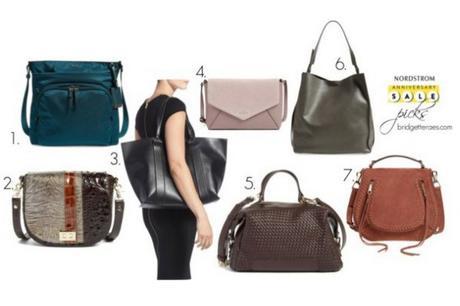 Tumi Water Resistant Crossbody Bag 2. Brahmin Embossed Leather Crossbody Bag 3. Sole Society Tote 4. Kate Spade Suede & Leather Crossbody Bag 5. Sole Society Woven Faux Leather Satchel 6. ALLSAINTS Leather Tote 7. Rebecca Minkoff Saddle Bag
Create Outfits with Your Purchases
There are two ways to go about this. If you don't want to commit to anything before being sure you need it, take the contenders and create potential outfits using what you own. I always try to come up with three to five different looks with clients using a new piece. Alternatively, you can make purchases, get them home and create outfits that way. The more outfits you can create the better the chances of keeping what you bought.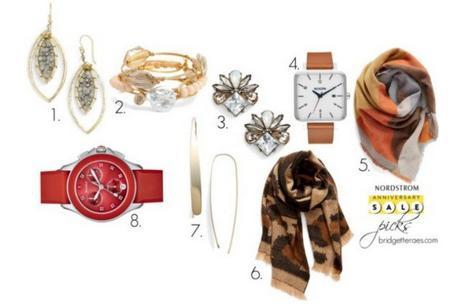 Panacea Crystal Marquise Drop Earrings 2. Bourbon & Bowties Champagne Stone Bracelets 3. BaubleBar 'Tundra' Stud Earrings 4. Nixon Square Leather Strap Watch 5. Nordstrom Geo Pattern Scarf 6. BP. Mixed Leopard Pattern Scarf 7. Nordstrom Teardrop Earrings 8. Michele Chronograph Silicone Strap Watch
Enjoy shopping the Nordstrom Anniversary Sale. Now, if you excuse me, I have some shopping to do.