In my last review, I talked about how Amitav Ghosh is an author I've fallen in love with, and how I am going to read all his books. Sarah Waters is another type of writer. I started off liking the first book of hers I read - The Little Stranger. Then I read The Night Watch and was a bit ho-hum about it. Then I read Fingersmith, which I loved too. This is not an author I immediately fell in love with, this is an author who's slowly working her way under my skin.
The best part is there is a sudden availability of her books both in book shops and in the library near where I live. This wasn't the case even a couple of years back. Hmm, I wonder if Indian readers have started to get more liberal, or maybe the book shops don't even know what they are stocking. Whatever the reason, her books are suddenly available for me to buy and read, and I've been going crazy book shopping.
Tipping the Velvet: Summary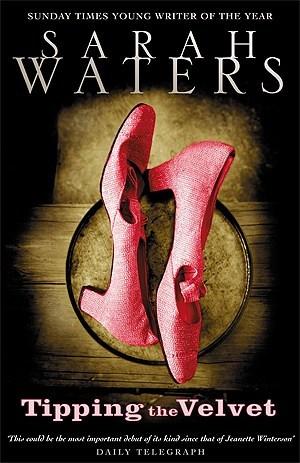 ~ Synopsis from goodreads
Tipping the Velvet: My Review
Tipping the Velvet is epic gay historical fiction. It first attracted my attention when I saw that the book blurb described it as a Sapphic Moll Flanders. Now, I haven't read the original Moll Flanders (a classic and steamy novel by Daniel Defoe that chronicles the sexy exploits of one Moll Flanders). The original book is heterosexual for the most part, I assume. However, Tipping the Velvet is proudly lesbian.
The protagonist Nancy realizes her sexual orientation when she first spots Kitty on stage. Soon she becomes obsessed with her and willingly leaves her loving family to follow Kitty around and be her dresser, and soon her partner.
This is how she describes her feelings about Kitty. Very touching, I thought and very sweetly innocent.
"When I see her," I said, "it's like - I don't know what it's like. It's like I never saw anything at all before. It's like I am filling up, like a wine-glass when it's filled with wine. I watch the acts before her and they are like nothing - they're like dust. Then she walks on the stage and - she is so pretty; and her suit is so nice; and her voice is so sweet... She makes me want to smile and weep, at once. She makes me sore, here."

~ Tipping the velvet
Madly in love and completely deluded, Nancy doesn't realize that Kitty is not as committed to the relationship as she is.
After getting a brutal eye-opener, Nancy goes on the streets and then her adventures start. So far in, this book was pretty tame. But once Nancy leaves Kitty, she really comes into her own sexuality wise. She has casual sex with men (pretending to be a male prostitute), she becomes a kept woman of a rich high-society lady, and eventually finds herself falling in love with the sensible Florence (Florence and Nancy in the image below from the BBC mini-series).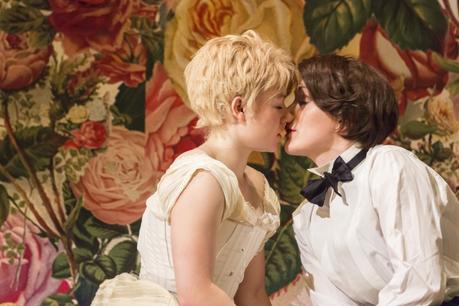 Florence and Nancy from the BBC mini-series
So what did I think about the book?
I enjoyed it. Tipping the Velvet is very different from the sort of book I normally read. I guess that's why I like Sarah Waters really. She writes about a way of life that I know nothing about and have no experience with. So, it's really interesting to get an insight into this lifestyle.
Where I had problems with the book
That said, there was a bit too much emphasis on sex itself, and less on character development. The main character Fanny doesn't really seem to grow up at all. At times, she is thoroughly unlikable (like the time she abandons her family or when she deliberates seduces the maid and ends up getting both of them thrown out of the house).
Throughout the book, she thinks about only sex and love. Even when she's thrown into the streets, I found it odd that she finally finds her calling (and a certain satisfaction) becoming a prostitute.
There is a brief moment where she tries to rationalize her actions by saying she is taking revenge on her ex-lover Kitty. But it's beyond my understanding how her prostitution in any way is a form of revenge.
Her stint as a kept woman in the house of the wealthy widow Diana is shockingly and unapologetically erotic. If you are even a little bit prudish, these sections will be difficult. I had a little trouble with it. It wasn't just the eroticism, but also how Nancy was kept bonded by her lover (unable to do anything without Diana's permission).
The last time I had such a squeamish feeling was when I read 50 Shades of Grey. Yes, they are completely different books, but the sex scenes make me feel the same way - they were a little too dirty for me.
Thankfully, soon Diana soon boots Nancy out of her house, and the story moves towards giving Nancy some kind of character development and boost other aspects of her character apart from her sexuality.
In my opinion, her redemption is the best part of the story. I loved how slowly and painfully she learns to acknowledge and develop other aspects of her character.
The finale in the book was a bit tame and didn't redeem the weak middle-portion of the book. Still, keeping in mind that is Waters' debut work, it is definitely very original and unlike anything I ever read.
In conclusion
This is well- written "Victorian porn". I don't know how else to describe it really. I loved the peek into a side of Victorian London I have never heard about populated by mashers, toms, renters, mary-annes, tarts, (translation: male impersonators, lesbians, prostitutes, ???) and their patrons and keepers.
There are some creaky and troubling parts in the book, but overall a fun romp.
Have you read this book? What did you think about it?

Nish
Voracious reader, vegetarian foodie, mostly armchair traveler, and frequent online shopper. I love to talk about all these passions (and other things happening in my life) in this blog.