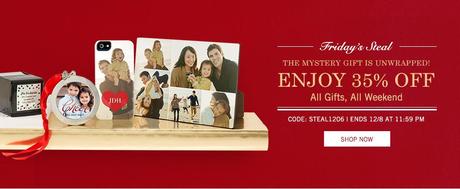 35% Off ALL Gifts: Ornaments, iPad Cases, iPhone Cases, Mugs, Desk and Wall Décor, Personalized Notepads, Custom Self-Inking Stamps, Acrylic Trays and More!
When: Friday at 12:01 am through 12/8 at11:59 pm PT
CODE:
STEAL1206
CLICK ON THE BANNER ABOVE TO START SHOPPING!
Offer expires 12/8/13 at 11:59 pm (PT). Save 35% off all gifts using the code STEAL1206 at checkout. There is no minimum purchase required for this promotion. This offer is not applicable to previously placed orders. Offer is only valid on Tiny Prints and is not applicable on treat.com, third party or partner websites. To prevent abuse, we reserve the right to discontinue or modify this offer at any time without notice. We reserve the right to cancel any order at any time.