So (don't you just hate when people start sentences, speeches, Saturday Blogs even, with an interjection?) this week's piece is supposed to be all about 
T

inseltown
, aka LA, city of Angels, Lalaland or what you will - that smog-enshrouded metropolis sprawling below the Hollywood Hills where celluloid dreams really can come true! Roll it...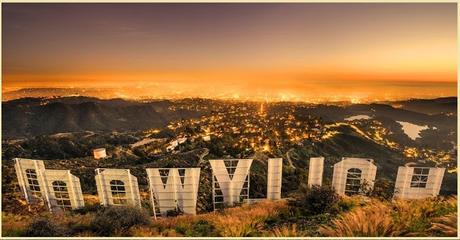 Hollywood in reverse and the view over Tinseltown
My earliest encounter with moving pictures was bizarrely quaint. My Dad made me a television set for Christmas when I was four. Let me explain. We lived in deepest, darkest non-electrified Africa and I'm not sure I had ever seen a television (this was in 1957) but he made me one out of plywood with a Disney story on a long scroll between two rollers that I could wind across the window, a sort of diorama. It may have been a kit, I don't remember. Whatever it was, sadly it didn't last long as it was destroyed by fire (in early January 1958) when our house burned to the ground; there's a blog about that event out there somewhere in the Dead Good back pages. We didn't have a proper television in our home until I was nearly eleven (a circumstance to which I credit my life-long love of reading).
I know my parents took us to the cinema only very occasionally as children, frequently a myopic experience for me as I was supposed to wear glasses but often refused to do so, especially in public, because I hated them, nasty National Health frames before John Lennon made them cool. I don't think my Mum and Dad had much interest in the movies themselves, probably thought that on the whole they were a frivolous and not particularly improving pastime, although I know my Dad as a boy had enjoyed going to the 'penny rushes' on Saturday mornings.
Consequently my own youthful impression of Tinseltown was firstly fairly tangential and secondly, such as it was, pretty standard: Hollywood was a glamorous notion, the cradle of contemporary American culture (whatever that might be), the home of the stars (of whom I could probably list but a few - and those only because their names had hit the headlines for reasons other than the films they had starred in).
So (dawdling conjunction this time) my broader understanding of Tinseltown only arrived when I read about the place in fiction (F. Scott Fitzgerald's 'The Last Tycoon', John Fante's 'Ask The Dust', Alfred Hayes' 'My Face For The World To See') or listened to singer-songwriters like Dory Previn, of whom more below, giving the expose - an industry built on a mixture of exploitation and fakery; the former regrettable (and ought not to have been or still be acceptable), the latter necessary part and parcel of the illusion that is movie-making, a clever art taken to increasingly sophisticated levels.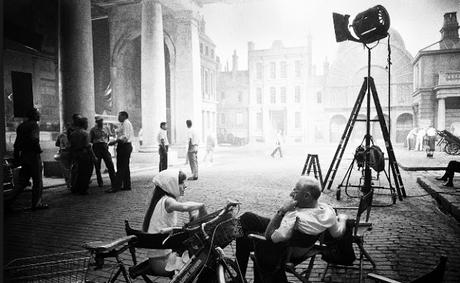 Audrey Hepburn about to go on set
Many flocked to Hollywood, moths to the fame; vey few actually made it or were even very happy once they had. One lady who had considerable (off-screen) success in Hollywood was Dory Previn. With her husband Andre, she composed the songs and music for a raft of films in the 1950s and 1960s, one of the most notable being 'Valley Of The Dolls'. Later, having divorced Andre on account of his affair with Mia Farrow, Dory Previn wrote very pointed songs about Los Angeles life, including Hollywood as metaphor and more for inconstancy and disillusion - there's nothing substantial behind the faรงade.
'Valley Of The Dolls' took a critical panning on its release and was disowned by Jacqueline Susann on whose 1966 best-seller it was based. It is a rubbish movie. However, one of my English teachers from secondary school used to advise us that any film is worth going to see, even a bad one (taken as an opportunity to sharpen the critical faculties). Nowadays I would add - especially if it is originated on Kodak motion picture stock. The reason for my saying so is because, as fate would have it, I ended up working for Eastman Kodak for over thirty years, although I've only been to Los Angeles twice and have never attended an Oscars ceremony.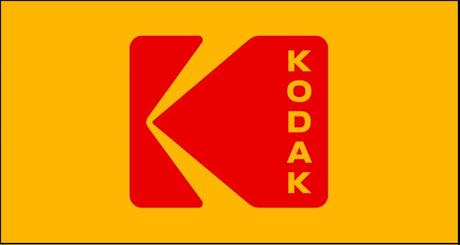 The special K - still paying my pension!
Although I'm retired now, my loyalty to the red and yellow brand is unwavering - technically the finest film stock there is. Kodak and Tinseltown grew up together. The quality of Kodak stock is the reason why the best-looking movies, television dramas and advertisements are still originated on 35mm Kodak film even this deep into the digital age. Take a look at the credits when you go and see a particularly stunning-looking movie and it will probably say 'originated on Kodak film' - as is the case with the latest Star Wars extravaganza.
How did we get from wooden television sets to Star Wars? I've rambled on long enough. I have no new poem to offer this week, but let me quote a few lines from Dory Previn's song on theme...
Mary C Brown (and The Hollywood Sign)
Mary Cecilia Brown
Rode to town on the Malibu bus
She climbed to the top
Of the Hollywood sign
And with the smallest possible fuss
She jumped off the letter H
Because she did not become a star
She died in less
Than a minute and a half
She looked a bit like Hedy Lamarr.
(***)
When Mary Cecilia jumped
She finally made the grade
Her name was in the obituary column
Of both of the daily trades...
As a musical bonus, you can listen to the whole song on YouTube - and it is worth the trouble. Here then is Dory Previn (or Dory Preview if Eric Morecambe were to introduce her) with a live rendition from Carnegie Hall of her on-theme chanson. Just click on the link to listen: Mary C Brown (live)
That's all fffffolks. Thanks for reading, S ;-)
Email This
BlogThis!
Share to Twitter
Share to Facebook
Reactions: