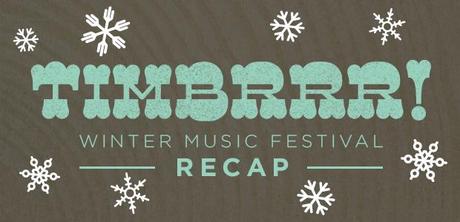 Graphic by Chase Kunz, Photos by Chase Kunz and Stephanie Severance
Festivalgoers from all over the Pacific Northwest headed up to the mountains east of Seattle last weekend for Timbrrr! Festival. Set in the picturesque little Bavarian village of Leavenworth, it was a weekend filled with music and seasonal activities — activities like drinking hot toddies while listening to bomb music, which is how winter was meant to be spent after all. With a lineup packed with PNW favorites such as The Moondoggies, Hey Marseilles and Wild Ones, it was a wonderful, wintry treat. The unique destination made the whole festival something extra special and was a true experience. Throw in some bratwurst and hot toddies, and you have yourself a party.

The Setup: Timbrrr! featured 14 bands in its inaugural year, and all were outright successes. Bands played throughout the village during the day and headliners took over the Festival Hall in the evening. They even had a screening of the Seahawks game on Saturday complete with a Bloody Mary bar. Needless to say, the fest knew their audience well.
Food Options: Leavenworth went all out with the Bavarian ski village vibe — waffles, sausages and German beer were plentiful and delicious — the perfect food for surviving the altitude, shredding the slopes and a festival.
Overall Crowdedness: Despite the fact that this was the first year that Timbrrr! took place, there was a healthy turnout. The beer line was long in the Festival Hall, but everyone was wonderfully friendly.
Not your festival if: Timbrrr! has a very specific flavor. If indie folk/rock isn't your cup of tea, then this mellow event might not be your speed.

Best Set: The Moondoggies. These Seattle veterans closed out Friday night with a toe-tapping offering of Americana rock at its finest. They played the classics, as well as a great selection off their latest album released at the end of 2013.
Honorable Mention: Wild Ones, Radiation City and Telekinesis. Each put on a great set that absolutely lived up to our high expectations.
Biggest Disappointment: Unfortunately, due to a personal emergency, Battleme had to cancel. Their rock 'n' roll stylings were sorely missed, but the rest of the bill had no trouble keeping the crowd entertained.
Tip of the Hat: Wild Ones received the honor of being featured as one of Time Magazine's bands to watch in 2014. That recognition was well earned as they lit up the stage Saturday night. Definitely check out their new album Keep it Safe at your earliest convenience.

Festival



Radiation City


Telekinesis


The Lonely Forest


The Moondoggies


You Me & Apollo