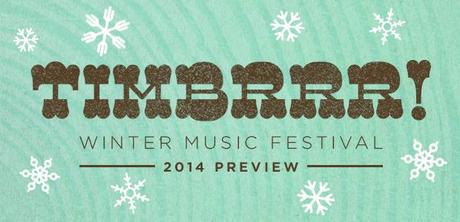 Timbrrr!– the winter edition of the popular Timber! Festival that took place last summer, is in its inaugural year and we couldn't be more excited for it. These brand new events in Washington state look like they are doing something right — they've already captured the attention of the festival public with their unique atmosphere and very localized take on the line-ups. Timbrr! features local acts from all around the Pacific Northwest of a definitively folk/rock flavor, which is just what the winter needs. Conveniently located two hours outside of Seattle in the ski town of Leavenworth, Timbrrr! is a weekend full of music and winter fun, that will include skiing, a hot toddy garden (where you will find us warming up) and of course, a ton of awesome music.

The headliners at this small fest fit the local flavor and include Seattle mainstays Hey Marsailles and their quintessential Pacific Northwest folk sound. In addition, local favorites Telekinesis and The Moondoggies round out the bill with their unique takes on the Seattle vibe.

(B+)  There are some quality Washington and Oregon bands featured on the bill. With old favorites like The Moondoggies and Hey Marseilles, as well as a wealth of fresh talent, it will be a festival with something for everyone. This year there's a healthy mix of rock 'n' roll and folk, making for an exciting lineup.

Telekinesis
The main creative force behind Telekinesis is Michael Benjamin Lerner, who recorded their debut album back in 2009. Since then he has enlisted a full band, including Spoon's drummer, Jim Eno. With high energy live shows, this indie rock band is not one to miss.
The Moondoggies
Local favorites, The Moondoggies, bring the classic sounds of Americana and folk rock to the forefront. Boasting impressive three-part vocal harmonies and tight instrumentation, The Moondoggies are some of the best that Seattle has to offer. With their 2013 release of Adiós I'm a Ghost, their set list is sure to be filled with new jams and old classics.
Radiation City
Portland-based band, Radiation City, brings a refreshing and unique mix of indie pop and doo-wop. They're full of timeless female vocals with just the right amount of reverb, combined with electronic flourishes to create a truly distinct sound.

Wild Ones
Wild Ones received the honor of being featured as one of Time Magazine's musical acts to watch in 2014. We agree: this Portland band is fantastic. They have a synth-heavy indie rock sound, full of catchy hooks and just the right amount of guitar riffage.
You Me & Apollo
Hailing from Colorado, You Me & Apollo employ an excellent mix of guitar rock and stompy blues. The vocal talents of lead singer Brent Cowles are truly something to see live.
Battleme
The addition of Battleme to the Timbrrr! lineup is certainly a welcome one. These veterans of the Austin music scene bring guitar-driven lo-fi rock 'n' roll that feels right at home in the Pacific Northwest. With the help of Ghostland Observatory's Thomas Ross Turner, the electro rock stylings of Battleme are a must-see.