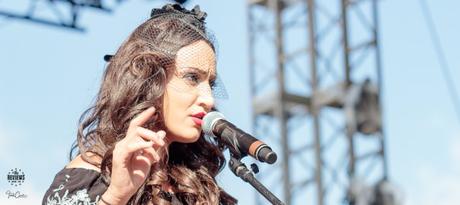 Lindi Ortega is as original a talent as their is on the 2017 country music landscape. With a sound that is revered by fans and critics alike, she popped up on the Boots & Hearts 2017 Front Porch Stage and showed everyone why she's making waves in music.
Singing songs like Run Amuck, Angels, I Ain't The Girl, and Demons Don't Get Me Down, Ortega showed the Saturday afternoon crowd why she's a Rolling Stone favourite, and why her 2017 EP, Til The Goin' Gets Gone has received praise and love from listeners.
Note: Mainstream country fans in Canada may know Lindi Ortega's name from her work with Dean Brody on the 2013 #1 hit, Bounty. But if you haven't listened to her solo work, we highly recommend it.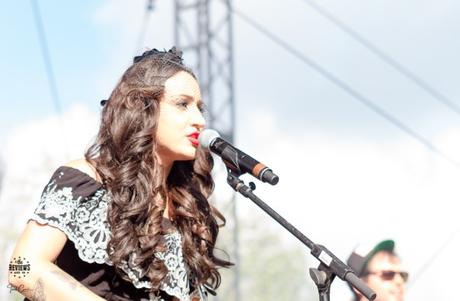 And it's not just music fans that believe in Lindi. JJ Shiplett told us before and during the festival that he was excited to see her set, adding, "She's the best singer in Canada right now. Her voice has the warmth of Emmylou Harris and the attitude of Dolly Parton.". That's pretty high praise.
Lindi was fun, energetic, charming, and sweet on stage as she and the band rolled through their set. And we can tell you right now, when we get the chance to see her again, we're going to jump on it!