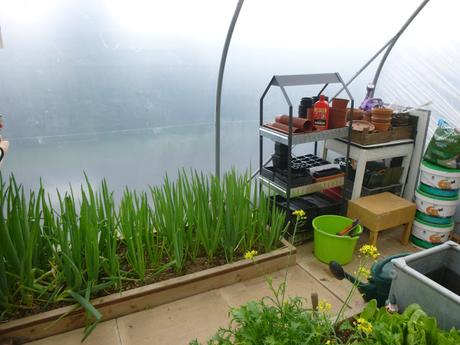 I posted HERE back in early August about tidying up the polytunnel work areas ... and then never came back with the 'after' photos, so I thought before we got too far into September I should put them on the blog.
As you can see the main difference, apart from things being cleaner and tidier is that there is a long length of the workbench now missing, this lets an astonishing amount of extra light into this end of the tunnel.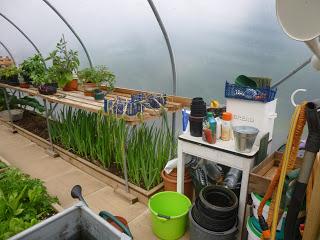 Doing this gave me the chance to have a bit of a declutter in here too and a few items went to the last car boot sale, and home with people who might find them more useful than I did.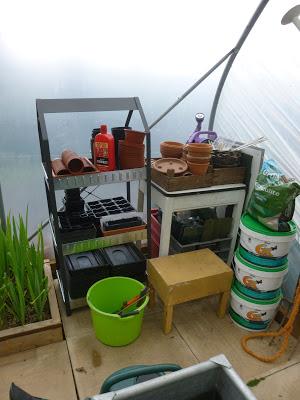 The above photo shows the storage end of the polytunnel, with my new(ish) Ikea three tier storage trays.  They are holding all the planting and drainage trays, the smaller plant pots and plant pot saucers and my current open bottle of tomato food.  It keeps everything nice and neat and to hand.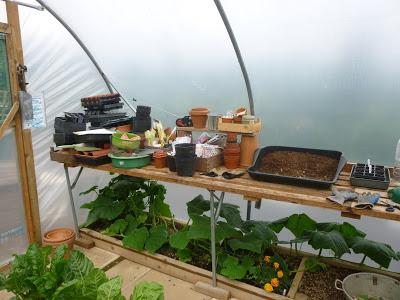 This end of my workbench had started small and neat and then quickly turned into a dumping ground for everything I used.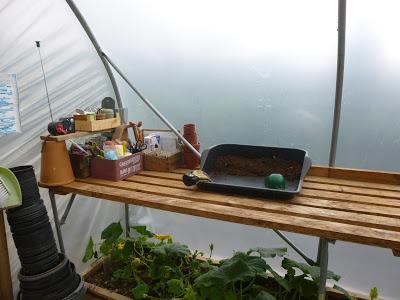 Now it's just things for immediate use that are here and I've claimed back almost as much workbench space as we chopped off the other end. 
It only took a few hours over two days, and no doubt has already saved me that in the time I usually spent searching for things.
For the record and for any of you who are still interested .... we are still WITHOUT running water :-(
Sue xx