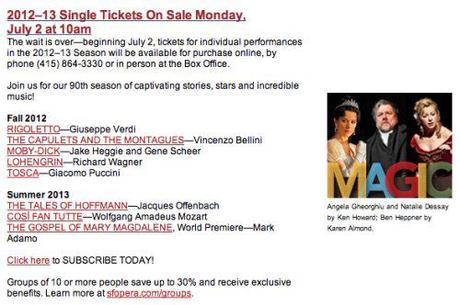 Single tickets for Tosca performances in Nov/Dec 2012 going on sale on Monday, July 2 at 10am (PDT, GMT -7 hours), on the website of San Francisco Opera House.
Cast
The opera stars Angela Gheorghiu, "in a part she seems to have been born to play" (Opera Today) and "who, like Tosca, is a born diva" (The Independent, London); Massimo Giordano, praised by The New York Times for his "ardent, expressive singing;" and veteran baritone Roberto Frontali, who brought "vocal brass and weight" (The Dallas Morning News) to San Francisco Opera's The Girl of the Golden West (2010).
As you'll see in the short video on the SF website (featuring another cast), the production is traditional. Which is good. 
And one more great things that many North American opera houses have, pre-Opera Talks. They are free to ticketholders and take place in the main theater in the Orchestra section, 55 minutes prior to curtain. Don't hesitate to go as they are meant to introduce you into the atmosphere.
. Happy shopping!
.