The Forbidden City in Beijing was our first point of visit when we reached China. And it was the place I was most looking forward to.
Imagine my dismay when I woke up in the morning to dull, grey skies 🙁 . Was our visit to the Forbidden City going to be a washout?
Thankfully, after breakfast, things looked better, and Snubnose and I went out in our best summery clothes all set to conquer the Forbidden Palace.
Alas! It wasn't to be. We were in Tiananmen Square for all of two minutes before it started bucketing down in full force. The temperatures also suddenly dipped, and out came all our winter wear, which we had hoped never to actually use.
Started out summery

Shivering a few minutes later
So my post about Tiananmen Square and the Forbidden Palace is not going to be very informative. I was so focused on ducking out of the rain, and protecting my camera, and shivering uncontrollably, that I really didn't pay as much attention as I should to the guide and all the magnificence surrounding me.
Tiananmen Square
All that I registered about Tiananmen Square was just how extremely large it was. It felt even larger when it started pouring and we had to hurry to the nearest shelter (an underground metro station choc-a-block packed with tourists). The moment there was a slight break in the rain, we rushed towards the Forbidden Palace in the mistaken idea we would be a bit sheltered. Haha!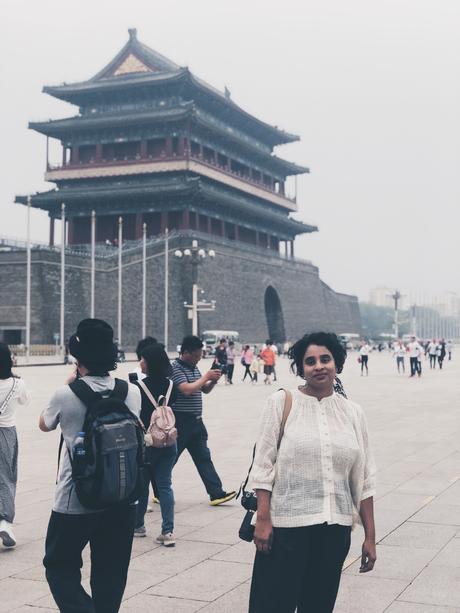 A brief halt for a photo before the skies opened up
Forbidden City
Chinese history was never my forte so a I was going in a little bit blind to the Forbidden City. What little I knew about it was from the movie Kung-Fu Panda 😀 . I wish now that I had done a little more research before visiting the place so that I was more prepared for all that I was going to see.
Why is it called the Forbidden City?
Built in the 1400's during the Ming Dynasty, the Forbidden City housed the ruling Emperors and their households for 500 years. Commoners were not allowed in the city and many of the Forbidden City's inhabitants were not allowed to leave.
Some facts I learned about the Forbidden City
It's the world's largest palace with a whopping 980 buildings and over 8000 rooms.
Only 60% of the place is currently open to the public.
Once you enter the Forbidden City, you cannot exit it unless you pass through all the courtyards. So before entering, be prepared for a good, solid, 4-5 hours walk. There's literally no turning back. It's pretty disabled friendly though. Just make sure to ask for a wheelchair when booking the tickets.
It's an extremely crowded and popular tourist destination with over 7 million visitors a year.
You cannot actually enter any of the rooms in the buildings in the Forbidden City. You just see them from the outside.
Memorable moments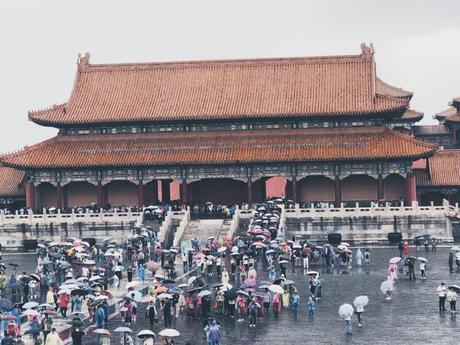 Rainy and crowded (not anything like the wonderful header image I borrowed off the internet)
Since so much of the Forbidden City was a washout, I don't have a lot to say about the place. Instead, I am sharing some of my favorite pics and moments from our experience. And some tips that I hope are useful.
#1 Happy moment
Seeing this statue of a crane on one of the Palace buildings was a highlight. Magically, the skies cleared at that one moment, and I was able to click a pic. Even better, there was no one around! Otherwise, all my pics are a blurry mess of crowds, raindrops, and grey skies. Unfortunately, very quickly it started raining again 🙁 .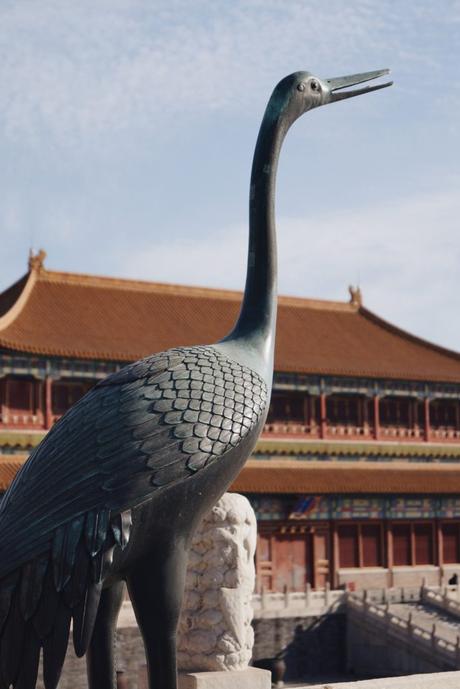 Cranes are key birds from Chinese mythology symbolizing wisdom
#2 Happy moment
Getting to pretend to be a queen even if it was for just a few minutes. In the Forbidden City, there is a kind of dummy throne room in one corner. It's pretty easy to miss. We almost walked past it. For the payment of a 100 yuan, you then get to dress up as a king or queen and get clicked.
Snubnose pretending to be an imperial Empress

Me joining her
The best part of the experience was getting to be able to dry ourselves a bit, wear another layer of clothing, and stay indoors 🙂 .
#3 Happy moment
The sun came out just as we entered the Imperial gardens. We shook ourselves off and took a few more pics.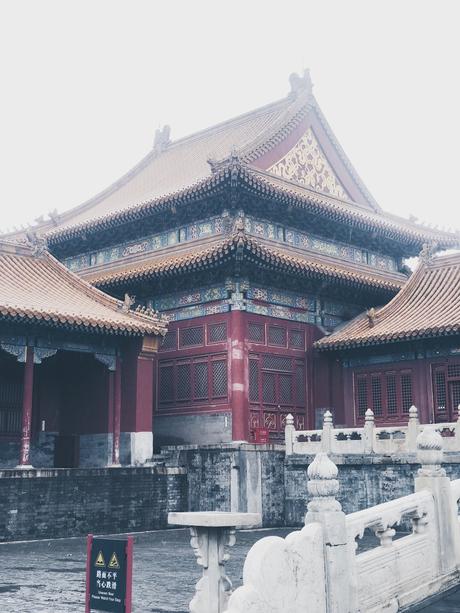 One of the structures before the Imperial Gardens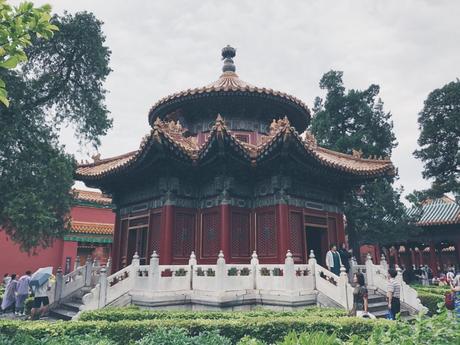 A last glimpse before we exit
Tips for visiting
Take your passport: We needed to show our passports in order to enter the place. Maybe some other nationalities can get away with an ID, but it's safer to just carry your passport with you.
Bring snacks and water: There's only one cafeteria in the entire place, and that was packed. The security let us in with our own snacks and water (dry snacks), so it shouldn't be a problem.
Don't leave bags with the security: It's tempting to leave heavy bags with the security, but remember you"ll exit from a different gate, and then you"ll have to walk all around the place to come back and pick up your stuff.
Travel light and stay comfortable: Wear sneakers or walking shoes. Don't carry too much stuff with you. However, if you're a photography buff, you"ll need your best lenses to capture the beauty around you. It's a trade off.
Buy tickets beforehand: Only 80,000 tickets are available each day. It might sound like a lot, but believe me, it's not. Either buy the tickets beforehand online, or come early and stand in line.
Honest, unvarnished last thoughts
In spite of the weather playing spoilsport, I loved this experience of visiting the Forbidden City. If I am ever lucky enough to visit Beijing again, I am definitely going to revisit this place. It's a huge place, very formidable, and intimidating to the ignorant first-time visitor (which I was).
I am sure that the next time I come, I"ll be better prepared (watch the relevant movies, read appropriate novels), and take in a lot more than I did this time round.
Have you visited the Forbidden City? How did you like it?

Nish
Voracious reader, vegetarian foodie, mostly armchair traveler, and frequent online shopper. I love to talk about all these passions (and other things happening in my life) in this blog.