That's the latest number being floated around again (it was being discussed in November) that has been drawn up by Germany's own Council of Economic Experts and is currently being viewed as the only viable route out of the current impasse.  The Redemption Pact covers all public debts of EMU states above the Maastricht limit of 60% of GDP, roughly €2.3 trillion. It is modeled on Alexander Hamilton's Sinking Fund in 1790 to clear up legacy debts after the American revolutionary war.  
The idea is to treat the first decade of monetary union as a learning experience — with mistakes made all round — and allow a fresh start. The excess debt would be paid down over twenty years.  The beauty of the proposal is that would return Europe to the Maastricht discipline where each state is responsible for its own debts. It is the exact opposite of fiscal union.  Officials at Germany's top court say it appears compatible with the country's constitution — unlike eurobonds. There would be a fixed limit to costs and the fund would not endanger the tax and spending sovereignty of the Bundestag.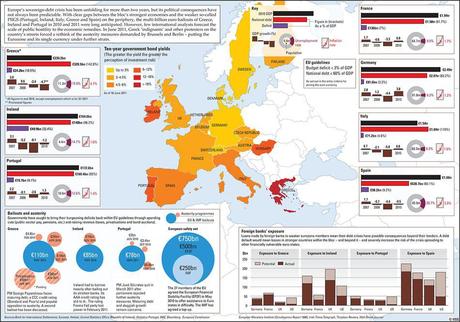 It is not yet clear whether Chancellor Merkel can persuade her own party to support the Pact. Her own finance minister Wolfgang Schäuble poured cold water over the idea earlier this week. "This fund is not feasible because it breaches with the European treaties and the `no bail-out' clause, which says countries cannot be responsible for the liabilities of another country. Without a joint fiscal policy you can't have shared liabilities," he told Stern Magazine.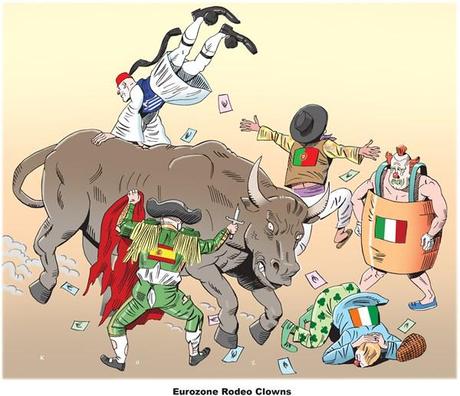 What is clear is that SOMETHING does need to be done  and it needs to be done soon because we're not even sure $3Tn will be ENOUGH to set Europe back on a path to growth and stability.  Just this morning, the ECB projected the the Eurozone GDP will fall as much as 0.5% this year
(Recession)
and possibly 0% in 2013 but that is (and get this):  "Subject to increased downside risks relating, in particular, to a further increase in the tensions in several euro area financial markets and their potential spillover to the euro area real economy."  So, IF all goes well, THEN we can look forward to recession and no growth for a couple of years
.
IN PROGRESS