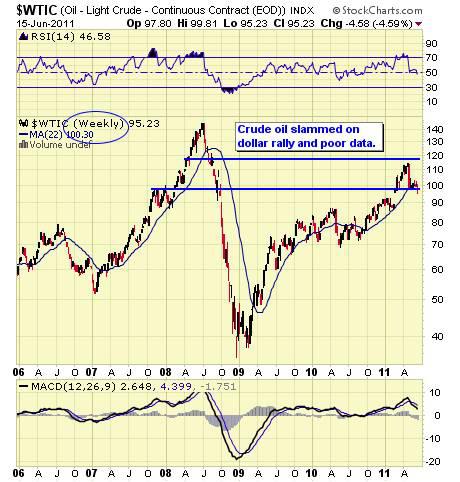 Good golly what a mess!  
I hate to say I told you so but…  Oh wait, no, I'm actually loving this…  I TOLD YOU SO!  Look at July 2008 and look at June 2011.  Now, look at July 2008 and look at June 2011.  Now, look at where oil USUALLY trades.  Is it over $100 or under $80?  You don't want to go back further because then the case could be made for under $60.
Wages have not gone up (adjusted for inflation, since 1973), home prices have not gone up (since 1985), stocks have not gone up (since 2006) – just oil and gold and silver and other stuff that greedy rich bastards like to hoard in hopes of making themselves even richer – even though it comes at the expense of EVERYONE ELSE IN THE WORLD.  
One of the protesters in Greece had a sign that said Prime Minister George Papandreou was "Goldman Sach's employee of the month" – now THAT's a good insult!  At least it indicates that the Greek people UNDERSTAND how they are being screwed over while it's the Americans who are bending over and taking it from the Banksters without complaint.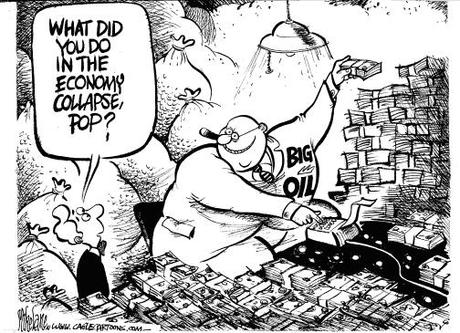 I'm not going to get into it again but WHO pays that extra $30 a barrel for oil?  The bottom 99.9%, that's who.  Sure The Donald also pays $4 a gallon when he gasses up the limo and he also pays double to heat his gigantic homes but a full tank in the limo is $120 while the prix fixe at Masa is $450 per person for Donald's lunch so I doubt he's as worried as you are about a tank of gas.  The American people are having $1.5Bn PER DAY extracted from their wallets at $4 per gallon, which is $547Bn a year and Globally that's $2Tn spent on gasoline alone.  All that money is/was disposable income that is being directed AWAY from other parts of the economy. 
Add in the heating oil, natural gas, oil products (rubber etc.) and all the pass-through energy costs from manufactures and we're up to about $5Tn, nearly 10% of the global economy going up in flames to enrich perhaps 1,000 oil men (and some of those men fund terrorism with their profits) and the speculators who shove the prices higher.  THEY ARE DESTROYING THE WORLD!  And it shouldn't be the people who rally against these bastards – it should be the other businesses, whose customers are being robbed of their disposable income before they can even drive to the store.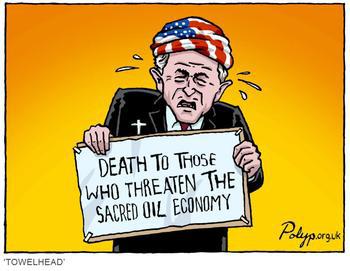 Sure
Exxon, for example, spends $30M a year lobbying
to make sure this game continues to be played their way and they should – because XOM sold $400Bn of that $5Tn last year, so what's $30M to make sure oil stays as high as possible for as long as possible?  WMT took in $104Bn in revenues and it could have been $120Bn if their customers didn't leave it at the gas station on the way to the store – why don't they wake up, get together with other consumer companies and hire their own lobbyists to help end commodity speculation and put a stop to this National disgrace?  Just a thought
(and one I encourage you to pass along by sharing this article with others)…
IN PROGRESS